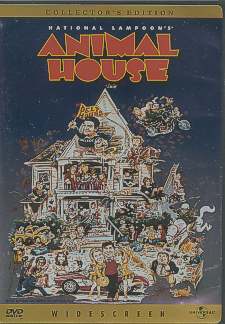 "The John Belushi Collection" on DVD
One Wild and Crazy Dead Guy
Universal Home Video has packaged three of John Belushi's best-known movies into a new DVD boxed set.
"The John Belushi Collection" bundles special Collectors Editions of "National Lampoon's Animal House," "The Blues Brothers" and "1941." If you're a Belushi fan you'll probably love it; otherwise, you'll find it's one pretty funny movie and a couple of ambitious failures.
Each of the three movies features a horrendous amount of extra material in the grand DVD tradition, so the collection may appeal to film students as well.
The best of the three is "National Lampoon's Animal House," and while Belushi may have received top billing he really has a supporting role in this ensemble piece.
Directed (as was "Blues Brothers") by John Landis, Animal House is home to the Delta fraternity - a bunch of losers and misfits who eschew scholastic achievement in favor of Wine (okay, beer), Women, and Rock N Roll Song. Delta House rubs everyone on campus the wrong way - except for the co-eds - and there's no one who's more out to get them than Dean Wormer (John Vernon).
This is the film that brought concepts like "food fights" to pop culture and propelled Belushi (who plays "Bluto," the misfit of all misfits) to his short-lived stardom. It's juvenile and crude, which is what one would expect from such a concept, but it's also pretty funny.
The DVD is in 1.85:1 widescreen and Dolby Digital 2 channel mono, and audio/video quality are okay but not great. There's a great documentary, however, called "The Yearbook, an Animal House Reunion" that features interviews with director Landis, producers Ivan Reitman and Matty Simmons, co-writer Harold Ramis, most of the surviving Delta House members, composer Elmer Bernstein, and more. There are also bios and the theatrical trailer.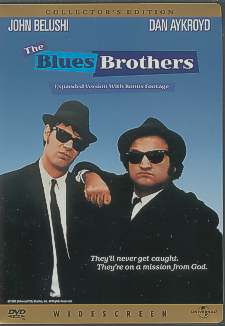 "The Blues Brothers" was the first of the Saturday Night Live movie spinoffs and, with its cast, crew, and cameos, it had a lot of potential.
Unfortunately, it ended up being little more than an exercise in excess with some great music thrown in periodically.
Jake and Elwood Blues (Belushi and Dan Aykroyd) are sent on a mission from God to scrape together $5000 to save the orphanage at which they were raised. They decide to put their old band together to make the money - and what follows is an episodic tale that weaves from one encounter to another, some of which are musical and some of which are merely destructive of buildings or vehicles. Few of them are particularly funny.
In the end, it's really one big car chase and that's too bad; there was a lot more potential from the concept.
The DVD has had footage added, though it hasn't added anything to the movie itself. We now have a 2.5 hour smash 'em up instead of a two hour one.
The music is great, and it sounds as if much of it has been restored for this release. The DVD is in widescreen (1.85:1) with an audio soundtrack remixed to Dolby Digital 5.1, though most of this is wasted. Extras include the aforementioned extra footage, which hasn't been seen since the movie's 1980 preview. There's also a good documentary "The Stories Behind the Making of The Blues Brothers," which features interviews with director Landis, Dan Aykroyd, the band members, and the producer (Robert K. Weiss). It also includes some behind the scenes scenes.
Perhaps the biggest disappointment is Steven Spielberg's "1941," the famed director's follow up film to "Close Encounters of the Third Kind."
What a cast, crew, and pedigree! Yet what a mishmash the final film became.
1941 is another ensemble piece in which Belushi shares top billing again with Dan Aykroyd, but their parts are really no bigger than those of Ned Beatty, Lorraine Gary, Murray Hamilton, Christopher Lee, Tim Matheson, Toshiro Mifune, Warren Oates, Robert Stack, Treat Williams, Dianne Kay, John Candy, Joe Flaherty and many, many others. It almost appears as if everyone who was in Hollywood during 1941's shooting schedule showed up for at least a couple of frames.
The movie was written by Bob Zemeckis and Bob Gale, who went on to create such projects as the "Back to the Future" trilogy and "Who Framed Roger Rabbit." Zemeckis also won a Best Director Oscar for "Forrest Gump" and after that made the intelligent science fiction masterpiece "Contact."
So the sky was the limit for "1941."
The story follows the cast members through about a day and night shortly after the Japanese attack on Pearl Harbor, when America was all a-jitter. A lost Japanese sub happens upon the Los Angeles area and decides to strike a blow for the Emperor, thus making things even more hairy and scary for the LA area residents.
The cast is great, the special effects are great, the John Williams musical score is great, the script has all the ingredients of a great slapstick epic in the tradition of "It's a Mad, Mad, Mad, Mad World" - and Steven Spielberg is the rather talented fellow who made the film.
So what happened? The film has no pacing, it never makes you laugh and it seems to be more of an exercse in excess - like "The Blues Brothers" - than the epic comedy it should have been.
Too bad. It could have been great.
The DVD picture is in 2.35:1 widescreen and it looks good. The audio quality of the disc, however, despite having supposedly been re-mixed into Dolby Digital 5.1, is muddy and as disappointing as the movie itself.
The Collectors Edition disc has lots of extras, including restored footage that makes the film even more interminable, and a very good documentary on the film's genesis. You also get some of director Spielberg's home movies and behind the scenes shots, as well as a series of bloopers, storyboards and production photos, a section of marketing and advertising samples, and the trailer. It's a lot of stuff.
Spielberg says "1941" was a big hit outside North America, so perhaps it was funnier with subtitles or when dubbed.
Thanks to DVD's, we've had the opportunity to revisit many older films or videos we'd seen in the past. Most of the time the new perspective gained bythe extra years of life experience we've gained has led to a new appreciation and enjoyment of the films. The same can be said for "Animal House," which we found much funnier this time around.
Unfortunately, time hasn't been as kind to "The Blues Brothers" and "1941," and that's a darn shame.
Still, laughs are in the eye of the beholder and just because we ended up sitting on our hands doesn't mean you will. Besides, the extra materials, especially the well-made documentaries, are definitely worth seeing for their fairly in depth looks into film history.