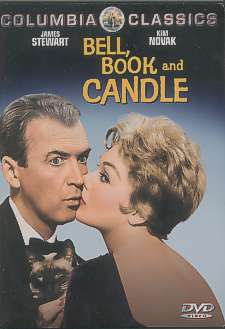 "Bell, Book and Candle" on DVD
Bewitched, indeed.
Before Samantha Stevens graced our TV screens there was Gillian Holroyd (Kim Novak), a beautiful and good-hearted witch who sets her amorous sights on a mortal (James Stewart) and ultimately gives up her powers in order to spend her life with him.
Of course, she, and he, have to go through a lot between her setting her sights and getting the guy, and that's "Bell, Book and Candle."
Part of the "Columbia Classics" series of DVD's, BB&C is a whimsical romantic comedy that, while it may not have you on the floor laughing, will keep you smiling and rooting for the protagonists right until the closing credits.
As a witch, Gillian has a few limitations. She can't cry, she can't blush and, worst of all, she can't fall in love. She can fall in lust, however, and that's what she has in mind for Stewart's Shep Henderson, a book publisher who happens to live upstairs to her Greenwich Village curio shop.
But what's a witch without powers? So, since Shep is engaged to a woman with whom Gill had run ins at college, she bewitches and spellbinds him - as if the classily beautiful Kim Novak would need a spell!
An important subplot to "Bell, Book and Candle" involves Gill's family and friends, all of whom - naturally - are witches and/or warlocks.
When Shep contracts to publish a noted witchcraft author's (Ernie Kovacks) next book, on witchcraft in New York, Gill gets her brother (Jack Lemmon) to schmooze the author away from her secret identity so it doesn't mess up her blooming romance with Shep.
Unfortunately, and not surprisingly, things go wildly awry.
Novak and the supporting cast, which also includes Elsa Lanchester, Hermione Gingold, and Janice Rule, are all very good in their parts. Stewart's good as well, but seems a little old to be playing an eligible bachelor. As mentioned in the liner essay, however, this was his last film as a romantic leading man and perhaps this is why. Still, his performance is fine.
The Columbia/Tristar DVD is offered in widescreen and pan&scan, and rather than having to read tiny print around the disc's spindle hole you're offered the choice via onscreen menu (hooray!).
The "old fashioned technicolor" picture looks great and the audio is Dolby Digital mono directed, as it should be, to the center speaker. The audio and video have been digitally remastered, and it shows.
As with other Columbia Classics DVD's, extras include a good liner essay, production notes, talent files, trailers, and a selection of vintage ads for the film.
Bell, Book and Candle, from Columbia Tristar Home Video
103 minutes, Widescreen (1.85:1), Dolby Digital
Starring James Stewart, Kim Novak, Jack Lemmon, Ernie Kovacks
Produced by Julian Blaustein, Screenplay by Daniel Taradash
Directed by Richard Quine