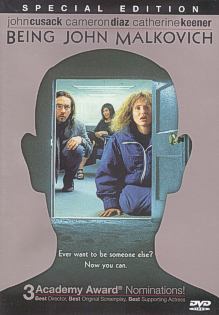 "Being John Malkovich" on DVD
Funny, and Truly Bizarre
If you've ever wanted to get inside someone's head to see what made them tick, this is the movie for you.
John Cusack stars as "Craig Schwartz," a master marionette artist who stumbles onto a portal that takes one inside the personality of actor John Malkovich. Tumbling through this gate gets one a fifteen minute ride as Malkovich, whereupon you're dumped unceremoniously back into the real world beside the New Jersey turnpike.
John's wife, played by an "uglified" Cameron Diaz, is a flaky pet lover with awakening lesbian tendencies, and his partner Maxine (Catherine Keener) is the same, except for the part about being pet loving. Craig and Maxine decide to exploit the portal for all it's worth, selling tickets at $200 apiece for the fifteen minute "virtual reality" experience.
But Maxine and Craig's wife have figured out a way to use the Malkovich vehicle as a way for their lesbian leanings to be consummated heterosexually (how's that for a concept?), which leads to Craig (who's also obsessed with Maxine) taking over Malkovich's body so he can consummate his wannabe relationship with Maxine.
Sound weird? Well, it is. It's also very funny.
John Malkovich plays himself, and himself being controlled by Craig - who figures out a way to stay inside Malkovich permanently and forces him to quit his acting career and become a puppeteer instead. Makovich is terrific in the role - in fact the whole cast does a great job, and it's neat to see a blast from the past in the persona of famed raconteur Orson Bean on hand in a supporting role.
You really have to see "Being John Malkovich" to appreciate it. It's wild, strange, weird, bizarre, strangely engrossing, and grossly funny.
Talk about gesounds as good as you expect from the DVD medium. Extras include TV commercials and replays of some "films within the film" that are featured in the movie (an orientation film and a documentary on Malkovich, for example). There's also a feature on the art of puppetry and a couple of other featurettes (including a look behind the scenes at "background driving" - the vehicles that pass on the road during a movie. You also get an interview with director Spike Jonze, cast/crew bios, "Spike's Photo Album" and the usual chapters, languages, and subtitles.
Being John Malkovich from Universal Home Video
113 minutes, Widescreen (1.85:1), Dolby Digital
Starring John Cusack, Cameron Diaz, Catherine Keener, Orson Bean, Mary Kay Place and John Malkovich
Produced by Michael Stipe and Sandy Stern, Steve Golin, Vincent Landay
Written by Charlie Kaufman, Directed by Spike Jonze.