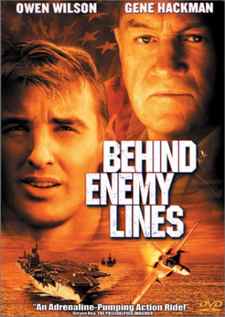 Behind Enemy Lines on DVD
Owen Wilson tries to escape from behind enemy lines in this artsy war thriller from director John Moore.
Wilson is Chris Burnett, a Navy navigator whose F-18 is shot down after veering from its planned flight path and taking pictures where it shouldn't have. He's pursued by Serb forces and forced to run for his life while the politicians backstage pull the strings.
Political considerations override what's right and prevent Burnett's skipper (Gene Hackman) from mounting a rescue mission. Instead, Burnett is ordered to find his own way out to a safe area.
Herein lies the action.
The action's pretty good, too, and there's plenty of it. The producers don't beat you over the head with a political statement all the way through it, either, which is nice, and the situation's quite believable in a Hollywood kind of way.
Wilson is fine as the downed navigator left to his own devices. Hackman's part isn't as large as it could be considering his above the title billing, but he's always good in any size role and he's good here.
Some of the shots are a little arty for a war movie, and they seem to stick out like a sore thumb (for example, circling the characters incessantly with a Steadicam), but they don't come even close to ruining the movie.
The locations and the film's look are great and the dynamic range of all the military ordnance (from F-18 jet to all manner of small and medium arms fire) just cries out for the home theater, and the DVD doesn't disappoint.
The disc is presented in anamorphic widescreen, 16x9 TV compatible, and the picture's great. It's sharp and colorful and very enjoyable. The audio is offered in DTS and Dolby Digital 5.1 Surround and the abovementioned dynamics come across as very dynamic - as they should. There's good concussion when someone fires something, the aircraft sound great, and the surround channels are used very well.
Extras include a running commentary by the director and his editor, Martin Smith; a second commentary track was provided by the producers. There are also some deleted and/or extended scenes, a behind the scenes featurette and some other goodies.
Behind Enemy Lines, from 20th Century Fox Home Video
105 min. anamorphic widescreen (2.35:1), 16x9 TV compatible, DTS and Dolby Digital 5.1 Surround audio
Starring Owen Wilson, Gene Hackman, Joaquim de Almeida, Gabriel Macht
Produced by John Davis
Written by David Veloz and Zak Penn, directed by John Moore