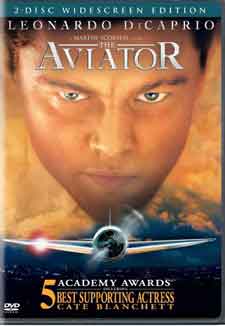 The Aviator on DVD
Martin Scorcese's The Aviator chronicles the early rises and falls of Howard Hughes, one of aviation's most influential (if a little mad) pioneers, and one of the world's foremost (dare we say it!) capitalists.
When we first come across him, he's in the middle of making Hell's Angels, an expensive Hollywood blockbuster that could prove to be the most visually stunning movie ever made – or bankrupt Hughes and the studio.
When Angels turns out to be a huge success, Hughes sets his sights on even bigger and better things: airplane design. But not content to merely design average ordinary everyday airplanes, what he really wants to do is to make the fastest plane ever and break the world speed record. Which he does.
He doesn't stop there. He makes more movies (that cause more controversy) and designs bigger and more fantastic airplanes (that also cause more controversy), time and time again nearly bankrupting himself and others. At one point he even comes dangerously close to death. But even that can't stop him.
Unfortunately, like any eccentric genius, Howard was just a tad bit insane. He'd grown up as a germophobe, and eventually time and stress start to take their toll and he locks himself in his room for extended periods of time. And he even manages to bounce back from that.
The Aviator is the best kind of biopic. It shows both his fame and his infamy, the ups and the downs. It shows he was brilliant, but it also shows that it was usually his brilliance that was his undoing.
Leonardo Dicaprio gives possibly his best performance to date playing Hughes, and Cate Blanchett is simply marvelous as the legendary Katherine Hepburn.
Everything here is lush and lavish; a huge production that pulls out all the stops. Even if the Academy won't admit it, Scorsese is one of Hollywood's finest directors, and The Aviator finds him in the best form he's been in since Goodfellas. In fact, the only real flaws with the film are that it ends too soon and there are some obviously CGI airplanes.
At 170 minutes, you have to be in it for the long haul, but the reward of watching a great movie about a great man is all you need.
On DVD, the movie works just as well. Color and detail are excellent, with no dust or grain or halos. Skin tones are just right, and the darks don't get too dark. It's really only during the flying scenes that the surround speakers get to do their thing, but they handle countless airplanes flying simultaneously very well, and almost make you feel as though you're there. The front channels don't overdo any single element, merging dialogue, sound effects, and Howard Shore's beautiful score beautifully.
Disc one features an audio commentary by Scorsese, editor Thelma Schoonmaker and producer Michael Mann. While the three were recorded separately, they manage to fill almost all of the three-hour runtime with useful information. Scorsese is just a film nut who loves talking about movies and loves making them even more. His commentaries are always a pleasure.
Disc two has a bunch of documentaries and featurettes that range in quality. The Making-of The Aviator is an 11-minute piece that allows the main players to compliment each other and talk about how great the movie is, but it's barely even skin deep. "The Role of Howard Hughes in Aviation History" has a lot of info repeated from the movie, but it gives a bunch of aviation enthusiasts a chance to talk about Hughes and what he did for the industry.
"Modern Marvels – Howard Hughes" is a History Channel documentary that, like all the best documentaries, is not only entertaining, but also extremely informative. Non-biased biographies by people interested in the subject matter (and whom don't have an agenda) are always the best. This is no exception.
Leo Dicaprio and Alan Alda sit down for half an hour's worth of back and forth Q & A moderated by David Schwartz. It's always nice to hear actors talk about the movie in such an environment, but only for about ten minutes.
Short featurettes on obsessive compulsive disorders, visual effects, costumes, production design, hair and makeup, and the score are also included on the disc. Each is informative without overstaying its welcome. Finally, there is a nice little deleted scene, a soundtrack spot, and a still gallery.
The Aviator, from Warner Bros. Home Entertainment
170 minutes, anamorphic widescreen (2.40:1) 16x9 enhanced, Dolby Digital 5.1
Starring Leonardo Dicaprio, Cate Blanchett, Kate Beckinsale, John C. Reilly, Alec Baldwin, Alan Alda and Jude Law
Produced by Michael Mann, Sandy Climan, Graham King, Charles Evans, Jr.
Screenplay by John Logan
Directed by Martin Scorsese