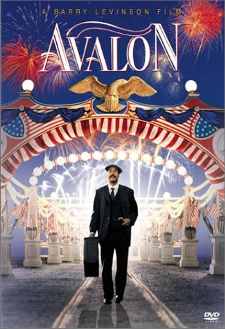 "Avalon" on DVD
Levinson Goes Home
Barry Levinson's semi-autobiographical film about an immigrant to the US and his family has a lot more to it that one might at first expect.
After all, if you called it an affectionate look at a Baltimore extended family's life over a few decades, you might be turned off. What? No laser battles? No sex? Virtually no violence?
Yep. Doesn't matter, though. Avalon draws you in and carries you along with it as you grow to love and really root for this honest and decent family finding its way through the ups and downs of life.
Levinson says the film is based on the stories told to him by his grandfather, and he has imparted to the film a sense of love that's a joy to behold.
Armin Mueller-Stahl is outstanding as Sam Krichinsky, through whose eyes most of the story is told. He arrives in the US from Eastern Europe on July 4th 1914, a wide eyed newcomer amazed at America's beauty and promise. Sponsored by his brothers, he works hard to build a life and family.
Sounds pretty boring, doesn't it? Yet Avalon is full of humor, tragedy, and situations and characters with which one can readily identify, and for whom you can't help but root.
The story mostly follows Sam and his son (Aidan Quinn), through good times and bad, from Avalon to the suburbs, from poverty to affluence and back again. It's a story beautifully told that will make you feel privileged to have gotten to know the Kirchinsky family.
Besides Mueller-Stahl and Quinn (who is also wonderful in his role), the film has a terrific ensemble cast that includes Elizabeth Perkins, Joan Plowright, Kevin Pollak, Lou Jacobi, and Elijah Wood.
The DVD features digitally mastered anamorphic widescreen video (16x9 compatible) and Dolby Surround 2 channel. The audio can be a touch disconcerting at times, since the 2 channel origin doesn't place sounds directly at the TV screen, but it's the original version of the soundtrack so one shouldn't complain too much. Other than that, the audio and video quality in general are very good.
Extras include a decent liner essay, talent files, production notes and trailers.
Avalon, from Columbia Tristar Home Video
128 min, widescreen (1.85:1), 16x9 compatible, Dolby Surround 2 channel
Starring Armin Mueller-Stahl, Elizabeth Perkins, Joan Plowright, Aidan Quinn
Produced by Mark Johnson and Barry Levinson
Written and directed by Barry Levinson.