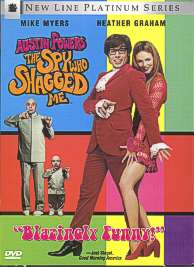 "Austin Powers, the Spy Who Shagged Me" on DVD
Yeah, Baby!
Sequels aren't usually as good as their originals, but Mike Myers' "Austin Powers II" spy spoof is at least as good - if not better - than the first film.
It's also a terrific example of the nifty things a studio can do to exploit the DVD medium and give consumers the most bang for their disposable bucks.
Mike Myers is back as the swinging 1960's spy and as his nemesis Dr. Evil. He's also along as Fat Bastard, a foul and disgusting (and extremely well made up) Scot who's another of the bad guys.
In "Shagged," Powers must go back in time to rescue his "mojo" from Dr. Evil and his henchpeople. Dr. Evil figures that by capturing Powers' "mojo" he can not only defeat the super spy, but apply the "mojo" to himself as well. And, according to one "shagadelic" scene, it appears to work.
Naturally, that's only part of Dr. Evil's evil doctoring. He also puts a laser cannon on the moon, with which to zap cities if he doesn't get paid a handsome ransom.
The laser in space is right out of "Diamonds are Forever," and many other Bond staples are sent up in this wild production. Composer George S. Clinton has even done a terrific job of paying homage to the best moments of John Barry's terrific Bond scores.
Austin Powers owes as much to "Our Man Flint" as it does to the Bond movies, however and as such turns out to be a much better Bond spoof than "Casino Royale."
The cast from the original is back, including Michael York, Robert Wagner, and Elizabeth Hurley, those their roles this time are hardly more than cameos because once Powers goes back in time their characters are replaced by younger versions of themselves.
Heather Graham replaces Elizabeth Hurley as the love interest this time around. She's Felicity Shagwell, Powers' CIA opposite number much like Felix Leiter pops up to help James Bond - except that Leiter's hormones don't extend to wanting to bed Bond (or, not that we know of, anyway). She's appropriately sexy and very decorative, but unfortunately her acting is the worst thing about this movie.
Rob Lowe more than makes up for this, however, with his portrayal of a young Number 2. He spends his time doing his best Robert Wagner impression and it's very funny. Seth Green returns as Dr. Evil's kid Scott, a character who points out with gusto all of the plot holes that we've traditionally ignored in our Bond movie watching.
The humor is unsubtle, but very, very funny. This is a movie that, if you enjoy this type of flick, will have you laughing out loud repeatedly.
The widescreen DVD in in Dolby Digital Surround and the audio and video quality is terrific. The disc also includes so many extras you'd almost think they'd need a second disc - even for DVD. DVD extras include a full length audio commentary by Myers, Roack, and McCullers, about 20 minute so of deleted scenes (some of which are really funny), a "making of" documentary, music videos by Madonna, Lenny Kravitz, and Mel B (one of the Spice Girls). There are also four theatrical trailers and a "Dr. Evil's Special Features Page" that gives you direct access to some of Dr. Evil's more human moments.
The only thing wrong with all this stuff is those damn interactive menus. They're really pulled out the stops with these ones, including having Myers as Powers take part in them. Unfortunately, this makes them really slow and cumbersome, so while we're impressed by their use of the technology, we'd be more impressed if they'd use it a little more sparingly.
Then there's a whole DVD ROM component that, also unfortunately, uses the PC Friendly system that installs a bunch of stuff onto your hard drive. You get the entire Austin Powers web site "Groove Central" (on the disc itself), more in depth cast/crew info via the Internet, the movie itself (of course) and more. More? Yep. There are three episodes from togglethis' "interactive Austin" game and "Operation Trivia. Both of these extras require installing software onto your hard drive and then running them separately from the DVD stuff. In the end, it's just promotional samples for third party software you can buy.
There's more, but you get the idea: this disc is loaded, and that's great.
But as much as we're suckers for lots of extras, this is a movie that makes it on its own.It's big, bawdy, cheesy, and always very, very funny.
We can't wait for Austin Powers III.
Austin Powers, The Spy Who Shagged Me, from New Line Home Video
approx. 99 minutes, Widescreen (2.35:1), Dolby Digital
Starring Mike Myers, Heather Graham, Michael York, Robert Wagner, Elizabeth Hurley, Written by Mike Myers and Michael McCullers, Produced by John Lyons, Mike Myers, Directed by Jay Roach