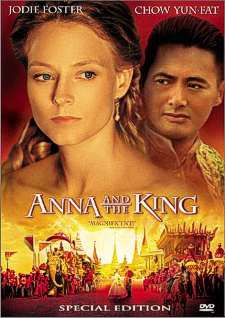 "Anna and the King" on DVD
Special Movie, Special Edition
The latest retelling of the epic tale of an English schoolteacher hired to the court of the King of Siam is a beautifully lush epic that has made a wonderful transition to DVD
Jodie Foster stars as Anna Leonowens, a widow who, with her son, arrives at the palace of King Mongkut (Chow Yun-Fat) to take up her duties as tutor to the King's eldest son.
A headstrong stranger in a strange land, Anna doesn't much cotton to the kowtowing required around the King, which leaves the King and his handlers understandably miffed. They get over their initial angst, however, and after some arguments over the terms of engagement she gets down to work - teaching not only the Prince but all the King's dozens of children, and a few other notables as well.
Over the course of the film Anna and the King develop a mutual respect and affection that transcends their cultural and class differences. Anna learns that this isn't some barbarian, but a man attempting to be wise and benevolent under trying circumstances, and the King learns that Anna has much to teach him as well as his family.
Both of these characters are strong and worthy of respect, and during the film's running time we're given the opportunity to laugh with them, and to cry with them, and to cheer them on.
So do they get together at the end? Watch the DVD.
Foster is very good as Anna, which is only to be expected from this marvelous actress. Perhaps surprising to some, "action star" Chow Yun-Fat is perfectly cast as King Mongkut, bringing a feeling of strength, worldliness, and grace to the role.
This Special Edition DVD is presented in widescreen, Dolby Digital 5.1, and the audio and video quality are wonderful. In short, the film (shot in beautiful Malaysian locations) is meant to look and sound like an old-fashioned epic, and the filmmakers and video engineers have done it justice.
Bonus features include a running commentary by director Andy Tennant, no less than five featurettes on the film, and six deleted scenes. You also get Joy Enriquez' music video "How Can I Not Love You?" and the usual stuff like chapter stops, trailer, etc.
It may be an old story, but it is a timeless one as well, and director Tennant and stars Foster and Yun-Fat have made it fresh once again.
Anna and the King, from 20th Century Fox Home Video
147 minutes, Widescreen (2.35:1), Dolby Digital
Starring Jodie Foster, Chow Yun-Fat, Bai Ling
Produced by Lawrence Bender, Ed Elbert
Written by Steve Meerson and Peter Krikes, Directed by Andy Tennant