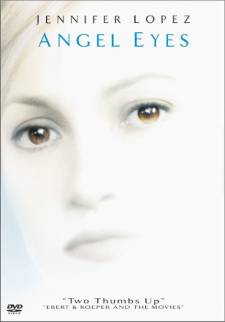 Angel Eyes
Jeepers Peepers
Angel Eyes starts out like an action movie, and slowly evolves into a full-fledged romantic drama.
When it begins, Sharon Pogue (Jennifer Lopez) is helping a man just involved in a car accident. We don't see who he is (it's shot from his perspective), but if you've seen the trailers, you'll know that he's Jim Caviezel. Caviezel plays Catch, a mysterious man who goes out of his way to hide his past.
One day, while Sharon is chasing a criminal through an industrial yard, the crook jumps on her and shoots her. Then, just before he finishes her off, Catch comes out of nowhere and saves her life. From there, the two fall in love, though neither are willing to admit it. Sharon becomes increasingly agitated by Catch's unwillingness to tell her anything about himself; consequently, Catch becomes increasingly agitated by Sharon's insistence that he tell her everything about himself.
Impressively, not all of the conflicts get resolved, something unique that I thought added to the film. Unfortunately, based on how the trailers made it look, I was expecting a few major plot twists that never came. The only twists that occurred, I knew about beforehand.
The performances are good. Lopez is tough, but vulnerable as Sharon, and Caviezel is perfectly wooden and mysterious as Catch. The two have excellent chemistry onscreen, and are definitely well cast. The supporting cast includes Sonia Braga and Terrence Howard; both are good, but don't really have much to do.
Angel Eyes was directed by Luis Mandoki (Message in a Bottle). He's a decent director, but he seems to throw in a few zany camera movements just for the hell of it.
When it all comes down to it, the movie is merely okay. I personally was disappointed because of what I was expecting, but it's still relatively enjoyable.
The movie wasn't much of a hit in the theatres, so Warner didn't give the DVD the gold treatment. The picture and sound are okay, but not as good as most DVDs coming out these days. The picture, presented in 1.78:1 anamorphic widescreen, is fine for the most part, but seems a little dark and grainy at times. The audio is done in 5.1 Dolby Digital, and is quite a bit better than the video.
The only extra included is an audio commentary by director Luis Mandoki. I was amazed how the DVD doesn't even include a theatrical trailer. I can't remember the last time that happened. A trailer is not really much of an extra anyway, however, and it's definitely not missed here.
Overall, the movie and disc are both decent, but nothing spectacular.
Angel Eyes, from Warner Home Entertainment
103 minutes, anamorphic widescreen (1.78:1) 16X9 enhanced, 5.1 Dolby Digital
Starring Jennifer Lopez, Jim Caviezel, Sonia Braga and Terrence Howard
Written by Gerald Dipego, Produced by Mark Canton and Elie Samaha
Directed by Luis Mandoki.