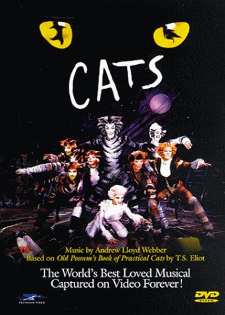 Cats and Andrew Lloyd Webber, the Royal Albert Hall Celebration on DVD
Memories…
By Jim Bray
Andrew Lloyd Webber's Cats is billed as the longest running musical in Broadway history, yet it's hard to see why.
Oh sure, its story about a collection of cats pussyfooting their way through life is interesting enough, and the hit song "Memory" is indeed a wonderful bit of musical theater. But there's something missing and it's really hard to put your finger on what it is.
Still, you can't argue with its success, so maybe we just missed something…
The musical is based on T.S. Eliot's "Old Possum's Book of Practical Cats" and marked the beginning (other than his record-based musicals) of Webber's assault on the musical theater. Full of dance numbers, Cats opened on a shoestring in London before coming to America and turning Broadway on its ear.
This Ultimate DVD is of a restaging of the stage production as shot for video - so it isn't a TV production or a movie: it's a filmed play.
Not that there's anything wrong with that. You get to see close-ups of the characters and their feline makeup that you wouldn't get otherwise and though that's a double edged sword it's a sword we prefer.
You also get far better sound reproduction than you would sitting in the balcony….
The sound is also a double edged sword, however as, thanks to the close-ups, it's obvious that the cast is lip synching. Why? They didn't fake the dances or the set?
Oh well. The sound is actually very good, as is the image. The liner notes say this version was filmed over an 18 day period at London's Adelphi Theatre, with an 80 piece orchestra mixed into stereo and full digital sound.
Well, it shows.
Unfortunately, the picture may have been shot at the 1.78:1 aspect ratio, but the DVD is not - we repeat not! - anamorphic, so owners of widescreen TV's will have to compromise the quality so it fills the screen. Too bad; other than that it looks great.
Cats comes with plenty of extras, a whole second disc's worth. You get individual interviews with Andrew Lloyd Webber, Cameron Mackintosh, Trevor Nunn, Gillian Lynne, John Napier and Gerry Schoensfeld. There's also a feature on the cast's makeup concepts, a "making of" feature, and a trailer for the Andrew Lloyd Webber Spotlight Collection.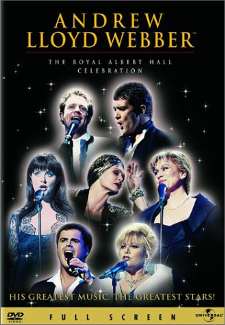 Andrew Lloyd Webber, the Royal Albert Hall Celebration
If you think Andrew Lloyd Webber's works are the cat's meow, you'll probably love this lavish celebratory concert.
Shot at a 1998 concert marking the composer's fiftieth birthday, it's an all star cast gala featuring numbers from most of his musicals stretching right back to Jesus Christ Superstar and Joseph and the Amazing Technicolor Dreamcoat.
Here's a partial breakdown of the action:
Elaine Paige: "Don't Cry for Me, Argentina" (Evita) and "Memory" (Cats)
Michael Ball: "Gethsemane" (Superstar) and "Love Changes Everything" (Aspects of Love) - the latter of which ends up being a full cast showstopper.
Donny Osmond: Any Dream Will Do (Joseph)
Also on hand are diva Kiri Te Kanawa, rock singer Bonnie Tyler, and Andrew's brother Julian doing a wonderful rendition of Variations on the cello.
Possibly one of the best sections comes from Webber's ex-wife Sarah Brightman as she performs a selection from The Phantom of the Opera (though a male phantom should really have sung "Music of the Night.")
And if you think Antonio Banderas is only a hunk/lunk actor, check out his performance from Evita, and don't miss Glenn Close as Norma Desmond performing songs from Sunset Boulevard.
As you can see, it's a pretty broad tribute to a broad range of work, and there are plenty of hits on hand.
As a DVD, the disc is excellent, though we would have preferred to see it shot in anamorphic wide screen. It's TV-based fullscreen, alas, though the picture quality is first rate. The audio, which is Dolby Digital 5.1 surround, is also excellent.
Extras include a tribute to the composer, which somehow rather strangely is where the disc begins when you put it into your player, as well as a trailer for the abovementioned "Spotlight" disc.