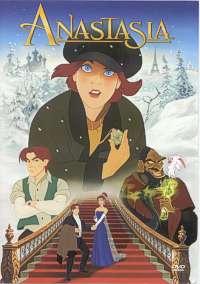 "Anastasia" on DVD
A Classic Hollywood Musical that's Animated
by Jim Bray
20th Century Fox's animated telling of the story of the famed lost Russian princess is a remarkable achievement.
Not only is it an animation tour de force, it's a showstopping musical in the best Broadway/Hollywood tradition, with a legendary story, likable characters, and a wonderful musical score.
Co-directed by Don Bluth, the former Disney animator who's been treading his own path for the past couple of decades, "Anastasia" is based on a true story and stars the voices of Meg Ryan, in the title role (though her songs are sung by Liz Callaway), John Cusak (sung by Jonathan Dokuchitz), Kelsey Grammer, Christopher Lloyd (sung by Jim Cummings), Hank Azaria, Bernadette Peters, Kirsten Dunst, and Angela Lansbury - a group of old pros who do a wonderful job of bringing the characters to life.
This is easily Bluth's best film to date, and he's been responsible for some pretty good stuff in the past, including "An American Tail."
The story follows Anastasia from just before the beginning of the communist revolution in 1917, when her family is destroyed, through her journey to Paris with a couple of con artists (who turn out to be a lot nicer than initially expected) to find out if she's the real princess Anastasia or not.
The bad guy is the infamous Rasputin who, despite having been dead for ten years, is intent upon wreaking vengeance upon the last of the Czar's line - Anastasia.
The songs, with music by Lynn Ahrens and music by Stephen Flaherty - indeed the entire story and production - really seem inspired by classic musicals, and the producers have done a terrific job of staying true to that format - and it works extremely well in the genre of movie animation .
But it's that animation that really stands out in "Anastasia." Don Bluth, Gary Goldman and their team have brought us animated characters who are so lifelike in their movements, facial expressions, and mannerisms, that it's easy at times to forget you're watching what's essentially a cartoon.
They did this by shooting live actors going through the blocking and using that as their reference. I'm not sure if they actually traced the live actors (an old technique known as "rotoscoping") or whether they "merely" used that as their inspiration, but the resulting footage is nothing short of masterful.
Computers have been used extensively, but they never beat you over the head with it. The only times it really shows up is in some camera movement, a couple of the settings, and in production numbers that would have been too difficult to do traditionally without spending lots and lots of extra money.
The blend of traditional and state-of-the-art is for the most part seamless and, since they've used the computer as a tool rather than the "be all and end all" Bluth et al have given us the best of both worlds.
The blending of true story with animated fairy tale also works very well. The result is a movie the whole family can enjoy - and those who appreciate technical prowess on the part of the filmmakers will be just as enthralled.
The DVD is in widescreen, with Dolby Digital 5.1 surround sound, and the audio and video quality are superb. For extras, you get a half hour documentary and a shorter featurette on the production, trailers, a couple of "karaoke" singalongs to songs from the film, and an interactive puzzle game. There are really no liner notes besides the package blurb, just a list of chapter stops, but the featurettes more than make up for this.
"Anastasia" is the first feature from 20th Century Fox's animation studio and if it speaks for the quality they're pursuing, we can only hope to see many more.
Anastasia, from 20th Century Fox Home Video
97 minutes, Widescreen (2.35:1), Dolby Digital
Starring Meg Ryan, John Cusak, Kelsey Grammer, Christopher Lloyd, Hank Azaria, Bernadette Peters, Kirsten Dunst, and Angela Lansbury
Screenplay by Susan Gauthier & Bruce Graham Bob Tzudiker & Noni White
Produced and Directed by Don Bluth and Gary Goldman