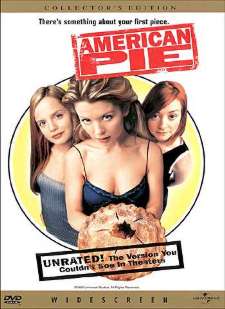 American Pie: Collectors Edition
by Johnny Bray
We can thank American Pie for reinventing the teen sex comedy genre. Since it came out in 1999, we've been hit with sex comedy after sex comedy after sex comedy. Unfortunately, few since Pie have been even remotely watchable.
Dubbed the "Porky's for the 90s," American Pie is an often very funny movie about four high school buddies (Jim, Oz, Kevin and Finch) trying their darndest to get laid, with no success. It's a world where, as the only four guys in the school who have yet to make the leap to Loveland, they are the outcasts. It's an interesting angle, but one that plays well for the sake of the film.
Kevin has a girlfriend, so there's really no excuse for his lack of action. Oz tries too hard, Jim always screws it up, and Finch comes up with zany schemes that, as much as they appear to be working, don't. They decide to make a pact to lose their virginity by the end of prom night. This is when the movie starts to get interesting.
Kevin inherits "the bible," from which he's taught the ways to fully satisfy his woman - but still no luck. Jim "blows it" too early - twice - when he gets the chance with Nadia, the Czechoslovakian exchange student. Oz joins the choir club, hoping to make it with the "goody-two-shoes-choir-girl-priss" who fortunately doesn't know him. And Finch starts rumours about himself to maximize interest from the ladies.
The movie has some very funny moments, but there are times when it tries way too hard. At the end, it seems to forget that it's a sex comedy, and becomes too serious. Though the scenes with Jim and Michelle are always entertaining. After all, at band camp, she stuck a flute up her…
Eugene Levy steals every scene he's in, playing Jim's remarkably understanding father. His facial expressions are pure gold, and many of the best lines belong to him.
The version I watched was called the "unrated" version, boasting material that we couldn't see in the theatres. However, don't be fooled. The only different footage I noticed was about two seconds when Jim is "tasting" the apple pie.
Plus, of course, it's no secret that the only reason this "Ultimate Edition" was released, is to capitalize on the release of the sequel. Much like "The Mummy: Ultimate Edition," this new version doesn't even have much new supplemental material. The only differences are the addition of some deleted scenes, a Tonic music video, and a sneak peek at American Pie 2. To add insult to injury, the packaging is very poorly designed, and is more of a nuisance than anything. Finally, disc 2 includes the always lovely pan and scan version of the film.
But if you like this movie and don't yet have a copy on DVD, this is the one to pick up. If you do own this movie already, don't be fooled by the clever marketing. Trust me, you won't lose sleep over keeping your old copy instead of this one.
The picture and sound are excellent, exactly what you'd expect from a collectors edition. The picture is in 1.85:1 anamorphic widescreen, and the sound is in 5.1 dolby surround or DTS.
The extras include a sneak peek and theatrical trailer for American Pie 2, deleted scenes, outtakes, spotlight on location, the trailer, commentary from cast and crew, photograph montage, a Tonic video and live performance, production notes, music highlights, and classic quotes.
American Pie: Ultimate Edition, from Universal Home Video
96 minutes, anamorphic widescreen (1.85:1) 16X9 enhanced, 5.1 dolby surround, DTS
Starring Jason Biggs, Chris Klein, Thomas Ian Nicholas, Tara Reid, Mena Suvari and Eugene Levy
Written by Adam Herz Produced by Warren Zide, Craig Perry, Chris Moore and Chris Weitz
Directed by Paul Weitz