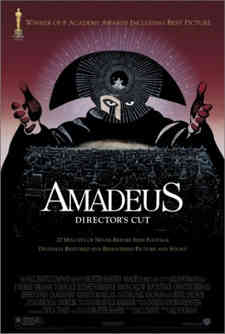 Amadeus on DVD
While the story of a long dead classical music composer may not sound like the stuff of which cinematic dreams are made, in the right hands it can be a compelling and highly enjoyable film.
Such is the case with Peter Shaffer's adaptation of his own play, directed by the sure hand of Milos Forman and with a cast that brings to life the glory days of eighteenth century Austria and all that went with it.
But this isn't so much the tale of Wolfgang Amadeus Mozart, from whose name the title is derived, as it is the story of Antonio Salieri (F. Murray Abraham) - court composer to Austria's Emperor Joseph
Salieri was master of his domain until the young genius Mozart (Tom Hulce, who really shines in the portrayal) showed up and pushed him into the footnotes of history. Mozart was everything Salieri wasn't, and as much as Salieri learned to despise the rough-edged composer and hate everything for which he stood, he couldn't help but be in complete awe of his masterful abilities, talents that made it seem to Salieri as if God himself were speaking through Mozart's music.
It was, to Salieri, as if God - to Whom he had committed his entire life and ability - were throwing his entire life back into his face. So he turned his back on his God, determined to destroy the animal Mozart who made him feel so totally inadequate.
The original version of Amadeus was a masterpiece of filmmaking, a spectacular period piece that was perfectly cast, written and crafted - so why bother with a director's cut when director's cuts so often (with certain exceptions, of course) can mean the addition of self indugence or, at least, the gilding of a lily?
Well, if nothing else it's a good marketing opportunity but, after not having seen Amadeus since its original introdution on VHS many years ago, to this reviewer's less than perfect memory the new version holds up very well and actually adds some interesting perspective that fills in a couple of holes.
For example, we now know why Wolfgang's wife, Constanze (well played by Elizabeth Berridge), hates Salieri's guts, thanks to an added scene or two that fleshes out their relationship.
The movie doesn't seem longer, though it is, nor does it seem padded, so this is one director's cut that stands up as if not the best version, at least as good as the "original."
It's also an excellent DVD, with a newly and digitally remastered, beautifully rich and colorful anamorphic widescreen picture that just cries out for a big, widescreen TV. And the audio, which is now offered in Dolby Digital 5.1 surround, does justice to the music of the master. The sound is glorious, and it fills the room in a most appropriate and pleasant manner. If you weren't a fan of Mozart when you sit down to watch Amadeus, you probably will be by the time it's over.
Part of the joy comes not only from Mozart's music, but from writer Shaffer's vision of Salieri reacting to Mozart's music. We see this no-more-than-adequate composer, who loves music above all else, in positive rapture at how the vulgar Mozart has structured his music, letting us in the audience in on just how innovative and glorious his compositions actually were. It's enough to make you run out and buy Mozart's Greatest Hits the instant the movie is over.
This is a DVD treatment Amadeus deserves.
Even the extras excel in this two disc set. Director Forman and writer Shaffer turn out a pretty good commentary, though they seem almost mesmerized by the movie and that prevents them from doing much more than merely offering the odd anecdote. But that's okay.
And then there's the second disc, which includes an excellent newly-shot, hour-long "making of" documentary that includes contributions from Forman, Shaffer, Sir Neville Marriner (who conducts the orchestra that brings all the music to beautiful life), and the major actors of the piece. This documentary covers the scriptwriting, the choice of music, casting, and even looks at the problems and the benefits involved in filming Amadeus in then-Communist Czechoslovakia.
What a spectacular piece of movie making - and DVD making, too!
Amadeus, the Director's Cut, from Warner Home Video
180 min. anamorphic widescreen (2.35:1), 16x9 TV compatible, Dolby Digital 5.1 surround
Starring F. Murray Abraham, Tom Hulce, Elizabeth Berridge, Simon Callow, Roy Dotrice, Jeffrey Jones,
Produced by Saul Zaentz
Written by Peter Shaffer, Directed by Milos Forman