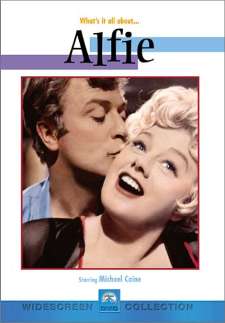 "Alfie" on DVD
He Has No Idea What's It All About
"Alfie" is billed in the box's liner notes as "a ribald and wild comedy," which must be one of the most blatant cases of overwrought hype in marketing history.
Why? There's nothing funny in this story of a ne'er do well user of women who ends up being used himself. That doesn't mean there's nothing to recommend the film, just don't go into it expecting to laugh.
Michael Caine is Alfie, a man who refuses to grow up or settle down. He's perhaps the quintessential male fantasy of the 1960's, a hopeless cad who makes Bill Clinton look like a paragon of virtue as he swings from one conquest to another.
Alfie goes through women like some men go through underwear. He loves 'em and leaves them - or knocks them up and then, refusing to commit (or panicked that this particular bundle of joy is being baked in another man's wife's tummy). Along the way he leaves shattered
This 'penchant for "knocking 'em up" leads to a really poignant scene that's sure to get feminists more than a mite peeved. Alfie has gotten pregnant the wife of a friend from the Sanitarium, which leads to their decision to have the baby aborted. The process being illegal at that time, they have to enlist the help of a clandestine abortionist (perfectly played by the late Denholm Elliott) to carry out the procedure. When Alfie gets a first hand look at what he has wrought, it makes him look at things a lot differently.
Not differently enough to actually change himself, however.
Michael Caine puts in a first rate performance in the title role; he spends a lot of the movie talking to the audience, giving his own running commentary and justifying to us and him the things he's doing.
Shelley Winters is excellent in a relatively small role as a rich woman who dallies with Alfie for a while. The other women, who are ultimately all not much more than victim's of Alfie's libido, are also well played, especially Jane Asher as the messed up teen Alfie uses.
The DVD is presented in anamorphic widescreen, 16x9 TV compatible, and the picture quality is very good. The audio is offered in two versions, a restored mono soundtrack as well as Dolby Digital 5.1 surround. Both sound very good, but we preferred the 5.1 version because it moved the musical score to the main speakers, which in our home theater gave better sound quality to the music because the front left and right speakers are better than the center one.
Extras are limited to the usual trailer/chapters/subtitles.
Alfie, from Paramount Home Video
113 minutes, Widescreen (1.85:1)16x9 TV compatible, Dolby Digital 5.1, mono
Starring Michael Caine, Shelley Winters, Millicent Martin, Julia Foster, Jane Asher, Shirley Anne Field, Vivien Merchant, Eleanor Bron
Produced by Lewis Gilbert
Written by Bill Naughton (from his play), Directed by Lewis Gilbert.