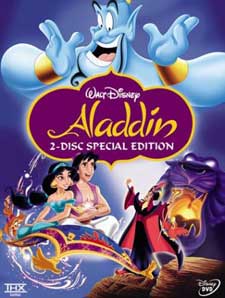 Aladdin on DVD
The latest in Disney's wonderful series of 2 disc Platinum Edition DVD's, Aladdin is a timeless story beautifully told to the backing score of the great Alan Menken.
And as usual this THX-certified DVD is a spectacular digital disc that really does its subject matter justice.
Aladdin, as everyone knows by now, is a street urchin who makes his living by stealing the food he needs to survive. He meets princess Jasmine one day, after she escapes from the palace to get away from the suffocating life she leads. They hit if off, naturally, but being star crossed lovers it's going to take a lot more than that to get them together permanently - and that's good because otherwise it would be a very short movie!
The bad guy is Jafar, the evil vizier who covets world domination as well as the luscious curves of Jasmine. And he knows just how to do it: get some street wise urchin (guess who?) to retrieve a magic lamp and force the genie (voiced in his manic tradition by Robin Williams) to do his bidding.
Well things don't work out for him as well as he'd like, either. Aladdin ends up controlling the genie initially and uses him to return as a prince so he has enough social standing to court the lovely Jasmine. But before all is said and done Jafar gains control of the reluctant genie setting the scene for a spectacular action sequence near the end in the grandest of Disney tradition, reminiscent of such climactic battles as the ones from Sleeping Beauty and The Little Mermaid.
It's all quite fun and very entertaining, and along the way they managed to slip in some lessons about telling the truth and being true to yourself, without beating you over the head with them.
And of course this movie, created by many of those responsible for the masterpiece "The Little Mermaid" that put Disney back on track again, features the abovementioned Alan Menken score. Menken and songwriting partner Howard Ashman created the marvelous tunes from "Little Shop of Horrors," "The Little Mermaid" and "Beauty and the Beast," among others, and thereby nearly single-handedly brought the old-fashioned Broadway musical style back into fashion.
Alas, Howard Ashman died before Aladdin was finished and Tim Rice, who first came to world wide fame with his lyrics for Jesus Christ Superstar, finished the job. In this writer's opinion Menken and Ashman would have rivalled Rogers and Hammerstein had their partnership not been terminated, and while Menken still retains his talent the hits haven't been coming as consistently since.
But Aladdin features wonderful songs, from the hit "A Whole New World" to the very Broadwayish "One Jump Ahead" and Williams' tour de force "Friend Like Me." It's another classic score.
The DVD itself is typically top notch. The THX-certified disc features anamorphic widescreen video, 16x9 TV compatible, and Dolby Digital 5.1 surround.
It also features the enhanced Home Theater mix we first noticed with Disney's DVD or The Lion King. This seems to be the regular soundtrack after having received a shot of steroids, and it's very good, with deep, rumbling bass and excellent tonal balance. All the channels are used very well.
The video quality is spectacular. There's nary a trace of any flaws and the detail and colors are all wonderfully rendered. This is a treat for the eyes and ears, just like most of Disney's other Platinum titles.
And of course there are plenty of extras.
Disc one contains the feature, some deleted songs and scenes, a "Backstage Disney" feature that accesses commentary tracks and "fun facts" as well as "Music and more," which lets you access various songs (complete with onscreen lyrics) directly. There are also audio commentary
Disc two, as expected, piles on the extras. "Games and Activities" includes a self guided tour of the Genie's lamp and a 3 wishes game. I particularly enjoyed the magic carpet adventure that, while pointless, is a breathtaking computer animated first person trip on the magic carpet. It's the closest you'll get to riding a roller coaster without leaving your easy chair.
And of course there's plenty more, including features on the making of the film, a look at Alan Menkin, info from the producers, animators, musicians and voice talent.
In all, a typically well done Disney DVD, and a wonderful family adventure that'll give your home theater a nice workout.