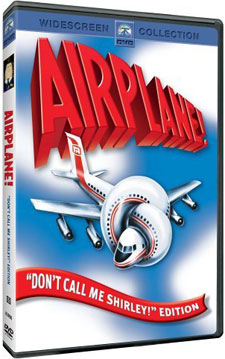 Airplane!: "Don't Call Me Shirley!" Edition on DVD
Shirley You Must be Kidding!
While there was absolutely nothing wrong with the audio and video transfers on the original DVD release of Airplane!, we can't help but be slightly disappointed that the new edition has the exact same ones.
Even the audio commentary is exactly the same, not to say that it isn't a good one. So what's new for this new release? Something called the "Long Haul Version."
The Long Haul Version begins with watching the film like normal, but 60 times or so, it's interrupted to bring us a short interview with someone involved in the particular scene. While it sounds interminable, if you've seen the film as many times as we have, it comes across as a new, interesting way to watch a classic. There are even a couple of deleted scenes incorporated here, and it's always fun to see how people look 25 years later.
Also new is the trivia track, which unfortunately repeats much of the information found in the Long Haul Version and the commentary. However, most of which isn't repeated is interesting and/or entertaining.
Finally, by purchasing this DVD, you can send away for a free "Otto" blow-up doll, which deserves to adorn every household.
As usual, the new edition is only worthwhile if you don't already own a version of Airplane!, or don't mind paying the price of a movie for a couple of special features and a blow-up doll.
Here's our original review of the movie:
Airplane! set the world on its ear when it came out in 1980. It was rude, crude, juvenile, puerile, and twisted – but it was also one of the funniest movies to have come along in quite a while.
The story is a ripoff of Arthur Hailey's "Flight Into Danger" in which an ex-pilot is forced to land a commercial airliner after the crew is stricken with food poisoning, but the story is just a framework for writer/directors David Zucker, Jerry Zucker and Jim Abrahams to attach what has become their trademark comedy.
Robert Hays is Ted Striker, the ex-pilot with a messed up head. Julie Hagerty is Elaine, the stewardess with whom Striker has been involved for years, until his various problems got the best of him. Leslie Nielsen begins his long relationship with the Zuckers/Abrahams team as the doctor who keeps things relatively together on the ill-fated flight.
Also on hand are Lloyd Bridges, Robert Stack, Peter Graves, Kareem Abdul-Jabbar and many others in a variety of supporting roles.
You can't close your eyes for a second during Airplane! or you'll miss something funny or outrageous, like the tough guy next to Striker during the disco flashback scene – when Striker's voice over says he was so smitten by the sight of Elaine that he had to ask the guy next to him to "pinch me to see if I'm dreaming."
The movie doesn't only spoof disaster films, but many other films (including "From Here to Eternity" and "Saturday Night Fever"), groups, and situations.
It's so funny I thought my pants would never dry.
The DVD is in widescreen, enhanced for 16x9 TV's, with Dolby Digital 5.1 audio. Picture and sound quality are fine. Extras include a running commentary from the team of loonies who thought up and made the movie, accompanied by producer Jon Davison.