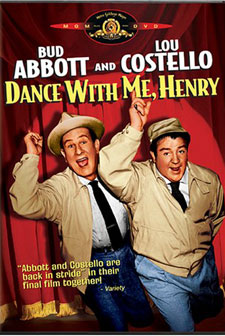 Dance with me Henry on DVD
One of the greatest comedy teams of all time goes out with a bit of a whimper in this flick that sees the duo trying to keep one step ahead of the law and the lawbreakers.
Together for the last time in this 1956 flick, Bud Abbott and Lou Costello's Dance With Me Henry is a fairly unfunny film that really makes you pine for their greatest films.
All Lou Henry (Costello) is trying to do is live a quiet and happy life running an amusement park and bringing up his adopted children. Alas, the welfare bureaucrats consider him an unfit father, and want to take his kids away from him. And if that isn't bad enough, his buddy Bud (Abbott), drowning in gambling debts, has run afoul of the mob and needs Lou's help.
It's worth seeing, but it's definitely dwarfed by so many other great A&C collaborations, including:
A better outing is The Noose Hangs High, in which the pair are window washers who get mistaken for messengers and get drawn into organized crime when they're sent by a gangster to collect $50,000.
Unfortunately, Lou loses the money, mailing it to a woman who upon receiving it goes on a spending spree. Given 36 hours to get the cash back, the three protagonists have to figure out a plan quickly or face the consequences.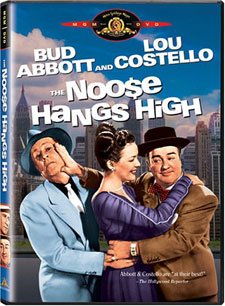 This film is pretty funny and it's also quite interesting because the supporting cast gets to take part in what otherwise would have been typical Abbott and Costello routines.
Both A&C films are presented in their original full frame aspect ratio and the picture quality is quite good. Audio is Dolby Digital mono and is unremarkable.
The Noose Hangs High, from MGM Home Entertainment
77 min. full frame (1.33:1, not 16x9 TV compatible), Dolby Digital mono,
Starring Bud Abbott, Lou Costello, Joseph Calleia, Leon Errol, Cathy Downs
Written by John Grant, Howard Harris, produced and directed by Charles Barton
Dance for me Henry, from MGM Home Entertainment
80 min. full frame (1.33:1, not 16x9 TV compatible), Dolby Digital mono
Starring Bud Abbott, Lou Costello, Gigi Perreau, Rusty Hamer, Mary Wickes
Produced by Bob Goldstein
Written by Devery Freeman, Directed by Charles Barton