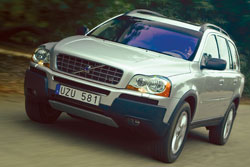 By Jim Bray
"Grunt without the guilt."
That's how Volvo describes the new V8 option debuting soon in its XC90 SUV.
Grunt, thanks to the V8's 315 horsepower and 325 ft. lb of torque, and no guilt thanks to its efficiency and cleanliness, two factors Volvo says were high on its list of priorities for its first eight cylinder power plant.
"It's important that we can launch a V8 without compromising on our core values," said Volvo Cars President and CEO Hans-Olov Olsson.
One way to do that was to ensure the engine was small enough physically to fit into the existing XC90's bay, mounted transversely like the rest of Volvo's engines. "We've tailored this V8 specifically for the XC90," says Hans Wikman, Volvo Cars Vice President, Vehicle Line Large Cars. "A transverse engine is helpful in maintaining the frontal crumple zones in the XC90 and thus not compromise on protective safety."
Making the 4.4 liter V8 fit into the XC90's existing cavity required angling the banks of cylinders at 60 degrees to each other, instead of the more common 90 degrees. To prevent imbalance from the 60-degree V configuration, Volvo installed a counter-rotating balance shaft.
Ancillary devices such as the alternator are mounted directly onto the engine itself, without brackets, and the starter motor sits above the transmission. Volvo says both moves are designed to save space. Not only that, but Volvo has offset the left-hand cylinder bank by half a cylinder to help squeeze the engine into the XC90's structural beam network to help ensure Volvo's famed collision safety.
Thanks to an aluminum block and cylinder heads, the V8 tips the scale at only 190 kilograms, which Volvo says is important when you're trying to maximize fuel economy.
Fuel consumption ratings are estimated at 16.4 liters per 100 km city and 10.7 highway, which isn't too far off the 15.6 /10.6 city/highway rating of the current XC90's turbo six cylinder power plant. Mileage varies, of course, and if you drive with a lead foot – something a V8 makes even more interesting – you undoubtedly won't achieve the posted figures.
Volvo also claims the new engine is the cleanest gas powered V8 available, meeting the U.S. ULEV II (Ultra Low Emission Vehicle, stage II) standard. "This is an achievement we're really proud of," according to Jörgen Svensson, Chief Program Engineer.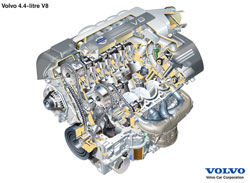 The 4 valve per cylinder engine also features continuously variable valve timing (CVVT) and is matched to a six speed automatic "geartronic" transmission with a good manual mode. Sixth gear is considered to be an overdrive gear, for fuel economy and quiet cruising.
During a test drive of the V8 XC90 I took through the foothills of the Rocky Mountains, the combination proved highly competent, offering plenty of get up and go, and easy kickdowns to lower gears when it came time to pull out and pass.
It sounds neat, too, which was apparently a deliberate strategy on Volvo's part. "Our new V8 has just the right sort of charismatic off-beat V8 burble," boasts Svensson, "but it is somewhat more muted in a European fashion rather than producing the more traditional meaty American throb." Away from the hype and out on the highway, the engine sounds throaty and muscular, like even a metrosexual V8 should.
Volvo claims a zero to 100 km/h time of 7 seconds.
The third component in the V8's power train is its electronically controlled all wheel drive system, which Volvo says now offers "instant traction." This supposedly ups the "get going fast" quotient when you want to scream away from a stop light, while offering enhanced traction when driving conditions are less than optimal. The system has been modified to handle the V8's extra power and Volvo says maximum short-term torque at the rear wheels has been increased by 50 percent compared to the "garden variety" XC90.
The luxury SUV also includes roll stability control and Volvo's Roll Over Protection System (ROPS), as well as curtain air bags for occupants of all three rows of seats.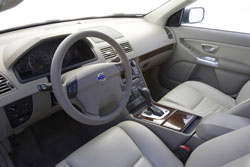 The vehicle also comes with an excellent Dolby Pro Logic II "surround sound" audio system with very good ergonomics, though it should also offer DVD Audio, dts and SACD playback.
Volvo is primarily targeting consumers who are male, 55 years of age and up, with a household income of $160,000 or more. The company says reasons to buy the V8 XC90 include its styling, fun to drive quotient and the performance of the silky V8. Volvo is hoping the luxury SUV will steal sales from such four door sedans as the BMW 5 series, Mercedes E class, and Audi A6.
The XC90 V8 went on sale in the U.S. in early 2005 and is scheduled to debut in Canadian showrooms in July. The base, five seat V8 will sell for $64,995, with options such as the third row of seats ($2,300), a luxury option package ($2,000 for the five seat and $1,800 for the seven seat version), DVD navigation ($2,500) and dual screen DVD rear seat entertainment package ($2,500) also available.
"With this pricing strategy, we feel the 2006 XC90 V8 is ideally positioned to be a strong competitor in the high-end of the luxury SUV market," says Larry Futers, Vice-President of Sales for Volvo Cars of Canada Ltd.
Volvo Canada is forecasting sales of 2500 units per year for the XC90, 20 per cent of which they think will feature the V8 option.
"Our V8 package feels immensely solid," claims President and CEO Hans-Olov Olsson. "When it comes to power and performance, we're in the same class as the very best in the segment. What's more, we're sure that a large proportion of these customers will appreciate the fact that the power and drivability can be combined with high safety and good environmental properties."
Or, as they proclaimed during their media event, "Absolute power doesn't have to corrupt absolutely."