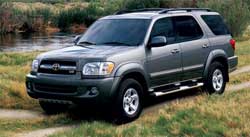 By Jim Bray
They don't call this a Sequoia for nothing. Like the famous Redwood, the big Toyota is grand and stately. It's full in size and features, but surprisingly nimble for a vehicle that's nearly large enough to house a government ministry.
Well, maybe nimble isn't the best word, but despite its mass this is no land barge.
So the rather immense Sequioa is still quite nice to drive and at the same time manages to come off as fairly subtle compared to other "brute utes" such as the Hummer H2. Neither are really my kind of wheels, but I can certainly see why people buy them.
And it appears that quite ordinary people buy vehicles such as these, as I witnessed when a woman in a Sequoia identical to my "Phantom Grey Pearl" test vehicle pulled into a parking space behind me at a shopping mall. She'd only had her Sequoia for a short while and was still getting used to it, especially parking it, but she said she absolutely loved it. Her other car, she said, is a Prius, so I guess she's breaking even.
Anyway, the Sequoia is not only big, it's powerful and stable and proved to be a wonderful beast to have when winter hit our town. In one swell foop the Sequoia went from being a gigantic cruiser to a serene and secure place to tackle the icy roads. This, despite Newton's First Law of Motion.
Toyota says that for 2005 Sequoia has more power, more toys and more safety stuff than the previous version. Its 4.7 litre V8 now features Toyota's intelligent variable valve timing (VVT-i) and there are now 282 horses under the hood (which must be awfully crowded) that prance at a reasonable 5400 rpm. Better still, you get 325 lb-ft of torque, and the combination of the two specs mean this monster picks up and gets out of Dodge about as quickly as you could need from a vehicle such as this. It's kind of like being in the wheelhouse of the Queen Mary when the solid rocket boosters kick in.
Between the powerplant, a new 5-speed electronically controlled (ECT) automatic transmission and multimode 4WD that lets you shift between rear and four wheel drive on the go, you have a capable handler as long as you keep in mind that abovementioned Law of Motion.
Sequoia also has excellent ground clearance for driving off road or, in the case of winter, through snow banks. Alas, this also contributes to a very large step up to the running board, and if it hadn't been for the running boards I would have needed a step ladder or a block and tackle to get in.
Then there's that Toyota feel. Now, I haven't driven a new Toyota for a while, but I've been following the marque for years and their products have traditionally had a really solid feel and the company is well known for quality and durability. And the ones I've owned over the years have all acquitted themselves most admirably.
Consequently, this Sequoia SR5 feels as solid as a tank. Based on the Tundra full size truck, it's a truly heavy duty machine, as you can tell by a quick trip down the spec sheet. It comes with a heavy duty battery, starter, alternator and heater, a 2 speed transfer case, active traction control, an automatically disconnecting differential and protective plates for the fuel tank and transfer case. This is a vehicle that's ready to go anywhere, anytime as long as you can afford the gas (It's Transport Canada rated at 18 mpg city and 23 highway, which are undoubtedly best case scenarios).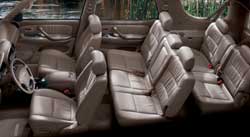 The big SUV is comfortable for five, but seats eight without fuss. The third row's a tad tight but would work okay for kids, and getting in and out are fairly easy thanks to the way the second row passenger side seat flips forward to permit the climb.
The front captain's chairs, especially the driver's, is a very comfortable place to spend some time. The powered, leather seats fit nicely and come with bun warmers, though their controls are placed a little far away from the driver, on the centre console. You have about all the comforts and gadgets you could want, including power everything, a leather wrapped steering wheel, auto dimming rear view mirror and heated and powered side mirrors.
The JBL stereo sounds pretty good, though you only get a single disc CD player, which seems kind of chintzy in a $60,000 (Canadian) vehicle. On the other hand, you get steering wheel-mounted controls as well as a pair of wireless headphones and some rudimentary audio controls in the middle seats which could help keep the kids alive to travel again if Mom and Dad have had enough of "Are we there yet?".
Controls are logically laid out and easy to reach; driving the Sequoia is basically a no brainer and I imagine it's a treat to take off road as well. Front passengers can enjoy dual side climate control, which my wife and I really like (since we never agree on anything, especially the optimal temperature) and you also get a built in garage door opener and an anti theft system.
I also liked the large sunroof, which opens and closes at the touch of a button on the ceiling. It did manage to offer up a kind of clattering noise that could have been the wind combined with the roof rack, though I didn't notice it with the sunroof closed. It reminded me of the sound a Huey helicopter makes, and fortunately I had a copy of "Ride of the Valkyries" in the CD player, so it worked out okay.
For 2005 the Sequoia SR5 has added a plethora of TRD (Toyota Racing Development) sport features as standard equipment, including an adjustable rear air suspension that adjusts the ride height based on input from load sensors, and a nice set of 16 in alloy wheels wearing P265/70 tires.
The Sequoia's suspension up front is of the double wishbone type. Brakes are big, power assisted ventilated discs with ABS and other assists, and the steering is variable power assisted rack and pinion. Steering feels good and the vehicle stops very well despite its inertia.
And as you might expect, the beast is filled with thoughtful touches such as more cup holders than you can carry people (ten versus eight), a built in memo pad on the front centre console and hooks in the rear for keeping groceries and stuff from sliding around.
Safety features include front and side air bags with side curtain air bags thrown in for good measure, and all seating positions get three point seat belts.
My test Sequoia SR5 carried a sticker price of $60,790 Canadian (approximately $38,000 US), including freight and delivery.
If you're looking for a full size SUV and want something that does the job very well without beating you over the head, and you want to deal with a manufacturer that has a reputation for quality and reliability, the Sequoia may be a good place to start your quest. It's no gazelle, but it's a pretty dexterous elephant.
And that's okay.