Suzuki Grand Vitara
By Jim Bray
(photos by the author)
Suzuki's popular Grand Vitara has received a complete makeover for 2006, and the resulting SUV is a nice unit that offers good value for the dollar.
The new model not only features a new, unit body and a fresh exterior, it also includes such interesting and useful features as a V6 engine, power practically everything, satellite-ready AM/FM/CD/MP3 player with 4-speakers, steering wheel-mounted audio controls, tilt steering and a one touch open/close sunroof.
I never had the chance to drive the last version of the Grand Vitara, but my neighbor had one and liked it a lot. With the new model upping the performance, technology and comfort/convenience ante over the old one, he should be even more enamored.
Grand Vitara models come standard with a 2.7 liter 24-valve, dual overhead cam (DOHC) V6 engine rated at 185 horsepower @ 6,000 rpm and 184 lbs-ft of torque @ 4,500. Suzuki says the vehicle can tow up to 3000 lbs. Base models come with a 5 speed manual transmission, but my tester had the 5 speed electronically-controlled automatic. Shifts were smooth, though the Grand Vitara seemed reluctant to downshift at times when I wanted to pull out to pass.
The gas pedal in my tester was rather stiff which (when combined with the engine and transmission feel) helped to give the impression that the vehicle is reluctant to be spurred. The SUV also didn't seem to like being driven fast, but I had no trouble keeping up with (and even pulling away from) other traffic when accelerating.
On the other hand, the Grand Vitara is known for its off road ability, so its owners are undoubtedly more interested in the vehicle's "more reasonable" speed capabilities and its overall stability than its racing pedigree, and in my week of urban and rural on road driving, I found the Suzuki to be very secure and comfortable as long as I wasn't pretending to be in the Indy 500.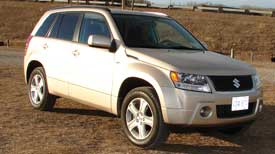 The Grand Vitara features four-wheel independent suspension and overall it rides pretty well. Stability control is standard, though I was surprised to find that the power-assisted brakes with ABS only have discs up front, with drums out back. You do get electronic brake force distribution, brake assist and an electronic stability program with traction control.
Steering is power-assisted rack and pinion.
The rear door opens from the left and swings to the right (as opposed to swinging up like a tailgate or hatch), which I imagine makes it a pain in the neck to load if you're parallel parked on a street. Still, this isn't unique and the opening is actually quite big – and the rear seats split and fold down to reveal even more space inside.
Those rear seats are quite comfortable, and they even recline somewhat – though I wouldn't want to go too far cross country in them. Not surprisingly, the front seats are better, and are a good place to soak up the miles. I had trouble finding the best driving position, and never did find the perfect one, though if the tilt steering wheel also telescoped it would have made all the difference. But it doesn't.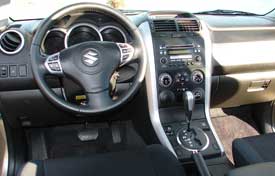 The instrument panel is straightforward and attractive, the controls on the center stack are also well designed and executed. You get automatic HVAC, though it isn't dual zone.
My tester included the satellite radio-ready AM/FM/CD/MP3 player and it's nicely designed to operate at speed – and it sounds pretty good, too. Not bone rattling, but more than adequate.
An unexpected touch on my tester was the "Smart Pass" keyless entry and start system that lets you leave your key fob in your pocket or purse. You unlock the door(s) by touching a spot on the handle and start the vehicle merely by twisting the knobby thing where the key would go normally. It works well, too, better than some I've tried.
This "keyless" system is getting to be an increasingly popular feature (and I really like it when it works) but I hadn't expected to see it on a "lower end" vehicle such as this.
Other nice conveniences include variable intermittent wipers, decently sized heated outside mirrors (heating is optional on the base model), cruise control, halogen headlights, accessory power outlets, and plenty of storage areas.
I also appreciated the sunroof, which was of decent size and features one touch opening and closing. Wind noise is acceptable until you reach higher speeds.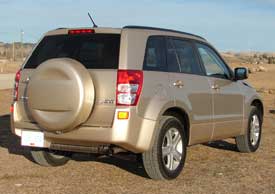 Safety equipment includes dual front and front side airbags and side curtain airbags. Though not really considered a safety feature, the Grand Vitara also comes standard with an automatic headlight setting that ensures your lights are on when needed. This is a wonderful feature (which is also increasingly common), and it helps ensure that in markets such as Canada where daytime running lights are required, drivers don't drive along at night with their headlights fired up, blissfully unaware that the tail lights aren't on.
The Suzuki Grand Vitara is rated at 18/23 mpg for the 2WD model with manual transmission. Suzuki says the 2WD automatic gets 19/24 city/highway, respectively.
The 2WD base model starts at $18,999 US/$24,495 Cdn; the top-line four wheeler with the luxury package starts at $24,399 US/$29,995 Cdn. This prices the loaded Grand Vitara just under the four cylinder Honda CRV's base price, and comparable to a Hyundai Tucson V6's, though the four cylinder Tucson undercuts it.
Still, considering all that you're getting with the new Grand Vitara, it seems like a good value.