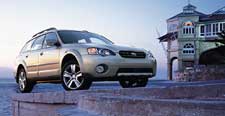 By Jim Bray
One of Subaru's "legacies" is its self proclaimed "world's first sport utility wagon," the Outback. Basically a beefed up version of the Legacy, the Outback is newly redesigned for 2005, a freshening that keeps what made earlier versions popular, but ups the styling and technology ante to reflect the current state of the art better.
I'd never driven a Legacy or an Outback before this review, though I've driven most other Subarus from the past couple of years, so I was extremely interested to try this top-of-the-line 3.0R VDC model. I like Subarus, especially the Forester, but on the whole am of the opinion that they don't come off quite as refined in their feel and appointments as some of the Japanese competition I've driven.
This obviously doesn't matter to Subaru owners, who find many other things to love including their four wheel drive stability and all around driving prowess (as well as a good "fun to drive" quotient).
Well, the new Outback has closed that apparent refinement gap, and the new vehicle is attractive, comfortable and pleasant, featuring such delightful touches as doors that close with a nice, solid "thunk," a very quiet interior (except for wind noise undoubtedly caused by the roof rack) and a sunroof so big you could almost use it as a point for ingress and egress.
My test model 3.0 R VDC is nicely upscale. It sports a three liter six cylinder "boxer" engine (instead of a V6 or an inline six, the cylinders are "horizontally opposed", each row of three firing at each other like boxers fists duking it out), with electronic throttle control (ETC), Active Valve Control System (AVCS) and Active Valve Lift System (AVLS). It's a fine engine, making 250 horses @ 6600 rpm and 219 lb.-ft. of torque @ 4200 rpm and, while it doesn't take off from a standing start like a solid fuel rocket, by the time you hit 3000 rpm or so it pushes you back into the seat in a most satisfactory manner.
Yessirree, once you turn it loose it goes like heck!
Apparently, the Outback with the turbocharged 2.5 four cylinder boxer engine is even faster, though I didn't have a chance to try it. But this six goes just fine, thank you. We took it on a weekend road trip and found it to be smooth and powerful and more than competent under all conditions we tried. It cruised beautifully at highway speeds (well, highway speeds at which you'd get a steep fine if caught) and had plenty of grunt left over for passing.
Coupled to the engine is a smoothly shifting five speed electronic direct control automatic transmission with "Sportshift" pretend manual mode. The transmission worked very well, though as with so many pretend manuals it's better than a normal automatic but nowhere near as much fun as a real manual. Still, it's a reasonable compromise.
The suspension is four wheel fully independent, and raised up to give more road clearance than the average family car. And of course the Outback features Subaru's variable torque distribution four wheel drive system with an electronically controlled locking centre differential. It also sports Vehicle Dynamics Control and traction control.
All of this adds up to excellent stability on the road, something we noticed on our trip when we suddenly ran out of pavement on a back road we were exploring and had to drive several kilometres on gravel. On that stretch, the Subaru did display bit of wavering left and right, but far less than the last two wheel drive vehicles I took onto gravel - and never to the point where it caused any kind of concern. In fact, I managed to keep it going at what my wife considered to be breakneck speed and it never felt unstable while on the relatively loose gravel. In fact, it was fun!
I can see why Subarus are so popular and successful at rallies.
The Outback goes where pointed, travels with dispatch, handles with aplomb, and lets you arrive in style and comfort. For what more could anyone ask?
Well, I would have liked to see a better audio system, but more about that later.
The new body style is terrific. Just as Volvo has managed to do over the past while, Subaru has taken what was a rather boxy vehicle (though not nearly as boxy as those old Volvos!) and created a new one that's sleek, fresh and attractive, yet instantly recognizable as a Subaru. Well done!
As mentioned above, there's also a gigantic sunroof that extends from just over the driver's head to just about the rear seats. It's quite similar to the one on the Forester Turbo I tried a while back, though I liked the one on the Forester better. Alas, instead of a little metal strip that folds up to divert the shrieking banshees of the wind, the sunroof is broken into two glass panels, the front one of which merely lifts up to act as a wind breaker. This means that, in reality, the front passengers don't get an open sunroof over their heads at all (unless, perhaps, your legs are much longer than mine and you can put the seat back farther!) while those in the back get the benefit.
Subaru has thought up a nifty selection of settings for the sunroof as well. Push the button once and that front panel lifts up. Push it again and the big main panel slides back to behind the front seats. Push it once more and it extends back to its limits. It works well when you're opening it, but closing it tends to pull the inner fabric covering forward with it. The added number of settings also means you need to keep your hand off the steering wheel longer.
What they really need is a sunroof powered by brainwaves, or with controls on the steering wheel!
The driving position is very nice. The Outback 3.0R VDC wagon features an eight way power adjustable driver's seat that makes finding the perfect driving position child's play. The front passenger seat features four way power adjustment. Both seats are covered in leather that looks and feels kind of like vinyl (undoubtedly a utilitarian leather that'll wipe down well to please those outdoorsy people who buy such vehicles) and feature variable-setting bun warmers.
The seats are very comfortable for long stretches of driving and feature good side bolstering that keeps you in the seat during the wild twisty bits. The rear seat holds three adults (as usual, two are comfortable and three are a tad snug) and it splits 60/40 and folds flat to make a truly cavernous storage area in the rear.
Instrumentation is full, analogue, and easy to read, though some of the LCD displays on the radio and HVAC controls were a tad washed out in bright sunlight when I was wearing polarized sunglasses. Subaru even includes nice little touches such as an arrow that points toward which side of the car the fuel filler door is on.
The automatic climate control works very well and features the lovely dual zone operation feature that helps avoid fisticuffs among front seat passengers.
Then there's that audio system. It features an in-dash six disc CD/MP3 changer (as well as an AM/FM radio tuner) with four main speakers, two in-door tweeters and a subwoofer. And there are controls mounted on the steering wheel. While that looks pretty good in print, unfortunately Subaru either went cheap on the speakers or the amplifiers (I suspect the latter) because the sound quality is only average, bordering on anemic, even if you really crank it.
This may not matter to anyone but audio snobs, however.
My only other complaints are road noise and sensitivity to crosswinds, and I think the roof rack is the culprit here. It shouldn't be enough to frighten you away from this car, though.
Other than that, the Outback gives the impression that it aims to please, and it's very pleasing for driver and passengers. It's fast, stable, and fun to drive. And because it's all wheel drive and features about all the air bags and other safety features you could want (including such nice touches as keyless entry, a collapsible brake pedal and driver's foot rest), it's also a secure environment for your road trips.
Nice job, Subaru!
The Outback 3.0 R VDC Wagon sells fro approximately $33000 US/ $45000 Canadian.