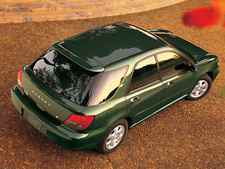 Impreza Impresses
By Jim Bray
Subaru's entry level Impreza may be the most affordable in the company's Impreza line, but that doesn't mean it's stripped bare.
The Impreza 2.5 line ranges from the TS of this review to the pocket rocket WRX. The TS doesn't feel particularly entry level, however, and its performance is more than adequate for reasonably spirited every day driving and its features are comparable to other cars in its class.
Available in sedan and "Sport Wagon" configuration (I drove the wagon), the TS is powered by Subaru's 2.5 liter "flat four" engine. This is the only engine available, but that's okay; it puts out 165 horsepower @ 5600 rpm and 166 lb-ft of torque @ 4000 rpm, buzzily winding up to its just-past 6000 rpm redline when you wind it out.
That buzz can be either a good thing or a bad thing, depending on your priorities. If you like a car that sounds like a car, you'll probably appreciate the TS' song. If you prefer blissfully serene motoring, you may want to look elsewhere.
I was kind of in the middle, depending on my mood or the driving conditions. When leaving a stoplight I was delighted with that siren song of the open road; at speed, it was necessary to turn up the stereo to cover the buzz that had so pleased me only a few seconds earlier.
Proving that you just can't please anyone all the time.
The term "flat four" refers to the way the Subaru engine's cylinders are arranged horizontally, instead of vertically or in a "V" shape (as in V6 or V8). In this configuration, the cylinders move back and forth like a pair of fists - leading to the description "boxer" for this type of engine.
What this means in the real world, supposedly, is a lower center of gravity that could enhance the car's overall handling. Also enhancing the Impreza's handing are more mainstream features such as Subaru's famous all wheel drive system, independent suspension, variable assisted power rack and pinion steering
and fifteen inch wheels.
Those wheels come with a nice set of Bridgestone Potenzas that also help keep the car on the road, especially on those lovely and fun twisty bits.
Bringing the Impreza TS to a halt is a set of disc/drum (front/rear) brakes augmented by 4 wheel/4 channel/4 sensor ABS.
My tester had a five speed manual transmission (a four speed automatic is also available) and it shifted well.
The Impreza's exterior styling is quite handsome and while it imparts a fairly muscular feel it's also reasonably subtle for a marque that earned its name winning rallies. My tester was virginal white, with matching body trim, making the Subaru look kind of like a big Tylenol capsule.
Inside the TS are seats that, while not in the same league as the buckets in the more expensive Impreza, are still comfortable and supportive and hold you in very well when you tackle those twisty bits. The driver's seat, though not electrically operated, also offers a nifty ratchet-type handle you can use to raise and/or lower the seat substantially. This was pretty neat.
And talk about headroom! The Impreza imparts a positively cavernous feel and will undoubtedly please tall people who find the typical Japanese car a tad confining. I'm five-feet seven on a good day and it almost felt as if I could have stood up inside the TS.

Creature comforts aren't extensive, but what's there is well done. You get power windows, air conditioning, and a pretty good AM/FM single disc CD stereo. Since it's a wagon (and a tall vehicle) storage space in the back is very good and the rear seat, which splits 60/40 and folds down, makes it even better.
A nice touch is a center sun visor above the rear view mirror.
I didn't have a chance to take the TS on a major road trip, unfortunately, but during my week of varied urban driving I found the car to be quite fun to drive. It falls down a bit in the refinement department when compared with some of its competitors, for example in road noise and overall smoothness, but not seriously so. And even there, it offers other things to covet, like the all wheel drive system, good torque and comparatively large interior roominess.
And with a retail price starting at just over $18,000US, it's also an affordable all wheeler.