Saturn Minivan a "Relay" Flexible Ride
by Jim Bray
What's in a name?
Car marketing mavens spend a lot of skull sweat coming up with ways to describe their vehicles. They want something special, new, exciting, memorable.
Perhaps this is why Saturn calls its new minivan a crossover sport van rather than a minivan. Perhaps a crossover sport van sounds more like an SUV than a "soccer mom-type" minivan, and perhaps that'll broaden its appeal and make it sell better.
I dunno. The SUV connection was completely lost on me, and I don't think there's anything particularly wrong with minivans anyway, other than the fact that they exist (I'd like every vehicle to be a sports car, but that's just me). I mean, heck, to each his own: minivans are popular and functional – so why hide behind some strange marketing nomenclature? Why not call a minivan a minivan?
Especially since Saturn's Relay works better as a minivan than an SUV anyway, It's based on a minivan platform, and features big sliding side doors, three rows of seats, and a flat floor suitable for hauling stuff. The only really SUV-like feature is its long proboscis, which really just makes it look like a minivan with a big, Jimmy Durante schnoz. Or maybe Princess Leia's helmet at the beginning of "Return of the Jedi."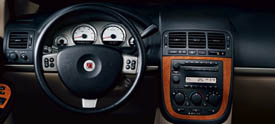 So, GM, why not be proud of what you've created and, rather than hiding behind marketing hype, call it a minivan?
But I digress…
New for 2005, and eschewing the brand's plastic body panels in favor of the more traditional steel, the Saturn Relay is a full sized hauler that can seat seven people and is available in either front wheel or all wheel drive. My tester was the AWD "Versatrak" version, though I didn't have much call for using the all wheel drive during my few days behind the wheel.
The Relay, which shares a lot of its DNA with the Buick Terraza, comes standard with a 3.5-liter V6 engine rated at 200 horsepower @ 5200 rpm (and 220 lb. ft of torque @ 4400 rpm) coupled to a 4 speed automatic transmission with overdrive.
Suspension is independent, MacPherson strut with coil springs, L-shaped stamped lower control arms and aluminum knuckles up front and the all wheel drive version's bum is held up by a fully independent double wishbone suspension with cast aluminum short and long arm control arms, cast aluminum cradle. Steering is power-assisted rack and pinion.
Those are pretty decent specs, yet in practice the Relay is quite floaty, nodding when you go over road irregularities like one of those dogs in the back window of some cars. I didn't expect sports car handling, and that's certainly not what you get. But, alas, the Relay felt sloppy.
Relay's brakes (power assisted, 16-inch single piston vented discs with ABS all around) do a good job of stopping the Relay's 4631 pound curb weight.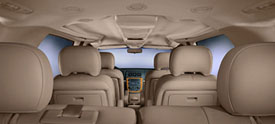 Once you get over the anemia of the drive train and the waterbed-like feeling of the suspension, there's a lot to like about the Relay, including pretty decent gas mileage. Plus, the Relay's quite comfortable in all seven seats (especially the front two rows, which come with Captain's chairs), and my tester included a decent stereo and a rear compartment DVD entertainment center with wireless headphones for two. That DVD
system sits in a nifty, customizable overhead console.
The audio system includes AM/FM Stereo with Seek and Scan, a single disc CD/MP3 Player, Automatic Tone Control (which means you get a variety of presets for different listening types such as "talk radio" or "rock"). I was surprised you didn't get a 6 disc CD changer and was pleased that there are steering wheel-mounted controls for the audio and cruise controls.
There's plenty of seating/storage flexibility here. The second row's Captain's chairs' seatbacks fold and tip forward, and they can also be unlocked and removed for those times you don't want to pick up hitchhikers.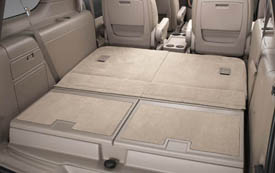 The rear bench seat is divided into halves, and folds down in separate sections to create a flat cargo floor. You can also remove the entire bench unit.
Relay includes several nifty storage devices, including flip-down trays between the front and second row of seats and there's a multi-section organizer mounted to the floor just inside the tailgate that lines up level with the folded-down back bench. It can be removed as well.

Here's some of the other stuff that came as standard equipment on my test Relay:
• 17-inch wheels with a decent set of P225/60R all season tires
• Traction control, StabiliTrak, and Versatrak all-wheel drive
• OnStar (includes 12 months of service)
• Leather
• power, heated outside mirrors
• power windows and door locks
• remote keyless entry (from which you can also open the sliding side doors)
• front passenger visor vanity mirror
• a comfortable, six-way power driver's seat
• rear HVAC controls
• power rear quarter windows (a nice touch that can help ventilate the vehicle on hot days, though I tended to forget they were open – fortunately it didn't rain!)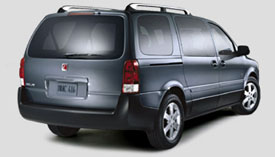 I used the Saturn for nearly a week of everyday driving, including hauling some junk (er, I mean valuable pieces of memorabilia) that my wife bought at some obscure hole in the wall and it did the job fine. Step on the gas and there could be a bit of a pause and a slight clunk before it takes off (in a more leisurely manner than I like, though adequately for real world driving) and I really didn't care for that floaty feeling it imparted.
But the bottom line is that this is a comfortable vehicle that should do a good job of people-and-stuff hauling. And that's what it's supposed to do.

Just don't look for a rewarding driving experience as well.
My test Saturn Relay.3 AWD retailed for $40,715 Canadian (approximately $33,000 US)