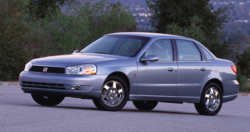 Saturn L200 – Comfy new Sedan
by Jim Bray
With a name like Saturn, this company must be running rings around its competition.
Okay, okay, anything for a bad pun…
Still, you see plenty of Saturns on the road, so people must like them. And judging by my week in their new L200 Sports Sedan they'll probably continue pleasing people.
I found this more sedan than sports, however, but that could have been because my test unit was of the four cylinder, automatic transmission variety and that (especially the automatic) works against the sports aspect every time. Other than that, the L200 is a nice car, and one that would undoubtedly be eminently easy to live with.
The front engine, front wheel drive L200 is Saturn's mid size four door sedan, meant to compete with the likes of the four cylinder versions of the Honda Accord, Toyota Camry, VW Jetta, Chrysler Cirrus, Ford Taurus, Hyundai Sonata, Nissan Altima, etc. It's luxurious to the point of coddling, at least in the trim level I drove, and it performs quite well. It didn't really get my adrenaline going, however, which I would think is quite a bit of the point of a sports sedan, above caveats about transmission etc. noted.
The 2003 L Series has been tweaked in form and in substance. Since this was my first experience with a Saturn test drive, I can't comment professionally on these updates as compared to the old versions of the car, but the new model is very nice inside and out. Saturn says the new "L" is meant to combine European ride-and-handling characteristics with North American refinement, whatever that means, "producing a car that's fun to drive yet also smooth and quiet."
I agree wholeheartedly with the smooth and quiet part, but would argue about the fun to drive (and that's the last I'll say about that lest I be accused of harping). The car's roomy, comfortable, civilized, and quite posh. It reminds me quite a bit of a smaller version of the Impala and LeSabre I drove a few months back: roomy, comfortable, civilized – but in a package that's easier to afford, and easier to park.
Anyway, my test L200 was filled to the gunwales, including a leather interior with heated front seats and a six disc CD changer stereo. The seats are very comfortable, but since there's little side bolstering the first time you try to drive the L200 like a sports sedan the flat seatbacks, combined with the slipperiness of leather, will give you a lesson in Newton's First Law of Motion. The seats appear more meant for cruising, rather than bruising.
One of the nitpicky things that bothered me was the driver's seat's power controls. They're all rocker switch buttons mounted together on the left side of the seat cushion and they feel very similar to each other. This means that, until you get really used to it, you're just as likely to adjust the seat back tilt when you're trying to move the seat cushion forward or backward. I would probably have gotten used to this if I'd had the car for longer than my week long test drive, however.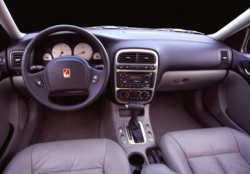 The control layout is good, and the full instrument panel is attractive without being obtrusive or garish. The stereo system's controls, and their labels, are comparatively small, however, and the system isn't particularly intuitive. When loading a CD into the changer, for example, you not only have to hit the "load" button, but you have to tell it which disc you want to load. The sound quality is very good, however, which is a plus: it practically thunders.
The 2003 model features exterior freshening of the hood, fender, headlights, grilles and much more, and the headlight cluster features the new type of projector lamps and they work well.
Powering the L200 is GM's 2.2 liter double overhead Cam SFI L4 inline four cylinder engine, rated according to the company at 135 horsepower @ 5,200 rpm and 142 ft. lbs. of torque @ 4,400 rpm. This isn't really mid size Sports Sedan territory, though the torque isn't bad - but it's more than adequate to propel the L200 from a red light to freeway onramp speeds as necessary. The L200's four speed automatic transmission works fine, though I'd have loved to try the standard 5 speed manual shifter instead. I'm sure it would have added a little "sport" to the package.
I assume I would also have enjoyed the Big Brother L300's 3 liter DOHC, 24-valve, V6, rated at 182 horses @ 5,600 rpm and 190 ft. lbs. of torque @ 3,600 rpm. That sounds more "Sports Sedan-like" to me - except, as with the V6 Honda Accord sedan and others, you can't get a manual transmission with the 6.
Rats!
The L200 features four wheel independent suspension and the ride quality is good, though a tad soft for my taste. It handles nicely, though, with good smoothness and imparts a feeling of comfort to the driver.
Brakes are discs up front and drums in the rear, and ABS and traction control are available. Both systems work fine, as I discovered on some wintry roads during my test period. The 16 inch chrome wheels of my premium L200 were quite handsome and wore a decent set of all season rubber.
Inside the cabin there's room for four people comfortably, and a third can ride in the back without undue hardship. Comfort and convenience features abound, including automatic air conditioning with a dust and pollen filter, cruise control, power steering and brakes, power door locks, and power windows. You also get dual heated power outside mirrors, keyless entry, and the abovementioned AM/FM/CD changer.
There's plenty of storage space inside, and cupholders for the front and rear passengers. The rear seat splits 60/40 and folds down to make even more storage space available in the already-generous trunk.
The Saturn also features an optional power sunroof that's a nice size and which inflicts surprisingly little road and wind noise onto the interior when it's open. And it closes with only one hold of the button, unlike some other cars I've tried recently whose roof panels stop when halfway closed, forcing you to press and hold the button twice.
The L200 also includes child safety locks in the rear as well as child seat anchors and tethers. Passengers regardless of age are treated to front and rear head restraints, driver and front passenger airbags, and side head protection airbags.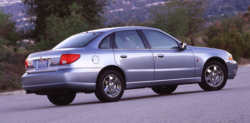 The car also features a galvanized metal space frame and stainless steel exhaust.
Oh, and one mustn't forget Saturn's dent and rust resistant polymer body side panels. A friend of mine had a Pontiac Fiero with this type of body work and it lasted very well; in fact, he finally sold the 1984 model car in late 2002 and it still looked good, so longevity of the Saturn's body panels shouldn't be an issue. I'm surprised more manufacturers don't offer such a feature. Maybe there are drawbacks I don't know about.
I also took a friend of mine who owns a Saturn for a couple of spins in the L200 and he liked it a lot, so the company may be on track for its target audience. Time, and sales, will tell.
Saturn has also included GM's wonderful automatic headlight setting that means you never have to remember to turn the lights on or off. It's a small thing, but I've grown to really love this feature and I miss it when I'm driving a vehicle that doesn't have it.
The L200 and L300 are also available in wagon configuration.
My fully equipped tester tipped the scales at just over $23,000 US ($31,4K Canadian); the base model starts at just over $18,000 US ($23,500 Canadian).