Porsche Boxster S - "S" is for "Sweet!"
Ah, Porsche, the legendary marque with the glorious racing heritage. High end performance stuff, this, even at what could laughingly be called its entry level.
That entry level would be the Boxster currently, the mid-engined, two seat open top roadster that's guaranteed to bring a smile to the face of any car buff. For a base price of a mere $45,000, you can strap yourself into this road rocket and be treated to zero to 60 in under six seconds from its 240 horsepower, 2.7 liter flat six.
And if that isn't enough for you, there's the Boxster S, the subject of this piece. It ups the ante in every way including, of course price. In this case, for a base price of $54,700, you get a 3.2 liter six that cranks out 280 horses @ 6200 rpm (and 236 ft.-lb. of torque @ rpm 4,700 rpm), decreases the zero-sixty time to 5.2 seconds and increases the top speed by eight miles per hour to an awe-inspiring 167 mph.
Now that's motoring!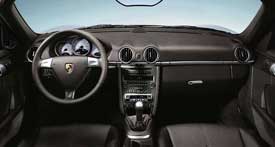 ...continued
Two transmissions are available in the Boxster S, a six speed manual and Porsche's famous Tiptronic automatic/manual. The "garden variety" Boxster has a five speed manual as standard equipment. My tester had the 6 speed stick, and it's wonderful to work a few shifts with. The clutch is light and engages well, and the shifter "snicks snicks" through the gears with short, comfortable throws that take very little conscious thought.
There's nothing better than tooling along in a drop top sports car on a fine, sunny day, the wind in your hair and the throaty growl of a high tech power plant filling your ears. So it figures that when I took delivery of a beautiful Boxster S for a few days it was in the dead of winter and, since we hadn't had snow for weeks, it was inevitable that my time with the beast would be dumped on by Person Nature. And so it happened.
But fear not! The Boxster S is such a finely balanced machine (and bristling with all of the digital nannies you'd need) that it handles a slippery road with aplomb. Granted, we only received about an inch of snow (I wouldn't have dared take out someone else's Boxster in more than that!) and it melted quickly from all but the most residential streets. But that left the occasionally snowy or icy bit that let the Boxster prove its mettle easily.
Then I tried it on real roads.
Yowza!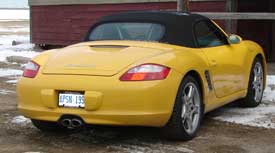 Okay, I never pushed it and scarcely had a chance to exceed the speed limit except for a couple of times when passing slow pokes and semis on a relatively deserted back road. But even around town the Boxster S is a blast to drive.
The car's exterior is lovely, though not as drop dead gorgeous as the big brother 911 Carrera. But it's Porsche through and through, aggressive, smooth and aerodynamic and exuding a need to tear up the road like a cheetah chasing down a tasty impala.
Once you strap yourself in and fire up the ignition, you're treated to the wonderful sound of that high performance six. It's like the Siren's song, beckoning you to leave behind your humdrum existence and join the spirit of Professor Porsche on a wild adventure.
That engine sound alone is enough reason to be seduced, though it sounds better winding up through the revs than down. But it's always a treat.
So much so that, despite the car having a kick-butt Bose stereo system, I preferred keeping the tunes tamed so I could revel in the heavy metal howl of the engine. I only wish it had been warm enough to drive more than a few minutes with the roof down, a state that brings the sounds and feel of the Boxster S even closer to heart.
You wear this car more than just drive it. My S had the optional sport seat (though not the "optional optional" super sport seat) with manual adjustments forward and backward and a power-tilt seat back. It fits you like a glove, albeit a very snug one if you have "writer's tush." Tilt and/or telescope the steering wheel to your optimal comfort and you're ready to rumble.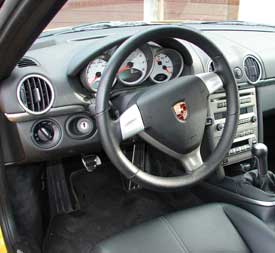 Just be sure your bladder has been taken care of. Porsche suspensions aren't for the weak of buttock, letting you feel every nuance of the road whether it be frost heave or just a dime someone left for you to stop on. But that's part of the experience, the pure motoring joy, and I doubt any Porsche owner would complain.
And while there's certainly something to be said for a suspension that walks the fine line between a racing car and, say, a big old Caddy from years past, with Porsche - as they like to say - there's no substitute. You want a Porsche, you get the Porsche experience. And that's undoubtedly part of the reason you see Boxsters all over the place.
Then there's the balance the mid-engine allows. Putting the power plant just behind the driver, as opposed to up front or, as with the 911, at the rear, helps ensure the best weight distribution, so that one end of the car isn't heavier than the other and most of the weight - engine and passenger(s) - is clustered in the middle.
You really feel this when you drive; the car seems almost hard wired into your brain so that a simple flick of the wrist changes lanes and with very little effort you're lapping up curves like a kitten soaks up milk, whether the curve be a freeway on ramp or a sweeping bend on a rural highway.
Interior design.
The Boxster S's cabin features a clean and straightforward dash design that combines classic analog instruments with a multifunctional digital readout. The materials inside the car exude luxury, though again not so much as the Carrera's gorgeous innards, which is understandable.

But the combination of good quality plastics, leather and carpeting, coupled with excellent ergonomics marred only by rather small buttons on the center stack, makes for a road office in which you don't mind the commute. As mentioned, the audio system (my tester had the optional surround sound system) is top notch, and you can set the tone controls for the various modes. I missed having steering wheel-mounted controls, but on the upside you can reach everything easily with a sweep of the right arm.

Raising and lowering the convertible top is easy; just unlock the latch in the middle at the top of the windshield and press the console-mounted button. The windows drop a tad as the roof goes through its balletic motions. I didn't time the up/down procedure, but it's plenty fast enough: I lowered it at a red light with time enough to spare for me to look around for applause. Surprisingly, there was none..

Driving with the roof down is the Boxster's natural element; with the top up you lose a lot of peripheral vision (as with every other convertible I've driven) and will want to do some serious shoulder checking when you change lanes. The Boxster's outside mirrors are fairly small, but they still provide a pretty good view aft.

My tester also had the optional wind deflector behind the seats and during my short experiment with open top freezing, er, motoring, the noise level was quite acceptable. That said, however, I never got to try highway speeds with the roof down.

Other options on my "Speed Yellow" tester (a color guaranteed to get you noticed!) included a bi-xenon headlight system that did a terrific job of illuminating the path ahead as well as offing "dynamic headlamp leveling." It also sported heated seats, the gorgeous 19 inch wheels of the Carrera and a set of very low profile winter tires. The tires were quite noisy on dry pavement, but they sure came in handy.

Standard wheels/tires on the Boxster are 18 inch 235/40 ZR series up front and 265/40 ZR's in back.

During my five-and-a-bit days with the Boxster S I averaged gas mileage of 20.3 miles per gallon, which was achieved mostly in urban driving with one highway trip of about 90 miles. That's slightly better than Porsche's published estimates 19 MPG city - which probably indicates that I should've driven it harder! - though its highway mileage is estimated at 27 mpg - premium unleaded, of course. But who buys a Porsche to save gas?
Driving a Porsche, of which this was only my third, is a marvelous experience. It isn't just the handling, the power, the sound, the fit and finish, the creature comforts, but rather something intangible, whether it be the mystique, the hype, or the relatively rarefied atmosphere in this market segment.
But it's definitely a rush, even at city driving speeds with slippery roads and the roof closed.
Can you send it back in July, please?