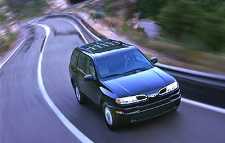 Olds' Bravado Leads To Exciting Bravada
New GM SUV a Winner
by Jim Bray
The 2002 Oldmobile Bravada is nothing if not fully equipped.
In fact, there's so much stuff crammed into this mid-size SUV that I wonder how much is really just technology for technology's sake.
The $36,327US (as tested) Bravada shares most of its guts with GM siblings from Chevrolet (Trailblazer) and GMC (Envoy), which I'll be trying in a few weeks. They feature a strong, all-new chassis and a 270 hp, 275 lb.-ft torque, Vortec 6-cylinder engine GM says out powers the V8's in its class. I don't know about that, but there's certainly enough power on tap when you need it.
Bravada also features an electronic rear air suspension system (for people with electronic rears?) that, while making the vehicle a tad "floaty" on paved roads, proved a welcome antidote for chattering teeth when we took the SUV onto some rather washboardy dirt "roads" that would probably have left calcium dust deposits in our mouths in more stiffly sprung vehicles.
Five can sit comfortably in the Bravada's leather-trimmed seats (though there's no third row, unfortunately) and the lucky pair who sits up front can take advantage of eight way power seat adjustments. The driver's seat also gets two memory settings. There's plenty of headroom and legroom, and the rear split seat folds down to ensure an even more cavernous storage area than Bravada's already generous rear end offers.
The result of all this stuff is a vehicle that feels stable and secure at all speed ranges I tried, from residential street to highway passing lane and on road surfaces from new asphalt to loose gravel. The engine pulls smoothly, the power rack-and-pinion steering feels good, and the four wheel all-disc anti-lock braking system brings Bravada to a standstill without fuss.
I had one particular moment (on a vile stretch of gravel-surfaced hill) when the ABS really came through in spades, stopping the Bravada quickly and perfectly straight in a most impressive manner. This was also in part due to the vehicle's optional SmartTrak all-wheel drive system (the base model is rear drive), which springs to life when the ABS sensors decide the vehicle needs a bit of extra stability - and it did. I have no idea how this will translate into real off-road performance, but on country back roads it worked very well.
The four speed automatic transmission also works well for the most part, though it seemed to shift more when it wanted to than when I wanted it to. I guess that's automatic…
And speaking of devices, you'll want to spend some time with the owner's manual to get a handle on all the gadgets GM has packed into the vehicle.
I kid you not. You get treated to typical things like a very good (though excessively bassy) AM/FM/CD stereo, power everything, automatic dual-zone climate control, a remote-control keyless entry system, security system, and a year of the OnStar "Help! I need to be bailed out!" service - but that's only the beginning.
The headlights and windshield wipers can operate automatically, and the leather-wrapped steering wheel has audio touch controls - as well as buttons for fan/temperature, "Driver Information Center," and fuel/ range calculating. That Driver Information Center (which displays at the bottom of the instrument panel) has far more features than you'd probably need and it's a fine line between arguing whether they're convenience features or just plain doodads. After all, you can control things like whether your outside mirrors tilt down when reversing, if your seat slides back to facilitate easy entrance when you press the button on the key fob, or if the remote keyless entry signals you via flashing the headlights, honking the horn, or both.
Then there's the voice note recorder, which lets you be back seat driven even when you're alone in the Bravada (Press "play" and hear "Remember, dear, don't speed!"), and the handy compressor you can use to inflate a football, airmattress, or flat tire.
The compressor periodically emits a "Phhht" when vacating excess gas, which caused some suspicious glances to be thrown my way by passengers unsure about just who or what was passing excess gas….
Throw in the usual safety and comfort features and you have a very well equipped and competent SUV that, alas, shows how Oldsmobile really can get thing right - just before GM shuts down the division.