Japanese Carmaker Turns Up the Heat
Nissan Goes Straight for Drivers' Hearts
By Jim Bray
Nissan appears bent on making some big time automotive music.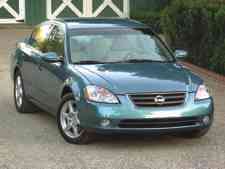 The Japanese carmaker has had its share of great vehicles over years, from the legendary Z to the old 510. Some of its more recent efforts, however, have appeared more than a tad bland to these opinionated eyes. And while one shouldn't get too hung up on a vehicle's looks, it's usually a car's styling that first grabs (or pushes away) one's attention.
The Maxima has always been a Really Nice Car, but the Altima began as a roly poly design that evolved into a car that, while not as ugly as the Pontiac Aztek, wouldn't garner too many "aaahs!"
Those days appear to be over, at least as far as the completely redesigned 2002 Altima is considered. I haven't driven it yet, but from what I've seen the muscular new edition of the four door sedan appears determined to push its way into consumers' hearts.
Maybe it will. The third generation Altima not only sports a handsomely aggressive new body style, but Nissan has included plenty of up-to-date technology under the new skin as well.
The new Altima's standard four cylinder engine now pumps out 175 horsepower and 180 pounds feet of torque, an increase of 20 and 24 respectively. Nissan also offers a 3.5 liter V6 rated at 240 horsepower/246 pounds feet torque as an option on its SE model, a first for Altima. That's a pile of pep for what's basically a four door family sedan.
The transmissions available are a 5 speed manual or 4 speed automatic, and traction control is standard on the V6 model when saddled with the automatic tranny.
The new Altima's aggressive styling includes an overall wedge shaped look with integrated bumpers that smooth its overall appearance. The car is also larger and the wheels have been moved closer to the four corners, allowing the engineers room to make the car even roomier on the inside.
The Altima is assembled in Nissan's Smyrna, Tennessee, plant. If it proves to be as interesting as it seems at first glance, it may give the Toyota Camry and Honda Accord a good run for your money.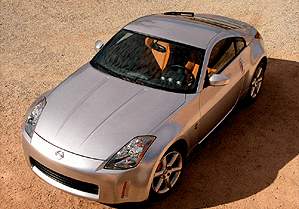 Perhaps the most exciting news from Nissan, however, is the pending return of the classic Z sports car. Originally known as the 240Z, this wonderful two seater really put the Nissan on the map back in 1969/70, and for the 2003 model year (supposedly available sometime this fall) an all new version is scheduled to hit the market.
I remember lusting after that first Z, but when I finally bought one it was so rusted out that when driven over 90 mph or so what was left of the front fenders would raise up like gullwings, attached at the top but loose at the bottom, and flap as if about to launch the Z into the air.
Ah, but what a joy to drive!
Anyway, the new 350Z supposedly hearkens back to that original Z car as well as the well-respected final generation 300ZX that became extinct in the mid 1990's. The new style, which from pictures appears angular yet smooth (a neat trick) contains recognizable hints from past Z's in it. Hopefully they've concentrated more on those first and last editions than the unfortunately blandly forgettable 280ZX and early 300ZX's.
The new style is not only intriguing, it's also completely up to date. This is okay, but I would have loved to have seen Nissan pull off an audacious retro look Z the same way DaimlerChrysler (PT Cruiser, Plymouth Prowler), Volkswagen (New Beetle) and Ford (new Thunderbird) have done in recent years. After all, that original Z's design was a classic.
Oh well, you can't blame a company for wanting to be state of the art.
The new Z's engine will be a 24-valve, 3.5 liter V6 producing about 280 horsepower and 260 lb-ft of torque. It'll be coupled to a 6-speed manual transmission or a 5-speed automatic with manual shift mode. The latter is one of those "pretend manuals" that give you some of the feel of a real shifter, but with no clutching. A true manual's more fun.
Nissan says the Z car will have a zero to 60 time of under six seconds, which is Pretty Darn Fast.
The new Z's pricing should start at under $30,000.