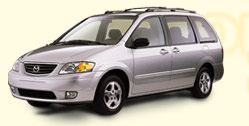 Mazda Minivan a Comfy People Mover
2001 Model Pleasant and Powerful
by Jim Bray
The minivan market is nothing if not crowded, so it pays for a marque to offer something unique if it wants to make its mark.
Fortunately for Mazda, it has never been reluctant to tread its own path, as witnessed by its embrace of such non-mainstream stuff as (for example) the rotary and Miller engines.
The 2001 MPV is a fairly straightforward example of the minivan species, but it boasts a few things that set itself apart from the pack. Add them all together and you end up with a thoughtful and comfortable family vehicle.
The first of the "Mazda-isms" that caught my eye is a middle row seat that's not only removable, but which splits in half to form a pair of buckets. This is slick: you merely lift a handle on the passenger-side section and drag the chair toward you. In my test MPV ES, this meant the second row went from being a leather-clad bench to a pair of pretty reasonably captains chairs that gave each passenger a little zone of personal comfort.
If I'd had this when my kids were young, I might not be as gray as I am today…
Getting into those seats is done through dual sliding doors, each of which has an honest-to-goodness window that opens and closes just like in a car.
Likewise, while it isn't completely unique (Honda's Odyssey does a similar trick), the rear seat folds down into a floor recess just inside the hatch. The result is a long, flat area that's ideal for transporting stuff other than ankle biters. When the seat's up, the nook in the floor gives you a nice place to stand up grocery bags.
The hatch is easy to open, swings high out of the way of your head (well, my head, anyway!), and features a little interior handle to help you swing it back down again. There's also a wiper/washer mounted onto it; since we were hit with a winter storm the day I got the MPV, I discovered the benefit of its intermittent setting within five minutes of having driven from the dealership.
I don't think the MPV is the most attractive minivan on the market, but beauty is only sheet metal deep. It's definitely different enough that it doesn't look like all the other minivans, and that isn't a bad thing. Besides, once you're inside the MPV, it grows on you like, well, a fungus.
The ES model's leather seats (I didn't try the DX or LX trim levels) are very comfortable though, thanks to our assault from "Old Person Winter," we wished they had heaters. You can easily find a good driving position through the many manual seat adjustments; the tilt steering wheel doesn't hurt, either.
Regardless of how you position the seat you end up sitting quite high, almost like driving a little bus, which makes the visibility of the world outside very good indeed.
Controls are easy to reach and use and the in-dash 6 disc CD changer stereo sounds very good. There's air conditioning, though it isn't automatic, and you also get cruise control, keyless entry and locking, a zillion cupholders and storage areas, and plenty of other convenience touches (including a power glass moonroof).
The front wheel drive MPV is powered by a 2.5L double overhead cam 24-valve V6 engine plugged into a 4-speed electronically controlled automatic transmission. It gives you 160 horsepower at 6250 rpm and 165 lb-ft of torque at 4250 rpm, which means you can pull onto freeways with ease.
Handling's pretty good, too, considering that a minivan's a tad larger than a Miata. The MPV's power-assisted rack-and-pinion steering gives a good feel and is easy to guide in parking lots.
The front disc/rear drum brakes are equipped with ABS. Standard are 15-inch steel wheels with P205/65R15 all-season radial tires. My review ES came with 16-inch alloy wheels and P215/60R16 all-season radials.
We had lousy weather and crummy roads, but I found MPV quite stable as long as you didn't do something silly.
My week with the 2001 MPV ES showed me it's a well-designed and executed vehicle that's about as pleasant a driving experience as a minivan can be.
The MPV starts at $21,155 MSRP in DX trim; the LX is $23,280 and the ES I drove tops out at $26,760.