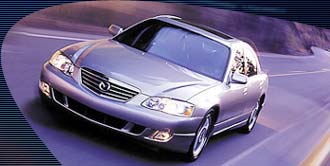 New Millennia for the New Millennium
Luxury Sedan Top of the Line
by Jim Bray
Mazda's newly-styled 2001 Millennia is a comfortable luxury sedan that offers a lot for the price.
I first drove the Millennia for about half an hour at a media junket, and I liked it. I had it for a week this time, which gave me a much better feel for the vehicle. It's the first of three Mazdas I'll be driving over the next few weeks and, from my experience with the Millennia, it should be a treat.
The handsome and stylish Millennia S (my tester was a lovely metallic red with a beige/gray leather interior) is powered by a 210 horsepower, 2.3 liter, 24 valve DOHC V6 that uses "Miller Cycle" technology. The base model Millennia has a more conventional, 2.5 liter V6.
Patented in the 1940's, the Miller Cycle is said to give the power of a 3 liter V6 with the fuel economy of a 2 liter. It uses a Supercharger (which forces extra air into the engine) and compresses the air inside the cylinders differently. The result is said to be a 15 per cent increase in power.
I can't attest to the fuel mileage (I tend to have a heavy foot) but the power's certainly there. It's smooth, too, coming on quickly and evenly; from a standing start I'd be at 50 m.p.h. before I knew it.
This was embarrassing in playground zones…
An electronic traction control system is also included; I tried it on a couple of icy patches and was quite pleased.
Equally important, though not as much fun, is how a car stops, and Millennia works well here, thanks to 4-wheel Anti-Lock disc brakes.
Driving the front wheel drive Millennia is quite a satisfying experience. The four speed automatic transmission (there's no standard, unfortunately) shifts smoothly for the most part and automatically chooses between "normal" and "power" mode (depending on how hard you spur it on). It handles well and the body feels tight and solid. Mazda says it's 30 per cent more rigid than earlier models.
The car's a nice highway cruiser, too, quiet and very stable, and it passes slower vehicles quickly, with no fuss.
Millennia's variable assist power rack-and-pinion steering puts the car where you point it; the 4 door sedan comes standard with 16 inch wheels, and the "S" model ups that to 17 inches. Standard tires are "V" rated, low profile performance radials.
The interior is lush and comfortable. The seats are leather and the front buckets have 8 way electric adjustment. The "S" comes with front seat heaters, too. The rear seat is plenty big enough for my family (the tallest of whom is about 5 feet 9); basketball players may have to squeeze, though.
The dash and control layouts are quite good, though the stereo and climate controls could have fallen closer to hand. A strange oversight was the lack of illumination for those same controls, forcing you to grope by feel and memory after dark. The instrument panel is nicely lit, though.
On the upside, the center console has room to store your CD jewel boxes, which enhances the in-dash 6 disc CD changer. Audio quality from the 9 speaker Bose stereo is good, but the volume appears to be governed: I couldn't crank it as loud as I'd like. To be fair, however, most people would probably never crank it as loud as I like it.
Besides, for every apparent oversight, Mazda seems to have added a nice touch. For instance, each front door's armrest has a fairly substantial storage bin built in. The trunk, though shallow, is very long and has a pass through to the rear seat area. The rear seat doesn't fold.
Other safety and convenience equipment includes front and front-side air bags, power everything, automatic climate control, cruise control (with steering wheel-mounted buttons) and remote keyless entry. The power tilt steering wheel has a memory function and swings out of the way when you turn off the ignition.
I had one minor fit and finish problem. A panel below the front bumper popped loose during a highway jaunt and started scraping the ground when the Millennia went over even minor bumps. It was easy to correct, but it shouldn't have happened. This is why there are warranties...
At $28,500- $31,500, the Mazda Millennia is priced similarly to the Acura TL, Lexus ES300, and Infiniti I30. One may not generally think of Mazda in the same breath as those other marques, but the Millennia S shows that it could easily be.