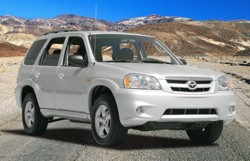 Mazda Tribute
and B4000
by Jim Bray
Mazda's "cute ute" Tribute is a nice small SUV with good performance both on and off the road, plenty of features, and good value overall.
I first had a chance to drive the Tribute when it debuted, at a media event where they sent us out off roading up a "road" I probably wouldn't have even tried walking up if given my druthers. That experience showed me that the Tribute is truly happy to perform off road as on city streets.
Most people don't do serious off roading in their SUV's however, so my recent week with the 2005 Tribute was spent on asphalt, in urban and rural driving that would probably match most of what the Tribute would experience in the real world. And it reinforced my earlier opinion that the Tribute is a good SUV.
For 2005, the Tribute is mostly unchanged, though sometime since my first test drive Mazda decided to move the gear selector lever from the steering column to the center console, and though that takes up room on the console, it feels more natural to me.
Mazda's website refers to the Tribute as having the soul of a sports car. This may be in keeping with the company's " zoom zoom" marketing – a theme that generally applies very well to its cars. I'm not sure I'd include the Tribute, however, because as nice as it may be, it's no Miata or RX-8. But it is a very pleasant vehicle and should serve its owners well for years.
The 2005 Tribute comes in three trim levels: GX, GS, and GT. The base GX is powered by a 153-horsepower (@5800 rpm, with 152 lb. ft of torque @ 4250 rpm ), DOHC 16V, 2.3 liter in-line four-cylinder engine accompanied by a five-speed manual or optional 4 speed automatic transmission.
The other models (and optional on the GX) feature a 3 liter double overhead cam, 24-valve low emissions V6 Engine that puts out a healthy 200 horsepower @ 6000 rpm and 193 lb. ft of torque @ 4850rpm.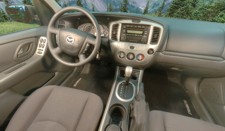 My tester came with the V6, and it managed to propel the Tribute quite well. You won't win a drag race with a real sports car, but that isn't what most SUV's are about anyway. On the other hand, you do get smooth and adequate power that should be more than adequate for the normal tasks at hand. I'd like to see Mazda add a gear or two to the four speed automatic transmission, but perhaps that's coming.
The GS trim level, besides coming with the V6 engine standard, adds a leather-wrapped steering wheel, retractable cargo cover, 6-way power driver's seat (including height adjustment), lumbar support, and such stuff as side air curtains and airbags and lighted driver and front passenger vanity mirrors. The top line GT adds heated leather seats (though the button for the heater is located down on the side of the seat, where you can't see it and have to feel around for it).
You also get a 6-disc in dash CD changer with 7 speakers and a subwoofer, a towing package and a power operated moonroof.
You can get the Tribute with either front wheel drive or an on-demand 4 wheel drive system that is obviously a better choice if you care about all-road and all-weather performance.
Tributes come with variable power assist rack-and-pinion steering and four wheel multilink independent suspension system that helps deliver crisp and agile handling for an SUV. Stopping the 4 cylinder version of the Tribute are power-assisted ventilated front disc/rear drum brakes with ABS. The 6 cylinder versions get discs with ABS all around. All models feature Electronic Brake Force Distribution.
The Tribute carves up commutes well, and since you sit up quite high you get an excellent view of the road ahead. You get a pretty good view of the road behind and beside, too, thanks to good mirrors and lots of glass.
Ingress and egress are pretty good. It's a high step up, but the seats are mounted low enough to make it easily manageable and once your butt is placed the seats are quite comfortable.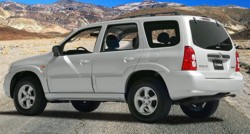 The rest of the Tribute's interior is also comfortable, and roomy enough for five. The heated leather seats felt quite nice on the bum, though I wish they'd give better side bolstering for cornering. The front seat bottoms are powered (the backs aren't), the steering wheel tilts but doesn't telescope and you get the usual cup holders and the like.
The rear seat backs split 60/40 and fold forward to leave a large area for hauling stuff; Mazda says you can carry a 4x8 sheet of whatever back there. You also get four tie-down hooks to keep your stuff from sliding around. To facilitate stuffing the Tribute's rear end, you can either flip up the whole tailgate or just the glass.
The instrument panel is well laid out and clear. The power window, mirror and lock controls are easily at hand and work well.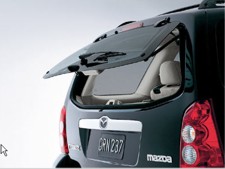 The audio system is adequate. It's fine ergonomically and it sounds okay, but I wish Mazda would put better audio equipment into some of their inventory. There isn't a lot of cranking room for the volume and the system runs out of steam far too quickly. On the other hand, if you aren't an audio snob you may not care.
Safety features include two-stage front air bags with belt-use sensors, driver's seat position and passenger-side weight sensors. The GS and GT get side impact air curtains and side airbags with rollover protection for front and rear passengers. Stir in whiplash-reducing headrests front and rear, and 3 point safety belts for all 5 seating positions - including the rear center seat, and you get a pretty safe vehicle.
Tribute comes with a handsome set of 5-spoke, 16 inch alloy wheels wearing P235/70R16 all-season tires.
Tribute is rated at 3500 pounds (1,588 kg) towing capacity with the tow package.
Prices start at $24,495 Canadian ($20,355 US) for the entry level version, rising to about $35,295 Cdn (about $27,285/US) for the 4WD V6 GT.
Mazda B4000 – Power and Torque in an Aging Package
And if you're looking for something a little more utilitarian – as in a real pickup truck, say, Mazda's B4000 offers a lot of power and torque, though unfortunately it's packaged into a vehicle that seems a tad long in the tooth considering what else is available.
Here's another case where I don't think Mazda should be tying its " zoom zoom" to one of its vehicles. According to Mazda Canada's website, " Mazda B-Series Trucks are also engineered to deliver agile handling and exhilarating performance. At work or at play. On the road or off. Flying solo or with friends. These trucks bring you a driving experience like no other."
Please. Despite my two wheel drive (4x4 is also available) test unit being dubbed a "Double Sport," after my week with the B4000 my chief memory (other than its great power and torque) is that it shudders noticeably when you start a turn from a stop (such as when turning into an intersection from a stop sign), bounces like a pickup truck (which, since it is a pickup truck, isn't surprising), has a greenhouse plants would up and walk out of, and is generally Spartan in its accoutrements.
Still, the four liter V6 in my test unit has plenty of power and torque. It's rated at 207 horsepower @ 5,250 rpm and a healthy 238 lb. ft of torque @ 3,000 rpm. I remember driving a manual transmission version a few years ago and there was so much torque I had trouble starting from a dead stop the first time without stalling it. The five speed automatic transmission (which feels like a three – okay, four speed) in my tester didn't lend itself to any such embarrassing situations.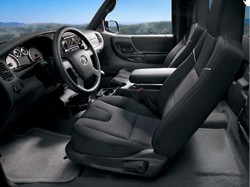 The seating position is fine, as long as you're up front. Front seats are reasonably comfortable and supportive, though I don't think they'd be great for a long cross country trip.
My tester was the " cab plus" version that " features" two tiny jump seats perched in the rear – but not for the rear. I had to try them, of course, and even for a short drive it was not a pleasant experience. Not only was getting in and out a pain for these middle aged bones, despite rear-opening doors to help facilitate the experience, but the seats themselves seem fit only for pre-teen butts and the seat belts were an ordeal to hook over the paunch.
Still, I suppose they'd suffice for emergency use.
The B4000's front suspension features raised independent double-wishbones with gas-filled shock absorbers, torsion bars and a stabilizer bar. Its butt has a raised solid axle with leaf springs and gas-charged shock absorbers. They impart a very truck-like feel, which isn't surprising but which could be a heck of a lot nicer these days.
Steering is power-assisted rack-and-pinion and the brakes are power-assisted front discs and rear drums, with ABS. My Dual Sport version came with 15 inch tear-drop alloy wheels wearing 235/75R15 tires.
There aren't a lot of creature comforts, but you do get keyless entry, power windows and door locks and there's a manual air conditioning setting on the HVAC system.
The sliding rear window came in handy when I had to haul a big home theater screen home that was too long to lie flat in the truck's bed.
Safety equipment includes driver and passenger airbags.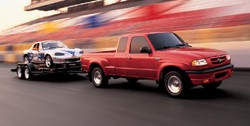 I was disappointed with the B4000's audio system. It's an AM/FM/CD stereo player with integrated (and nearly illegible) clock, and features four speakers. I usually run auto audio systems " flat" to ensure apples to apples comparisons, but the B4000's stereo was quite muddy, and I had to crank up the bass to make it as close to listenable as possible.
Okay, it was never really listenable.
Truck features include a double-wall cargo bed, tie-down hooks, and a crank-up/down spare tire carrier with spare tire lock.
The as-tested price of the Mazda B4000 Cab Plus Dual Sport is approximately $27,000 Canadian (approx. $23,500 US).