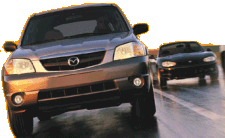 Mazda Pays Tribute to Sport Utes
2001 Model Line Intros SUV
by Jim Bray
Mazda has finally jumped into the SUV market.
The Japanese carmaker's first Sport Ute is the 2001 Tribute and, judging from the test drives in which I participated, it's a fine unit that's surprisingly apt off road.
A Mazda media junket to Vancouver, British Columbia, to premiere its 2001 model year lineup was my first opportunity to see the Tribute up close, and I was quite impressed.
Tribute is a "cute ute," a small SUV in the vein of Toyota's RAV4. It comes in two basic configurations: a four banger, 5 speed manual and a V6 with a four speed automatic. Both offer front and four wheel drive, though 4WD is optional on the entry level DX.
We tried the V6 automatic on a challenging mountain "road" followed by a street course. Unfortunately, I wouldn't know real four wheeling if a clod of dirt hit me in the face, so I tagged along with another journalist during the trek up and down the mountain.
We were faced with steep grades covered with loose rocks and small boulders, some minor mud holes, and generally went all over hell's half acre. I would have turned back at the first sign of an unpaved hill, but we were invited to test the Tribute's mettle, and metal, so I shut up, held on, and let my new friend bounce the beast along.
According to the assembled writers (since I'm a 4WD neophyte) the Tribute is one heck of an off roader. I heard comments bordering on amazement that Mazda would have the guts to let us "go nuts" on such a challenging course, and admiration that the Tribute would do so well, even with its standard highway tires.
Later, I took the Tribute on the street circuit, which is where the lion's share of its buyers will drive it, and found it a comfortable and capable "on roader." The 3.0 liter V6 engine has plenty of pull, it handles fine, and the interior is roomy and well thought out.
In short, it appears that Mazda's Tribute is a proficient performer whether you keep it in suburbia or head for the boonies.
The trip also gave us a chance to drive the B4000 pickup (whose 4.0 liter V6 engine pumps out 210 horsepower – enough to propel the truck along at breakneck speed), as well as the 2001 Millennia and Miata.
The Miata, of course, has always been a hoot, and the 2001 model has been tweaked to make it even more fun. I got to drive the 2000 model before parking my posterior in the new one, and I have to admit I liked the 2001 Miata appreciably more than last year's.
A big part of the reason is the new seats, which felt as if they'd been designed for my "Pillsbury Doughboy-like" body. There's also an extra 15 horsepower (to 155) from the 1.8 liter four and a modicum of additional torque. The body's stiffer, too, which I noticed while throwing the 6 speed manual-equipped "joy toy" through some twisty bits at about double the posted speed limit.
I'd forgotten just how much fun such open top motoring can be…
The 2001 Millennia is Mazda's top of the line offering. It's equipped with a 210 hp, 2.3 liter "Miller cycle" double overhead cam V6 engine and there is an abundance of changes both inside and outside the car.
The "Miller cycle" is basically an adaptation of the supercharger (whereby extra air is pumped into the engine to increase its power output) and Mazda says it gives the power of a larger V6 with the economy of a smaller one. I don't know about the economy (I only drove it for about half an hour), but the power is certainly there – and it's very smooth power, too.
Mazda says the new Millennia has had its "torsional rigidity" strengthened by nearly a third, thanks to some structural upgrades below the surface, so it's now stiffer and more stable. There are plenty of upgraded creature comforts inside, too, all of which make for a very nice vehicle to drive.
With the Tribute added to its line, Mazda thinks it has something to offer just about anyone looking for well-equipped and competitively priced mainstream wheels. Judging by the new and/or improved models I drove, they may be right.