By Jim Bray
Can a Hemi engine turn a venerable SUV into a sports car? Can a new V8 turn a longtime Japanese favorite into a Hemi beater?
Those are just two of the questions I asked myself during back to back weeks driving the Jeep Grand Cherokee Limited and Toyota 4Runner V8 Sports Edition. Both of these SUV's are nothing if not world class, both have been around for many years in one form or another, and both are capable off roaders.
Jeep says the Grand Cherokee is all new for 2005 and is "reclaiming its legendary class-leading status" while offering "countless improvements" including new steering, front suspension, and QuadraDrive II.
Toyota, meanwhile, says the 2005 4Runner features a brand new V8 engine offering "more power than ever before" and "an extensive array of stability and traction management technologies for outstanding off-road capability, on-road comfort and all-weather safety."
Sounds like a pretty good reason to compare these two, even though it isn't quite an "apples to apples" comparison thanks to disparities in trim levels. The Jeep was loaded, the 4Runner was only "nearly loaded." Close enough to get a good idea of the vehicles' capabilities, though.
My tests were limited to on-road scenarios, alas, due to a lack of time and opportunity to really head into the hinterland. But Car and Driver Magazine recently ran them head to head with other competitors including versions of the Ford Explorer, Nissan Pathfinder and Volkswagen Touareg. Those lucky editors put six SUV's through their paces in what appeared to be some pretty grueling territory and the Jeep ended up at the head of the pack, handily beating the rest. Perhaps surprisingly, the Toyota came in second last.
On the asphalt, I found my subjective results put the two a lot closer together, my opinions relying nearly as much on personal and family taste than anything really good or bad about either vehicle.
Power Players:
The new Grand Cherokee is longer than its predecessor, by seven inches or so and looks lower – but less boxy – than before. The current generation 4Runner looks almost like an older 4Runner after a heavy weight had been dropped on it (and the resulting dents hammered out, I suppose), though that isn't really a fair analogy for what is actually a handsome vehicle. It just goes to show, I suppose, that this low, wide look must be a trend.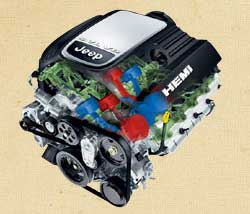 The addition of the Hemi gives the Jeep a huge power advantage and it also adds a massive amount of "fun to drive" to the equation, something I was surprised to find I cared about with an SUV. I'd never driven a Hemi-powered vehicle before and now I see what the fascination is: this thing MOVES! Boy, does it ever!
There are actually three choices of engine to choose from with the Grand Cherokee. The base is a 3.7-litre, SOHC 12-valve V-6 sporting 210 horses and 235 lb-ft of torque. Next is a 4.7-litre, SOHC 16-valve V-8 that makes 230 horsepower and 290 lb-ft. The Hemi is a 5.7-litre V-8 that seems to be more than willing to put out its 325 horsepower and 370 lb-ft of torque at an instant's notice.
The Hemi also features DaimlerChrysler's Multi Displacement System, which means it's capable of shutting down four of its cylinders when you don't need them, to help increase gas mileage. The process is seamless; you can't tell when you're driving a four banger or an eight banger unless you goose the gas, at which time it become obvious which version has snapped to attention for you by the way you're pressed back into the seat.
It's probably just as well that the "multi displacement" system is included, too, because the Hemi tosses back gasoline like I toss back, er, milk. If you have a lead foot and didn't have MDS, this would be a thirsty beast indeed.
The 4Runner's V8, on the other hand, is a lovely and smooth 4.7 liter, 32-valve DOHC engine with Variable Valve Timing with intelligence (VVT-i). It produces 270 horsepower at 5,400 rpm (up from the 235 hp of the previous 4Runner's), and 330 lb/ft of torque at 3,400 rpm (up from 320 lb/ft). V6 4Runners get Toyota's high output, low mass 4.0-litre, DOHC 24-valve engine with 245 horses at 5,200 rpm and 283 lb/ft of torque at 3,400 rpm. The V6 also is equipped with Toyota's VVT-i and, like the V8, uses a two-stage Acoustic Control Induction System (ACIS) to improve engine performance in all speed ranges.
The Toyota V8 is smooth and pulls well – and gets better gas mileage than the Hemi. The Transport Canada ratings of 17 city 25 highway for the Jeep versus 21/28 for the Toyota didn't seem to match the dollar output I had at the pump, though, but my lead foot undoubtedly contributed to that.
The Jeep is available in rear wheel drive as well as three different four-wheel-drive systems. Quadra-Trac I is on tap for the 3.7-liter V-6, a permanent, single-speed four-wheel drive system. The "sequel," Quadra-Trac II (available on the V-8's) includes a two-speed transfer case with both high and low range activated by pushing a button. Electronically-controlled clutches vary torque distribution between the axles. Quadra-Drive II, also available on the V-8s, ups the ante by adding electronically controlled differentials to both axles for even better traction when things get dicey.
Over in Toyota land, the 4Runner features full-time 4-wheel drive (4WD) using a Torsen limited-slip center differential the driver can lock for maximum traction on those dicey days. Torque splits 40 per cent front and 60 per cent rear under normal conditions, but if things start going wonky as far as traction is concerned the system directs more power to whichever axle has the most grip. You also get a Vehicle Stability Control (VSC) system that works with the antilock brakes to control engine and brakes to enhance cornering stability – though it doesn't work when the centre differential is locked.
Toyota also includes Active Traction Control (A TRAC) and an Engine Control Module (ECM). A-TRAC combo applies the brakes to restore traction to the wheel that's slipping while the ECM modulates the engine's power. And if that isn't enough, Hill-start Assist Control (HAC) automatically increases stability when the 4Runner is starting on an incline and there's also a Downhill Assist Control (DAC) that uses the brakes to maintain the vehicle's speed at 5 to 7 km/h (2 to 4 mph) for a controlled descent when gravity would have it otherwise.
Who says you can't fool Mother Nature?
Both vehicles sport five speed automatic transmissions. The Jeep's also has a fake manual mode that lets you shift by moving the level side to side. The side to side motion felt weird to one used to manual modes that shift forward and backward, but it works fine.
The 4Runner is strictly automatic – and you know what? I whine and complain about fake manuals all the time – but I missed it! I discovered that I use it more than I had thought, usually for downshifting when going down hills.
Suspended Sentence:
Jeep has replaced the front solid-axle suspension with independent control arms and it results in a vehicle that handles well and offers a smooth, almost car-like ride. The new rack-and-pinion steering doesn't hurt, either.
The 4Runner uses a double wishbone, independent suspension up front, with front coil-springs and shock absorbers. Its rear is slung by a 4-link suspension with gas shocks, coil springs and stabilizer bar.
Both vehicles handle surprisingly well, but I thought the 4Runner was slightly better.
Both vehicles also feature four wheel disc brakes with ABS and a good set of all-season tires.
Obviously, both of these vehicles are fully equipped for whatever you want to throw at them.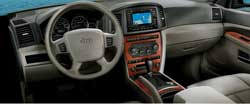 Inside the Jeep is a very nice cabin, though I thought the material on the sill between the instrument panel and the windshield looked a tad cheap. The leather seats were very nicely finished, however, and included a memory setting – though it was disabled (er, "challenged") in my test unit. The seats include bun warmers and power adjustments as well. I thought they needed more lumbar support, however, since my lower back got tired quite quickly.
The power adjustments can be combined with adjustable pedals to secure the perfect driving position.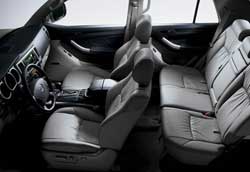 Ingress and egress (which in English means "getting in and out") was better in the Jeep than the Toyota, though once inside I preferred the 4Runner's driving position and seats, despite the fact that my Sport Edition 4Runner didn't have leather or power seats. But they had better side bolstering and seemed more comfortable for day to day urban driving.
Both vehicles' instrumentation is full and clear and switches, stalks and other controls are well located and easy to figure out. I thought the Jeep's steering column-mounted stalks (lights, wipers, etc.) were a little harder for my stubby fingers to reach than the 4Runner's, but only a little and it wasn't a big deal.
My family preferred the 4Runner's rear seat, if only because we liked how they tucked away the seatbelt receptacles and there's only a minimal centre tunnel that needs to be straddled by a mid-seat passenger. We drove both vehicles with three across in the back and there was decidedly less whining in the Toyota.
I was really torn between the two vehicles' stereos. The Jeep's Boston Acoustics system rocks, whereas the Toyota's is anemic at best. On the other hand, the 4Runner's is better ergonomically, which comes in handy at speed. For example, switching from AM to FM or CD is easier in the 4Runner. On the other other hand, the Jeep had a 6 disc CD changer while the Toyota's was limited to a single CD at a time. Advantage Jeep: I could live with its ergonomics better than I could live with the Toyota's weak sound.
Both vehicles have rear seat entertainment. The Grand Cherokee's is a DVD video system with a ceiling-mounted LCD screen, which is adequate but definitely not videophile quality. The 4Runner has no video but the ankle biters in back can put on wireless headphones and listen to their own music source regardless of what mom and dad are playing up front. For example, the front passengers can have the radio on while the kids listen to a CD that's playing in the same head unit. It's neat, though for some reason the headphones kept shutting off when I tried them.
Maybe they didn't like my choice of music....
The view from both vehicles is excellent, with very good greenhouses all around. I give the edge to the 4Runner, though, because I thought the Jeep's windshield was a little short top to bottom and this tended to cut off the view of traffic lights a little. It isn't a serious shortcoming, however.
The 4Runner has a nicer sunroof, if only because of an interesting windbreaker that raises and lowers a bit depending on vehicle speed, helping quiet the banshee wail of the wind when you're at moving along at a good clip.
Both vehicles also offer the normal gaggle of gadgets, including power windows, mirrors and locks and they both feature keyless entry. The 4Runner's security system caused me a bit of angst the first night I had it home when it started howling, a false alarm that may have been caused by a neighbor – but it was easy to shut off without having to leave the house.
You also get a pervasive panoply of safety devices, from seatbelts to airbags.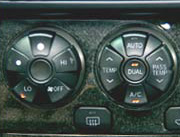 Irritations? Well, the silly place Toyota mounted the fuel door opener, out of the way and nearly hidden below the instrument panel, is downright dumb. And the HVAC controls are strangely designed. Little things, indeed, but they're little things that Japanese carmakers usually do so well but which in this case were better handled by the domestic marque.
The only thing about the Jeep that really rubbed me the wrong way was its thirst (which was partially self-inflicted by exuberant driving) and the lower back comfort of the driver's seat.
So which would I buy? That is a really tough one – especially since, to be honest, I probably wouldn't buy either, since I'm more of a car guy. But for sheer, brash fun (and if ongoing costs such as fuel were no consideration) I'd have to lean toward the Jeep and the awesome Hemi I couldn't resist winding up through the revs. For everyday driving comfort and feel I preferred the 4Runner, but I don't think I could live with that stereo and the tighter ingress/egress.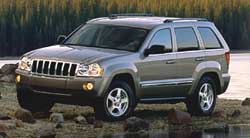 A split decision, leaning grudgingly toward the Jeep. As a long time Toyota fan (I've owned four over the past quarter century, including a Supra I kept for 20 years), I feel as if I'm tempting a lightning bolt.
But what can you do? The Jeep's combination of power and execution and, yes, attention to detail, is simply awesome.
I never thought I'd say that.
Jeep Grand Cherokee Limited, as-tested price: $54,025 Cdn.
Toyota 4 Runner V8 Sports Edition, approximate as-tested price: $53,440