Hyundai Sonata a Home Run
By Jim Bray
(photos by the author)
Hyundai has really thrown down the gauntlet with its new Sonata sedan.
The Korean automaker, which was once the butt of jokes, has been working hard to overcome that past and has been doing an excellent job of it. Such vehicles as the Tucson SUV, the second generation Tiburon and even its updated Elantra and Accent, have gone a long way toward ensuring the company is taken seriously.
But this new Sonata is the clearest statement yet that Hyundai has not only arrived, but that it intends to give serious competition to the more established marques.
And it does give them serious competition. I drove the new V6 Sonata for a week then, after a pause of a week, one of the Sonata's main competitors (the Toyota Camry). It wasn't quite an apples to apples comparison because the Sonata was fairly loaded while the Camry was a four banger and pretty Spartan, but so far as the driving experience is concerned there was no comparison at all. While I found the Camry a wonderful car, it was also boring to drive. But I loved driving the Sonata! This is my kind of sedan. It handles very well and Hyundai has done a really nice job in the "fun to drive" department.
Hyundai says the new Sonata, the fifth generation of the four door sedan, has been under development for nearly four years and has been completely redesigned. I liked the last generation Sonata, so wasn't surprised to find that I liked this one, too. What did surprise me was just how much I liked it. This is a car I would buy, except for one minor but important (to me) flaw which should be easy to fix. More about that later.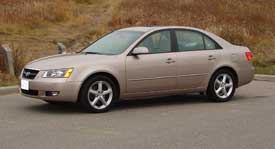 Outside, the Sonata looks handsome and very up to date. It reminds me of the Honda Accord, except that I think it's better looking than the Accord (though I haven't seen the newly freshened 2006 Accord at the time of this writing). Where Hyundai has in the past tended toward "swoopiness" in its exterior styling, this car's lines are clean and crisp.
My tester came with the 3.3 liter DOHC 24-valve V6 engine rated at 235 horsepower @ 6000 rpm and 226 lb-ft of torque @ 3500. This compares with the previous generation's V6 specs of 178 horsepower and 177 lb-ft. You can feel the difference from the first time you kick the gas pedal floorward.
The new engine features an aluminum alloy cylinder block, continuously variable valve timing and multi-point fuel injection. It's attached to a five speed automatic with a pretty good pretend manual mode. The transmission shifts very smoothly and kicks down nicely when you put the spurs to the car.
You can also get a four cylinder engine that's rated at 162 horses @ 5800 rpm and 164 lb. ft. @ 4250 rpm.
The front wheel drive sedan features double wishbone suspension up front, with springs and stabilizer bar and twin-tube gas shocks. The rear suspension is multilink, with springs and stabilizer bar and twin-tube gas shocks as well.
All of this contributes to very nice handling, including a tight turning circle. On the road, you can toss this car around at will and it seems to enjoy every minute of it.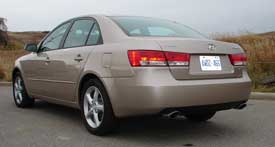 Sonata comes with disc brakes all around, and V6 versions also feature ABS with Electronic Brake Force Distribution as standard equipment. Electronic stability control is optional.
Windshield wipers are variable intermittent and feature an unexpected bonus: they're speed sensitive, so they wipe more quickly when you're tearing along than when you're plodding along. The washers do a nice job of hosing stuff from the glass, too.
As one would expect from this class of car, though not necessarily as standard equipment, you get power windows and door locks (with keyless entry), heated outside mirrors and even a windshield deicer. The driver's window has a one touch express down and up option with "pinch" protection.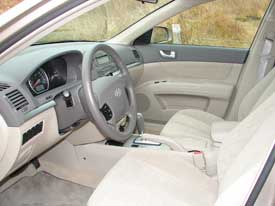 The new interior is well thought out and executed. I've complained about a lack of tactile feel in some Hyundais I've driven previously, but they've gotten that part of the experience down pat now. Everything is where it should be and there's a look and feel of quality here. Even the stereo is much improved. The AM/FM/CD/MP3 stereo, with six speakers, still won't win an audiophile award, but it's a big improvement and sounds good, with plenty of power and, like the rest of the car, good ergonomics.
As is common these days, there are steering wheel-mounted cruise and audio controls, and the instrument panel is analogue, attractive and easy to read.
The seats are nicely supportive (even in cornering) and the car is very quiet inside as long as you keep the sunroof closed.
And here's where my primary complaint about the new Sonata comes in. The sunroof is the loudest I can remember, with wind noise like a screeching banshee even at low speeds. It appears to be caused by the metal wind blocker that folds up when you open the sunroof, because if you pull it back down by hand the noise problem clears up quite satisfactorily – but of course you won't want to drive like that!
If you don't care about sunroofs this undoubtedly won't bother you, but I prefer a good sunroof to a convertible and drive with it open at every reasonable opportunity, much to my wife's chagrin. And I could not live with that noise.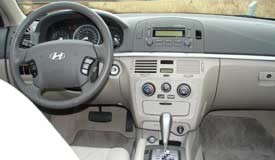 Okay, that's a pretty nit picky point, and it's the only real problem I had with this otherwise terrific Sonata. And to be fair, Hyundai offers a sunroof deflector that may correct this problem, though at the expense of the car's clean roofline.
There are plenty of storage spaces inside the cabin, including cup holders, and if that isn't enough you can take advantage of a trunk that appears so big you could use the Sonata as a hearse. I kid you not: this trunk is cavernous – and it can be made even bigger by folding down the split/fold rear seat back.
Hyundai has also piled on the safety equipment, including six standard airbags and active front seat head restraints. They aren't so active that you'll have to pump them full of valium, fortunately.
I can't stress enough just how much fun it was to spend a week with the new Sonata. It's a beautifully designed and executed sedan that also happens to be fun to drive. It also features Hyundai's generous warranty, which should help convince those who aren't yet sure whether or not the company has "arrived" that it's safe to take the plunge.
For what more could anyone ask, other than a quiet sunroof?
The four cylinder Sonata with 5 speed manual transmission starts at $21,900 Canadian/ $17,895 US. The "loaded" V6 (without assorted options) tips the register at $28,000 Canadian/ $22,895 US.
Sounds like a heckuva deal to me.