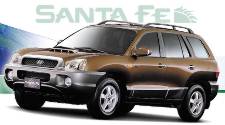 Santa Fe Introduces Front Driver
By Jim Bray
Last year, the Hyundai Sante Fe entered the market as an affordable four wheeler.
This year, the Korean carmaker is tweaking its first SUV, offering a two wheel drive version for people who want the convenience of an SUV but who don't plan to go off-road or drive through a lot of snow. This is the version I recently test drove and it seems like a decent vehicle, though I must confess that I preferred the four wheel driver.
Especially so, since the local roads were snowy and slippery, and I found the front wheel drive version didn't come close to the of a 4x4 in its performance on lousy roads. In fact, I didn't find it as stable as the Sonata I'd driven on the same roads the week before.
Go figure.
Anyway, the Santa Fe GLS sells for about $17,000 and for that you get quite a bit. It doesn't boast as much horsepower as some of its competitors, but I found its "oomph factor" to be just fine.
The oomph comes from a quiet DOHC 2.4 liter V6 engine which delivers 181 horsepower and 177 pound feet of torque. Power comes on quickly and smoothly, moving the Santa Fe from zero to 60 mph in just over ten seconds. Bringing it back to a stop are four wheel power-assisted disc brakes with brake pad wear warning sensors.
The base Sante Fe's standard transmission is a five speed manual, but my tester came with the same four speed "shiftronic" automatic/manual transmission as my earlier unit. While it hunted and pecked a bit on hills when I tested it in the 4x4, on the whole it performed well - and the "manual" mode where you can pretend it's a stick shift was a welcome feature on slippery roads and hills.
The SUV's handling is abetted by an independent suspension (double-wishbone in the rear) and 16 inch wheels that come with a decent set of Michelin tires. One thing you don't get on this base model, unfortunately, is antilock brakes; you have to go to the higher end Sante Fe's for that.
Inside the Sante Fe is just about everything you'd need, though the overall look and feel is rather, well, inexpensive-looking. You get a 6-Speaker AM/FM/CD stereo that works well but has that same, unergonomic head unit I've hated so much on other Hyundais (apparently this will be changed soon, and that's good). You also get air conditioning, a center front console, power windows & door locks, cruise control with steering wheel-mounted controls, and an overhead console with map lights (that, unfortunately, shine right into your eyes) and a sunglass holder.
The fabric seats are comfortable and eminently, though manually, adjustable. Rear seat passengers have roomy reclining seats that also split 60/40 and fold down.
Everything works well, but the Sante Fe seems like a first generation vehicle (which it is), and this leaves it a little short on refinement. There's nothing really wrong with it, but after having driven the remarkable new Sonata (which brings to mind the Toyota Camry or Honda Accord), the Sante Fe seems almost like a work in progress, at least as far as the interior is concerned.
For example, the knobs and buttons, particularly the climate control knobs, felt very cheap and offered little tactile feel, and the plastic looks as if it were supplied by the lowest bidder.
It's too bad because, overall, the Sante Fe is a pleasant and comfortable vehicle to drive, and it performs well.
On the other hand, Hyundai has included thoughtful touches like a tailgate that opens in two ways: you can swing up the window by itself or open the entire gate. Safety and creature comforts include dual front airbags, passenger presence detection, keyless entry/central locking, air conditioning and power everything.
Unlike the 4x4 I tried, I didn't have a chance to take the two wheel drive version on a real road trip, but I suspect it'll be just as comfortable over the long haul.
I'm a bit torn by the Sante Fe. It's well built and offers good performance at a good price. But the cheap-feeling interior detracted from my enjoyment of it, especially after having just driven the impressive new Sonata. Compared to it, the Sante Fe feels as if it needs another generation to really come into its own.
I look forward to it.