Santa Fe Ups Its Own Ante
By Jim Bray
For the 2004 model year, Hyundai offered a major upgrade to its popular Santa Fe SUV: a top of the line model that sports a bigger engine and five speed automatic transmission also found in the company's XG350 luxury sedan.
And the result was a very nice SUV, not that the Santa Fe was a slug to start with.
The Santa Fe GLS 3.5 V6 AWD comes with a 3.5 litre six cylinder engine (as opposed to the standard 2.7 litre). Horsepower and torque go from 170 horses @ 6,000 rpm in the base V6 to 200 @ 5,500 rpm, and torque rises from 181 @ 4,000 rpm to 219 @ 3,500 rpm. The difference is obvious the first time you tromp on the gas pedal.
Oh, yeah, Hyundai Canada still offers the four cylinder engine, a 2.3 litre model rated at 138 hp @ 5,500 rpm and 147 lb. ft @ 3,000 rpm. But this review is about the 3.5 V6, which is the most desirable of the Santa Fe models at least until the vehicle is replaced by a new model in the not-too-distant future.
And it's a nice beast. My initial drive in a Santa Fe left me impressed with the vehicle, but pining for a little more refinement inside so far as look, feel and materials were concerned. Hyundai has taken care of that, and the current model is handsome and comfortable and quite nice to drive as long as you don't mind a touch of torque steer when you scream away from a standing start.
Which makes it very similar to a whole slew of other vehicles in that respect….
From the outside there isn't a lot of difference between the GLS 3.5 and the other models, other than the badge on its ample buttock. The Santa Fe retains its roly poly look that led a friend of mine to remark that it looked as if someone had kicked in the doors, though that isn't really fair. I've always thought the Santa Fe was a reasonably handsome SUV. That said, however, the look has been around for a while now and is getting a tad long in the tooth, especially since Hyundai introduced a smaller SUV, the Tuscon, which is a more up to date-looking vehicle.
Hyundai is getting better at taking care of the "little things" that Japanese manufacturers traditionally do so well. For example, I had whined in the past about the buttons inside the Santa Fe (particularly the door lock, power window, and cruise control buttons) feeling cheap and offering little in the way of tactile feel. The buttons and stalks still don't quite match up to their Japanese counterparts, but Hyundai did get rid of the huge expanse of cheap-looking plastic on the dashboard, breaking it up nicely and making it more functional by adding a little tray-like depression on top into which you could put small objects. Not a big deal, but a nice touch.
On the other hand, the leather of the seats still looks as if it had were raised in an injection moulder.
But everything works fine, and this is a nice vehicle to drive, and isn't that what it's supposed to be about?
The 3.5 litre engine is a nice match to the Santa Fe, putting out plenty of oomph on demand. The 5-speed Shiftronic automatic transmission works fine in automatic mode, though it seems reluctant to downshift when you want to prod it along. I also thought its "pretend manual" performance left something to be desired. It's fine for such things as slowing the Santa Fe down on hills and the like, but it doesn't add a lot of fun to the shifting process.
The Santa Fe also comes with four wheel disc brakes with four channel ABS and they stopped well and true, with good pedal feel.
Hyundai's electronic AWD system features "InterActive Torque Management," which senses slippage in the front wheels and automatically transfers power to the rears. Then, when traction is restored to the fronts, power to the rears is reduced or eliminated. While this isn't exactly full time all wheel drive, it does offer a good balance between traction and fuel economy, since four wheel drive can tend to suck back the petrol more quickly than two wheel drive.
There's also a traction control system on the top line model for additional stability.
The Santa Fe's suspension up front features MacPherson Struts with a stabilizer bar; the rear features a multi-link suspension and you get a stabilizer bar with the 3.5L V6. Wheels are 16 inch 5-Spoke cast aluminum alloy wearing P225/70R 16 tires. The power-assisted rack and pinion steering offers good road feel.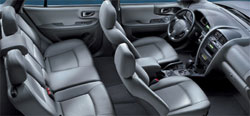 Inside, you get most of the creature comforts, including an automatic climate control system that works well. The leather seats up front have bun warmers, and the 3.5 litre model includes 8 way power adjustments for the driver's side. Pretty well everything else it's possible to power on the vehicle is powered (including keyless entry and power door locks) and one thing I really liked is the beautiful, huge sunroof, though it's mounted so far back on the roof that it wasn't that great for front seat passengers whose legs are short enough that they have to put the seat quite far forward.
If they could only move the sunroof an inch or two forward it would be perfect; that would cut into the ceiling-mounted controls, lights, and sunglasses holder, but that wouldn't bother me much.
The seats are comfortable, though they could use a little more side bolstering because you almost feel as if you're going to be spilled out onto the door when you do some spirited cornering. It isn't a big deal, however.
The steering wheel tilts, though it doesn't telescope, and it's easy to find a comfortable driving position.
All told, there's plenty of room front and back, and the rear seats split 60/40 and fold forward, making for a large storage area.
The Santa Fe's instrumentation is straightforward and all controls are laid out logically and placed close at hand. The AM/FM/CD/MP3 stereo has 6 speakers but, whether they aren't particularly good or whether the amplifier is weak, the overall sound of the audio system is weak and thin. Ergonomically, the stereo is pretty good – a huge improvement over the tiny buttons Hyundai was inflicting on its owners only a couple of years ago.
You also get plenty of storage areas and cupholders.
I was pleasantly surprised to notice that the 3.5 GLS has speed sensitive variable intermittent windshield wipers up front. When set to the intermittent setting, they adjust the timing between sweeps depending on how fast you're going. This is a nice touch I didn't expect to find on a Hyundai, yet.
Safety features include dual front airbags, dual front side airbags, 3-point seat belts with adjustable shoulder belt anchors (a nice – and common – feature that lets you tailor the height for comfort), and outboard rear passengers get 3-point seat belts while the unlucky person in the middle gets a 2-point belt.
Other standard features on the 3.5 GLS include a roof rack, a rear wiper and washer, fog lights, and a retractable cargo cover.
In all, I liked the Hyundai Santa Fe GLS 3.5 V6 AWD very much. It's a nice vehicle that would undoubtedly be easy to live with and which, thanks to the nice match between its power train, high driving position and good visibility, is actually more fun to drive than one might expect, torque steer notwithstanding.
The Santa Fe GLS 3.5 V6 AWD starts at approximately $33,900 Canadian, or $26,000 US.