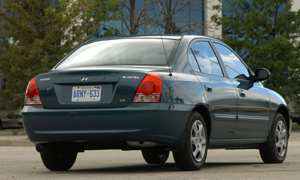 by Jim Bray
Well, hasn't Hyundai been cutting a swath in the automotive marketplace recently?
And judging by my experience with the company's 2004 offerings, it seems well on the way to carving out quite a respectable niche in automotive history.
Hyundai likes to say it offers more car for less money and the '04 Elantra is pretty good evidence of that .
Elantra is available in three trim levels: GL, VE and GT. I got to spend a week with the VE and another with the more upscale GT and, being the sucker for toys that I am, preferred the GT (my test unit even had the Premium package) because of its upgraded technology and more luxurious features. But at heart they're both the same basic car and either one can be a nice investment - especially for Americans who can take advantage of Hyundai USA's 10 year power train warranty.
Elantra is a straightforward front engine, front wheel drive four door sedan (5 doors on the GT, a configuration which used to be called a hatchback) powered by a new for '04 two liter 4-Cylinder Inline CVVT (Continuously Variable Valve Timing) DOHC 16-Valve Engine. Horsepower is rated at 138 @ 6000 rpm and torque is 136 lb.-ft @ 4500 rpm. This is a bit higher than last year's, and is more than the Honda Civic and Toyota Corolla. It's also a little shy of the Chevy Cavalier/Pontiac Sunfire and about ten short of the base Mazda 3. Bottom line: it's competitive.
In practice, the car has plenty of pep for urban use. Unfortunately, the weather was terrible when I had the Elantras and so I never got a chance to see how they acquitted themselves on the highway, but I have no reason to think they wouldn't perform just fine.
The engine is available with either a five speed manual or four speed automatic transmission. I tried both (the stick was on the GT, thank you very much!), and they both work well. Neither is as smooth or slick as some of the competitors I've tried, notably the Honda/Acuras, but what can you do? The stick features long throws and the slushbox tends to shift earlier than I'd like (I couldn't get it to the red line, though the road conditions may have had some effect) but for normal driving there's really nothing that would prevent one from enjoying them. And I suspect "normal driving" is what Hyundai had in mind when creating the car.
Elantra has never been my favorite vehicle from a styling perspective, but Hyundai has given it a bit of a facelift this year and it's now a more attractive vehicle (though still no heart stopper). The new model features fresh headlight, grille, hood and front bumper treatment, a tweaked profile that features nicer wheels than before and black mouldings (on the GT) for a sportier appearance. The rear lights have also been given a facelift.
The freshening has resulted in an Elantra that's slightly longer and wider than the '03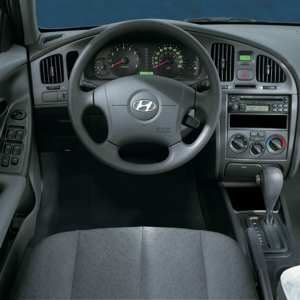 Inside, there's more headroom and legroom than before, and the cabin is roomy and comfortable overall with a very good greenhouse that imparts excellent visibility in all directions.
The driver's seat is comfortable, and it's easy to find a good driving position - though I thought the left foot rest was a tad close for my optimal comfort. Not a big deal, and this isn't unique to Hyundai by any means.
The instrument panel and gauges are new for '04, as are the vents and control buttons. The instrument panel is straightforward and nicely legible, though perhaps a less flamboyant shade of purple illumination would be nicer (beauty, of course, being in the eye of the beholder). The center console armrest was virtually useless to me (who has to keep the seat up quite far lest my stubby legs don't reach the pedals), but someone taller than 5'8" would probably find it adequate.
Both models I tried came with power windows, mirrors and doorlocks (with keyless entry), which is a nice touch. And these models emit a subtly nice chirp to indicate that the doors are locked, rather than having the horn hoot - which is another welcome touch, especially if you live in a quiet neighborhood.
There's plenty of room for four passengers; my family found lots of legroom in the back (not that that's a stretch for us!) and overall seat comfort is good.
The seats in the GT were leather with bun warmers up front and they were even better, though I think Hyundai may be better served changing cattle farms: the leather looks and feels like vinyl, which kind of defeats the purpose.
And they really, really need to do something about the stereo. I don't know about U.S. or other countries' models, but the Canuck Elantras I drove featured an AM/FM/CD (single disc) head unit that's an ergonomic nightmare. It's saddled with tiny buttons featuring even tinier labels (forcing me to put on my reading glasses to use it!) and the layout is, to be as kind as possible, bizarre. The power button is in the middle, while the button to switch from AM to FM is where the power button would be logically. And switching from CD to radio is in the middle of the rocker switch that tunes up and down a channel or track.
On the upside, the six memory preset buttons are large enough to be useful.
Still, I wouldn't want to be messing with this stereo at highway speeds or in heavy traffic.
Oh yeah, the sound quality. It's okay. Just okay.
Elantra features a politically incorrect ashtray and cigarette lighter (I don't smoke, but it's a nice convenience feature and I love it when companies dare to be politically incorrect), with a new 12 volt power outlet mounted right by it.
There's plenty of storage space inside the cabin. The front center console contains two bins, a shallow and a deep one (the latter of which is good for storing CD's). The console also has two cupholders configured for different sized cups (it also works well for a cellular phone or glasses case), and up top there's a sunglasses case holder that folds out of the ceiling. You also get map pockets in the doors.
Rear seat passengers can partake of a retractable cup holder, assuming they're quaffing from retractable cups.
Elantra features four wheel independent suspension (the GT's is "sport tuned" and it feels like it), with MacPherson struts, offset coil springs and an anti roll bar up front. The rear gets a multilink setup, also with offset coil springs and anti roll bar. All four corners feature gas-filled shocks.
It's a good setup, but it's also a tad soft for my tastes. It does impart good road feel, but rather than feeling catlike it's a little spongy.
Steering is power assisted rack and pinion and it's fine, though there's a certain amount of understeer. This is definitely not a sports sedan, though you should remember that it doesn't really claim to be one, either.
Braking is provided by power-assisted ventilated discs up front and self-adjusting drums in the rear on the VE. The GT has discs all around and my Premium package-equipped tester also sported ABS and traction control. Brake pedal feel is fine and, needless to say, stopping isn't an issue - especially on the GT.
Both models come with P195/60R15 Michelin All Season tires.
I also preferred the GT trim level, at least in this instance, because of its fifth door hatchback (with rear window wiper), which in combination with the split/folding rear seats opens up a positively cavernous storage area in the back. Both models' rear seats split and fold down, but for really big stuff you can't beat a hatchback unless you have a wagon, SUV or truck.
And the GT also has a power sunroof, and it's a nice big one.
Both Elantras come with the usual safety equipment, including driver and passenger front air bags, with a passenger detection system. Safety belts feature pretensioners and force limiters.
Other safety thingies include child safety doorlocks and a kiddie seat anchor system that includes automatically locking retractors.
The Hyundai Elantra starts at just over $13,000 US ($18,525 Cdn). My GT tester with a slew of options comes in at about $16,600 US ($22,225 Cdn), and as such it's a good value.