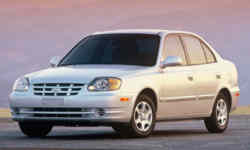 By Jim Bray
It must be tough being Hyundai and trying to overcome the "Rodney Dangerfield Syndrome."
It's tough to get respect, that is. After all, while Hyundai may be Korea's largest automaker, it's facing a real challenge in a marketplace teeming with terrific cars; it has to offer quality and value comparable to longer-established marques who've had decades to refine even their entry level vehicles.
Fortunately, it seems to be doing a pretty good job of it. While Hyundai's entry level 2003 Accent may not have quite the refinement of a 2003 Honda Civic or Toyota Corolla, it's probably as good as those cars were within recent memory - and it manages to hold the price down in comparison.
Which means the Accent has plenty to offer for the person who may be purchasing his first car, or who just wants something economical and inexpensive that won't make them suffer for their purchasing decision.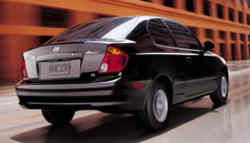 It's tough to make an entry level car that's any good, that doesn't rattle or transmit huge amounts of wind noise at highway speeds - or that doesn't lack power, fit and finish, or otherwise skrimp on the quality and quality control. This is one of the reasons why, if given their druthers and they can afford it, most people would opt for a Mercedes Benz over a Yugo.
So the Accent has a tough job in not only competing but, with its Hyundai stablemates, in helping to build the company's reputation as a real player on the world stage.
Hyundai has been doing a pretty good job of it over the past few years, as witnessed by its rising star in the J. D. Powers world, and has for the most part managed to erase the public's memory of such unremarkable cars as the Pony and the Stellar.
I first drove the 2001 model year Accent and thought it was a nice little car. This time around, Hyundai let me play with two models in two different trim levels, the $15,000 Canadian/$11,500 US GSI three door hatchback and the $16,000 Cdn/$13,000 US GL four door sedan (prices are approximations). The GSI sported the five speed manual transmission, while the four door was saddled with the optional four speed automatic.
Three guesses as to which I preferred, and any guesses that include the word "automatic" won't be counted.
Okay, neither version is going to be something you want to take to the race track, but either version (especially the 5-speed) will do a good job of providing you with reasonable and basic transportation on just about all kinds of roads.
The Accent, in GSI or GL spec, comes with a 1.6 liter, 16 valve double overhead cam engine rated at 104 horses @ 5800 rpm and 106 lb.- ft of torque @ 3000 revs. The base model GS trim level's engine loses a valve per cylinder, .1 of a liter, 14 horses and 10 lb.- ft.
None of these specs will set your world on fire, but I found during my test period that the 1.6 liter version is just fine for most applications. It leaves something to be desired if you're prone to passing in short spaces on two lane blacktop or trying to climb steepish hills in top gear, but even there it's at least as peppy and pleasant to drive as my wife's bulletproof 1992 Toyota Corolla - plus, because it's a decade newer, it's tighter, more up to date, and more refined - and it has a full warranty.
The front wheel drive, unit body Accent also comes with power-assisted rack and pinion steering, includes independent MacPherson Strut with coil springs and stabilizer bar suspension up front and dual link suspension with coil spring and stabilizer bar in the back. This makes it handle well under most driving conditions, as well as contributing to a relatively pleasant driving experience for the person holding the wheel.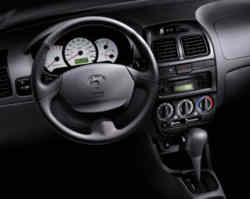 The steering wheel contains no audio or other ancillary controls, but it's designed to encourage a perfect 9-3 o'clock driving position and is comfortable.
The driver's seat adjusts manually and though the seat back's a tad narrow it'll work all right for an all day cruise, which my usual mountain road loop proved.
That mountain road loop heads from my home town to the Rockies along a beautiful twisty and hilly secondary road and then back via multi-lane freeway, so it's a pretty good test of a vehicle's mettle. We only got a chance to take the 5-speed Accent on that loop, and even then the weather was really crummy in places (slush, snow, and rain), but it performed fine, providing a pleasant and workmanlike drive with no fuss and no surprises. The variable intermittent wipers worked fine (and came in really handy) and the all season (P185/60R 14) tires proved, if not excellent, entirely adequate when things got a tad slick.
We didn't have to perform any panic stops, and the road conditions when I had the Accent didn't really allow simulating such unless I wanted to get reckless (Which I didn't! I prefer "wreckless.") but in everyday driving the Accent stopped as well as it went. The brakes are power assisted ventilated discs up front with a pair of self adjusting power drums in rear.
The fourteen inch aluminum alloy wheels are okay; the four door model has full wheel covers.
Inside, the seating is comfortable for four, with adequate legroom and headroom in the rear, at least for those who aren't too large. Only the driver gets an airbag, so if you're planning to have a head on collision it's best to either travel alone or with someone you don't like too much.
Other safety features include seatbelts with pretensioners: 3 point seat belts with height adjusters (though they didn't make me any taller, dammit!) up front and two point lap seat belts in back.
The rear seat splits 60/40 and folds down for extra storage space. Seats are cloth upholstered (with sport cloth in the trim levels I drove) and they're quite handsome considering the entry level status of the car. The insert design is repeated on the doors.
One thing I didn't like on the GSI was the remote "adjustment" for the driver's side exterior mirror. It was very difficult to get the mirror to go where I wanted it to. The 4 door had power mirrors, so this made things much nicer.
The last Accent I drove had a horrible stereo as far as its ergonomics were concerned, with tiny little buttons and labels on the AM/FM single disc CD player. The new model, for which the CD player is also optional (cassette is standard), is much better in this regard - though some of the buttons ("power", for instance) are strangely placed. Audio quality is okay; this stereo does not thunder, but what do you expect from an entry level vehicle? If audio is really important to you, look for an after market upgrade for both head unit and speakers.
The GSI also came with a nice, popup sunroof with a ceiling-matching fabric insert you can use in the winter. I made the mistake of assuming it slid back and forth when I tried removing it at a red light, only to have it drop onto my head when I detached the connector. There's nothing wrong with this, it's just not something you want to do while you're driving!
Heater and ventilation were fine; the car warmed up quickly and the defoggers worked fine. In fact, this Accent blows the doors off our Corolla in this regard. There's also a rear window wiper on the two door, which is handy - though on our mountain loop trip we found that the car's aerodynamics generally kept the rear window clean anyway, at least at highway speeds.
The instrument panel lighting is a pretty blue, though I wished the brightness control offered more flexibility.
There are plenty of storage spaces, including door pockets, a reasonably sized glove compartment, and dual retractable cup holders up front.
Overall body styling is a tad bland, though I'll be the first to admit that beauty is in the eye of the beholder (otherwise I could never bear to look in a mirror!). It does remind me a bit of a Honda Civic of one or two generations ago, though not as sleek and not enough to get Hyundai sued.
Other than its automatic transmission, I preferred the four door version because of its extra practicality and the power toys it included. Those options (other than the extra two doors) are available on either model.
The 2003 Accent's fuel economy is EPA rated at 29/33 (City/Hwy - US figures), with the automatic rated at 26/35 (same parameters). This isn't bad.
Looked at fairly and trying to compare apples with apples, the 2003 Hyundai Accent comes off as a decent set of inexpensive wheels that appears to be well built and is more enjoyable to drive than I you'd expect - though my experience with the 2001 model had prepared me somewhat.
And what more can one expect from an entry level car?