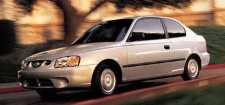 Hyundai's Accent on Economy
A Nice, Entry Level Vehicle
by Jim Bray
Korea's leading automaker's entry level model has a tough job.
It has to offer as much as possible for as little as possible, while assuring potential customers that their modest investment won't turn around and bite them a few miles down the road.
To that end, Hyundai's 2001 Accent does a good balancing act. On one hand, it's a sporty-looking (in a dumpy way) and fairly stripped down three door hatchback, while on the other it displays good fit and finish and offers more than adequate power and performance.
I spent a week and a bit with the Accent GS and, while it's no Honda Civic yet, it's probably where the Civic was a few generations ago.
The Accent GS sells for less than ten grand: a major selling point. For that outlay the GS gives you a fuel injected, 1.6 liter four cylinder, single overhead cam, four valve per cylinder engine rated at 105 horsepower at 5500 rpm and 106 lb-ft of torque at 3000 rpm. You also get independent suspension, front and rear stabilizer bars, dual front airbags, and more.
My tester even had the optional AM/FM/CD stereo (the base comes with AM/FM/cassette) that, despite its lousy ergonomics, pumped out more than acceptable sound.
It was nice to have that sound, too, because it helped drown out the sounds emanating from and around the Accent. Since this car is small, light, and inexpensive, something had to give and one of the things that gave is soundproofing. When you wind the car up through the rpm's it sounds as if you're going a lot faster than you are, even if you're nowhere near the Accent's 6500 rpm redline. There's plenty of wind noise, too.
If you drive like I do, you'll notice that noise often - because the Accent is quite comfortable being spurred on with gusto. It doesn't push you back into your seat, but it accelerates quite well.
Handling is pretty good, too, helped by the Accent's power-assisted rack-and-pinion steering. Stopping is provided by power assisted brakes: ventilated discs with "brake pad wear warning sensors" up front and self-adjusting drums in the rear.

You also get most of the usual comfort/safety/convenience features, including front seat belt pretensioners with force limiters, variable intermittent wipers (including on the hatch), and dual remote mirrors (remote in that they can be operated from inside, but they aren't powered or centrally controlled).
Unfortunately, I had the same problem with the Accent as I do with my son's Honda Prelude: I couldn't find a really comfortable driving position. When my bum is planted where I can comfortably press the clutch to the floor, the left foot rest is far too close - and to get my arms stretched out where I like them I had to tilt the seat back farther than I wanted.
Since this isn't just a problem I have with the Accent, however, I can't blame it on Hyundai.
My wife says it's because I'm pear shaped with legs that barely reach the ground when I stand.
I also found the driver's seat too narrow and don't think I'd want to take a transcontinental trip in it, and I had some trouble shifting the 5-speed manual transmission smoothly because when I pressed in the clutch and eased off on the gas it seemingly took forever for the revs to drop. This takes some getting used to.
Other than that, the Accent is a pretty fun car to drive.
People in the front seat get a decent amount of room, and even the rear seat isn't bad - at least for two people. The trunk is also reasonable and, thanks to the 60/40 split fold down rear seat, I managed to haul two large tower stereo speakers and a large center channel speaker home in one trip.
I was impressed.
The Accent's fuel economy is rated at 27/37(City/Hwy), which ain't bad and, to help convince those skeptical souls concerned about the durability of such an entry level vehicle, it's covered by Hyundai's five-year/60,000-mile bumper-to-bumper warranty (the powertrain's covered for 10 years or 100,000 miles). There's also a free 24-hour roadside assistance program for five years.
Add it all together and you have a decent set of inexpensive wheels that seems well built and is actually more enjoyable to drive than it has any right to be.