Honda Ridgeline a New Type of Truck
By Jim Bray
It looks like a truck, acts like a truck, and has a truck's utility. But it's a Honda.
What gives?
Honda calls its Ridgeline a new type of truck, and it's hard to argue with that assessment. Who, after all, has seen a truck that comes with a trunk? Or the type of "magic tailgate" that used to be a standard fixture on North American station wagons of the 1960's, opening either sideways or down in the traditional way, depending upon which latch you use?
It's the kind of original thinking combined with creative "mimicking" that helped the Japanese manufacturers reach the heights they currently occupy, taking inspiration where warranted and blazing their own trail in other ways.
The result is a Honda pickup truck that's utilitarian, tough, comfortable, and even pleasant to drive. It's quite remarkable. I'm not a truck guy, but I could easily live with the Ridgeline. And while truck aficionados might look down their noses at the Ridgeline, I have a feeling there are thousands of others who need a truck's utility periodically but who want a comfortable and civilized vehicle the rest of the time. For them, the Ridgeline may be the perfect compromise.
My week with this innovative Honda began with my first impression that this relatively ugly new beast, aesthetically, was also a sloppy new beast, with loose steering and a soft suspension. But that impression was formed in no small part by the fact that I had just stepped out of a week in the Mazdaspeed Miata, a car so tight it almost seems to handle by brain power (yeah, I know, but I managed to drive it anyway). Once the Miata magic wore off I came to appreciate the way the Ridgeline drives, whether in urban areas or out on the highway.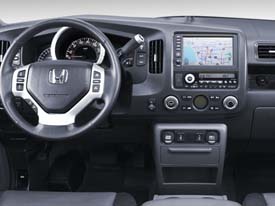 I didn't take it off road, alas, but expect it would perform well there, too, within reason. Remember, though, that no low-range feature is available, so serious off roaders may find the Ridgeline wanting. People who only need casual off road use probably won't mind, though.
The Ridgeline's overall appearance seems to be inspired by the Chevy Avalanche and its stable mates, which is not necessarily a good thing. Its boxy body is possibly Honda's least attractive (okay, there's the Element, too), but this could be a deliberate attempt on the company's part to craft an image for the Ridgeline as a strong and utilitarian machine – which it is.
The Ridgeline is powered by Honda's 3.5 liter V6 ULEV engine that cranks out a healthy 255 horsepower @ 5750 rpm and 252 lb.- ft. of torque @ 4500 rpm that gets the horses to the road via a smooth five-speed automatic transmission. The truck does have plenty of get up and go. It's tow-rated for 5000 pounds and features Honda's drive-by-wire throttle system. I didn't haul or tow anything of substance in the Ridgeline and so can't comment on its performance in this respect, however.
The half-ton payload capacity Ridgeline features an integrated closed-box frame with unibody construction, four-wheel independent suspension and Honda's on-demand VTM-4 all wheel drive system. The five-foot-long bed comes with a coating that is supposedly dent and corrosion resistant, which could eliminate the need for a bed liner. My tester had been around the block a few times and the bed had some scratches and signs of wear, but nothing outrageous and nothing you wouldn't expect from such a vehicle.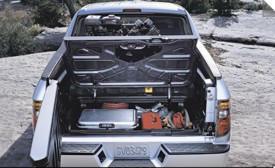 That marvelous trunk is recessed below the floor of the bed, offering about nine cubic feet of space that you can lock. And it's waterproof, with a drain at the bottom, so if you're into tailgate parties it would make a fabulous cooler to fill with ice and beer. The spare tire is also in there, on a raised shelf that's hard to reach, so you may have to search for some lost beer cans if you don't load the trunk just right.
But what a great idea! In one swell foop, Honda has given truck owners a space outside the cab in which you can lock valuable stuff that otherwise could be stolen from the bed.
The bed also features such nifty touches as heavy duty tie-down cleats, integrated bed lights with an off timer, and even motorcycle wheel indents, just in case you want to haul a motorcycle (preferably a Honda, undoubtedly).
Inside, the cab is truck like, but not truck like at the same time – and doesn't that sound nonsensical? It's roomy and comfortable yet utilitarian, with high seating positions and it includes typically Honda thoughtful touches such as a big center console that's configurable in an amazing variety of ways and which would probably be an excellent place to smuggle contraband until the customs folk figure it out.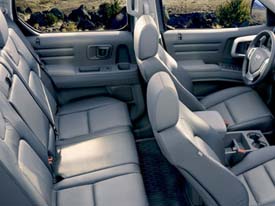 My tester had the optional 8 way power driver's seat that was also covered in leather and equipped with a bun warmer. The driving position is very good, though there are also some bad blind spots that can rear their ugly heads when you're merging into traffic and/or shoulder checking.
The inside front doors have strange-looking "chromish" handles surrounding the real door handles that look like they should be the door handles, but which are actually ideal for grabbing on and holding when you're hitting rough patches in the road. They look weird, and they make getting at the real handles a little more difficult (but only a little), but they work well and make good conversation pieces on boring drives.
My tester also came with dual zone climate control, cruise control, power windows, and cruise control activated by steering wheel-mounted controls (there are audio controls on the steering wheel as well).
The optional audio system in my test Ridgeline featured 160-Watts of reasonably clean power and 7 Speakers including a subwoofer. There's also an MP3/digital media auxiliary jack. The system features an AM/FM radio and a separate CD 6 disc changer that sits behind the LCD screen, which saves space in the dash but is a pain in the butt to use.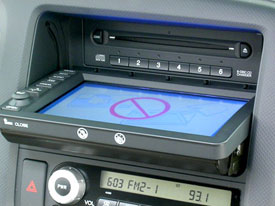 And just to exacerbate the damn lawyer's screen that comes with the navigation system, when you lower the screen to access the CD changer, the screen displays a warning icon reminding you not to use it as a shelf – as if there's room for that anyway!
The navigation system works well, but I had a couple of weird experiences with it. The first one was when I was approaching a simple right turn and the virtual babe told me to turn left and then burn a U-turn (!), while the second was merely a matter of the data being out of date and indicating a left turn onto a freeway on-ramp that has since been rebuilt to a standard cloverleaf.
The rear seat, accessible by large doors, is roomy and comfortable for two, and okay for three. Its high bottom cushion splits 60/40 and folds up out of the way to offer a pretty large hauling space behind the front seats.
Thoughtful touches include a power sliding rear cabin window, keyless remote entry, a security system, a reasonably large but "road noisy" power moonroof, variable intermittent windshield wipers with a heated wiper zone on the windshield.
Driving the Ridgeline garnered all sorts of looks from other drivers, perhaps because it's so new and unique. Even better than that, driving the Ridgeline was about as pleasant experience as I can imagine getting from a pickup truck.
Honda appears to have knocked its first pitch at the pickup market right out of the park, in its own unique way.
Having watched Honda evolve over the past thirty years, I'm not really surprised.
The Ridgeline sells for $27,000–$32,000 US/$34,800 Cdn. ($43,900 Cdn. "as tested")