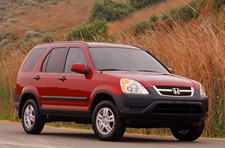 By Jim Bray
The second generation of Honda's popular CR-V is definitely an easy vehicle to live with.
And, while it isn't the most handsome SUV there is, it has enough inner beauty to almost make you forget about its relatively plain exterior.
CR-V fits into the car-based "cute ute" category that also includes SUV's like Toyota's RAV4 and the Hyundai Santa fe. It's comfortable for four passengers, fits five without undue fuss, and is probably nearly perfect for the suburban family that wants roomy and safe transportation but which doesn't plan to do a lot of heavy duty off roading.
My test unit was the EX model with automatic transmission (drat!) and leather trim (hooray!). It tips the bank vault at about $23,500, which seems pretty reasonable considering what you get. It's priced about midway between competitors like the inexpensive Hyundai Santa fe and the typically Toyota-priced RAV4.
Honda calls the CR-V's four wheel drive system "real time," which actually means it's a front wheel drive vehicle that directs power to the rear wheels when the onboard brain (and I don't mean the driver!) deems it necessary. The advantage of this is in fuel economy; the disadvantage is that you can't drive the CR-V up the side of Mount Everest, but it'll be great for snow and ice and "lighter duty" off roading.
The new generation CR-V offers more power, increased interior volume, enhanced safety stuff, and more comfort, utility and functionality without adding significantly to the vehicle's exterior size.
Powering the new model is a wonderful 2.4 liter inline double overhead cam i-VTEC (intelligent variable valve timing) four cylinder engine that puts out 160 extremely smooth horsepower at 6000 rpm and 162 pounds feet of torque @ 3600 rpm. This gives the CR-V a surprising amount of get up and go, and my tester got up and went from stopped to freeway speeds about as quickly as you'd want such a vehicle to.
In fact, I could hardly believe that this power and smoothness was coming from a four banger.
The automatic transmission is a four speed, with switchable overdrive, and shifts are very smooth. The suspension includes MacPherson Struts up front with double wishbones in the rear. Both ends get stabilizer bars. My EX tester included the standard (for that trim level) 15 inch alloy wheels with P205/70 R15 95S mud and snow tires.
CR-V is surprisingly pleasant to drive, and feels more like a car than a truck. I got to try the four wheel drive system on some snowy and icy roads, and it came on almost invisibly. It's this sort of condition for which the CR-V's real time four wheel drive is really meant, and Honda has done a nice job with it.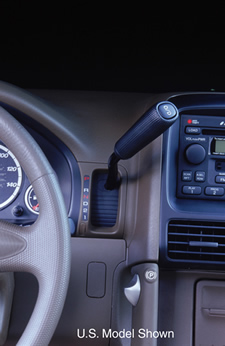 Visibility is good, with one exception: the headrest for the middle position of the back seat cuts a lot of the view to the rear. Fortunately, it's removable and that's just what I'd suggest you do when you aren't hauling that fifth passenger. Toss it in the back! It only takes a second to remount it.
The rear "hatch" opens sideways, like a fifth door, instead of upwards like a traditional hatch. This is different, but it works fine and unveils a large hole for putting stuff in or taking stuff out.
There's plenty of room in the back, too, especially if you put down the split/fold rear seats. We had enough space in the back to haul home a fairly substantial leather arm chair and ottoman while we had the CR-V.
The EX also comes with just about everything you could want, from ABS and power everything to a good (good, but not great so far as power outpout is concerned) AM/FM/CD stereo (mine had the optional in-dash 6 disc changer, which is always a nice touch). The heater/air conditioning controls are a bit unconventional in their design; they're flat, wide knobs with very little explanation on them, but they work fine and only take a bit of getting used to.
The CR-V has a couple of other weird things about its design, too, but nothing major and certainly nothing that would spoil your life with it.
For instance, the hand brake looks the same as a handle mounted on the passenger side of the dashboard console, except for the little "P" and button on it. I pushed the button a couple of times and, when nothing happened, figured it must be some electronic gizmo.
Well it isn't. You have to PULL the whole handle toward you like a pump handle, revealing a conventional, though unusually placed, parking brake.
Not only that but, while the gear selector looks like a conventional column-mounted shifter, it actually sticks straight out of the dashboard. It looks odd, though in actual use it feels almost identical to a column shifter.
Perhaps the most unusual, and most nitpicky, anomaly is the location of the passenger seat heater control. The button is mounted on the driver's side of the dashboard immediately below the driver's seat heater button. This forces the passenger to reach around the center hump of the dashboard to get at it. It isn't a long reach (this isn't a huge vehicle), but it's more than it should be.
None of these points should mar your life with the CR-V. I mention them only because Honda usually gets all such little things extremely right and that's what makes these peculiarities so remarkable.
That said, however, if that's all I could find to complain about (besides the exterior styling), this new Honda CR-V must be pretty remarkable.
And it is. It's an extremely practical, comfortable and efficient vehicle, which I daresay is exactly what Honda had in mind.