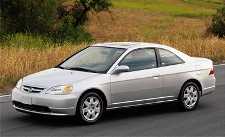 Honda Coupe Offers Sporty Feel
Economy, but with Zip
by Jim Bray
If the roly-poly Honda Civic sedan is too sedate for you, why not go for the Coupe de grace?
The Civic Coupe is the more sporty of the two models, but don't confuse its two door lines with sport performance. Granted, it's a lot cooler looking than the sedan, but it's basically the same car inside.
Not that that's a bad thing!
My test unit was the top line EX which, thanks to the inclusion of the zippy VTEC-E engine, is the most fun Civic to drive. The sedan I reviewed a few months back was a fine car, but the lack of the peppier powerplant showed.
My tester was also quite a head turner, but the stares were often of the incredulous type as people noticed the bright yellowish paint job. Honda may call it "Inca Pearl" but it brings to mind "bile." Fortunately, once you're seated inside you don't see the color.
Optioned as my tester was, the Civic Sedan EX will set you back about $17000, which seems quite reasonable. The car exhibits the same excellent build quality as the other Hondas I've driven of late, and it performs quite well.
The Civic's 1.7 liter engine is rated at 127 horsepower @ 6300 rpm and 114 pound feet of torque @ 4800 rpm. What this translates into is a typically Japanese high revving engine that's happiest when you run it upward through the tachometer (an instrument that measures engine rpm, not Mexican food). You won't really get pressed back into your seat, but that's okay: this is only a Civic, after all.
The engine also qualifies this Civic as an ultra low emissions vehicle (U-LEV), which should help make the tree huggers a little less unhappy. It's rated for 105,000 mile intervals between tuneups and the EPA fuel economy rating is 32 mpg city and 37 mpg highway.
Handling is pretty good, though the coupe's turning circle reminds me of a small bus's. The suspension includes MacPherson struts up front and double wishbones in back with front and rear stabilizer bars. The EX's 15 inch wheels (the other trim levels get 14 inchers) come with full wheel covers and a decent set of Firestones.
Power-assisted brakes are all around, though only the front has discs.
The car is very quiet and smooth, and the five speed manual transmission on my tester shifted very nicely; the shifts were longer than you'd expect in a real sports car, though.
The front seats are quite comfortable, though there was an (optional) driver's seat armrest that I thought was too small to be of any real use, but large enough to get in the way when extended. I'd rather have a center console with armrest/storage bin, but such is life.
Seating positions (especially up front) are comfortable, though as with the Sedan I drove, the driver's seat wiggled a bit (though not as badly as the sedan's). There's also a driver's left foot rest. The rear seats are okay for two, tight for three and, since this is a two door car, getting in and out is always a treat. As with the sedan, the Civic coupe has a flat floor, which makes the middle of the back seat less of an ordeal.
The sedan comes with all the instruments you need, but for some reason Honda chose to make the instruments' lettering white on a gray background and this makes it quite difficult to read them during the day. At night they become red on black, which is much easier.
The stereo is AM/FM/CD and the sound quality is pretty good, but the system could use some, well, testosterone. Other toys, some of which are options, include cruise control (with steering wheel-mounted buttons), air conditioning, sliding moon roof, and keyless entry. My tester also had the handsome "carbon fiber-look" trim.
The trunk is spacious, and the rear seats split 60/40 and fold down for even more storage. I had no trouble hauling a large subwoofer home, once I got it through the smallish trunk opening.
If you're looking for a true sports car, this isn't your beast. If you want a sporty-looking car that performs well and is fun to drive, yet economical and practical, this Civic Coupe is definitely worth a look.
Just, please, don't get it with "bile-colored" paint!
Jim Bray's technology columns are distributed by the TechnoFILE Syndicate. Copyright Jim Bray.