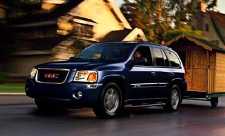 Envoy the "Middle Child" of GM's Triplets
SUV Powerful and Comfortable
by Jim Bray
It looks as if General Motors has legitimate bundles of joy in its new SUV line.
The "Triplets" include the Oldsmobile Bravada, Chevrolet TrailBlazer and, the subject of this rant, the GMC Envoy.
As with its brothers, the Envoy is a mid size SUV that's plenty powerful and torquey, mostly comfortable to drive, and available with about all the creature comforts you're likely to want.
Envoy comes with the same 270 hp, 275 lb.-ft torque, Vortec inline 6-cylinder (as opposed to a V6) engine shared by the other stable mates. It has more than enough oomph to propel this approximately 5000 pound vehicle at just about any speed you might think is warranted, within reason. It pushes you back into the seat nicely as it accelerates, regardless of whether you're starting out or pulling out to pass.
The four speed automatic transmission (with overdrive) felt better tuned than the siblings'; it didn't seem to hunt and peck as much as the Bravada and TrailBlazer, especially when in cruise control (though I didn't have the opportunity to take it on exactly the same roads I tried with the others).
Outside, the Envoy is perhaps the least attractive of the three. Its boxy body doesn't exhibit the masculinity of the TrailBlazer or the Bravada's "luxo-look." Since beauty is in the eye of the beholder, however, this doesn't mean you won't like it - and once you're seated inside it's irrelevant anyway.
My biggest complaint with the TrailBlazer was its butt-numbing standard seats; the Envoy (I had the SLE model) seems better, though I only had a chance to be in it for shorter trips this time around.
Besides, you can get upgraded seats and other toys if you opt for the SLT trim level
The Envoy didn't come with the Bravada's electronic rear air suspension system (though it's optional), and that's probably a good thing because even without it I experienced a floaty feel while driving on normal paved roads. I can just imagine what it would have been like with that optional suspension - though, to be fair, when I drove the Bravada into the boonies its air suspension did a good job of helping tame the bumps of dirt-surfaced "road-like thoroughfares."
And as with the TrailBlazer, the Envoy seems to be positioned as a more serious off road vehicle than the "everything's automatic" Bravada. My tester came with a manual switch that lets you choose between rear wheel, four wheel, and low range four wheel drive modes. An advantage to this flexibility is that when you're tooling around on normal roads you can leave the Envoy in two wheel drive mode and save some gas.
The SLE's interior appears to split the difference between the utilitarian Chevy and luxury Olds models as well. For example, there's TrailBlazer-like instrumentation and Bravada-like dual zone heating/air conditioning, so both front passengers can tailor the climate to their needs. This is nice, since my wife is always cold and I'm always hot (can't men and women agree on anything?).
There's also plenty of headroom all around, and if you want to make the rear storage space positively cavernous you can fold down the 65/35 split rear seat, which also has a nifty "flip up" feature that gets the head rests out of the way without having to remove them.
Driving is facilitated by power rack-and-pinion steering that feels quite good at most speeds, and 17 inch wheels equipped with four wheel all-disc anti-lock brakes.
If you go whole hog, you can kit the Envoy (and the TrailBlazer) to the nines, but my SLE tester eschewed such toys as the excessively busy Drivers Information Center. You still get an outside thermometer and compass mounted into the rearview mirror (which darkens automatically when vehicles follow you at night), a Homelink universal garage door opener, power windows, locks, mirrors, driver's seat, lighted vanity mirrors, a cargo cover, tie downs and net, and a year of GM's OnStar service.
The standard stereo includes AM/FM and a single disc CD player and has a pretty neat speed compensating volume control. The audio quality is too bassy, though.
I liked the Envoy quite a bit, though I think my favorite of the GM triplets was the Chevy TrailBlazer, if only for its looks. I'd want to upgrade the seats, though!