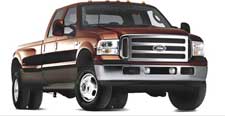 By Jim Bray
When you think tough, and you think wheels, you think truck. Trucks are vehicles for when you have things to do, stuff to haul, lousy terrain to cover. A full size truck is big, brawny and loaded for bear. And they're extremely popular, for the above reasons and others.
Alas, I'm more of a SNAG (sensitive new age guy, though I'm sure my wife disagrees about the sensitive and new age parts) with a healthier dose of couch potatoness than optimal. So a lot of the benefits of a serious truck are lost on me, at least until it's time to get firewood. That doesn't mean I don't want to drive one if the opportunity comes along, though; the broader cross section of vehicles I experience the better my perspective about things automotive and, hopefully, the more relevant these ramblings are.
So I climbed up the illuminated running boards, reached the pinnacle that is the driver's seat, and embarked on a week of cutting a swath through traffic almost like a Hummer H2, except with more subtlety and better hauling capacity.
The F250 is powered by a huge 6.8 litre Triton V10 Ford says is the most powerful in its class. It produces 355 horsepower and 455 pound-feet of torque and uses three valves per cylinder to breathe. A V8 and a turbo V8 diesel are also available, but media test vehicles are generally fully loaded, which in this case means the V10, and that suits me just fine.
This torquey and powerful engine is coupled to a 5 speed automatic that shifts very well. I'd like to say you can really run the truck up through the revs, but my driving was almost exclusively urban and this thing doesn't need much prodding before it's barreling along with little apparent effort on its part, so it wasn't necessary to get anywhere close to red lining it. This beast moves.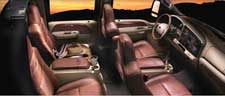 It moves comfortably, too, though of course in a distinctly truck like way. Well, duh! You sit up high with a panoramic view of practically everything to the horizon and it's hard not to feel invulnerable. The interior is fully equipped and comfortable, with creature comforts and things utilitarian galore, though it isn't the kind of vehicle you want to be driving over road irregularities after one too many coffees. It bounces like you're on a trampoline and the entire vehicle shakes and shudders like, well, a pickup truck. You can feel intuitively that it doesn't like being in the city and is just itching to get off the asphalt and down to some serious business.
My tester was a Super Duty Lariat King Ranch crew cab, and they weren't kidding. The truck will carry five easily, and probably sleep that many too, but my King Ranch trim level comes with four captain's chairs instead, wrapped in rich, saddle-style Castano Brown leather, with big centre consoles front and rear. That leaves plenty of room for four people to stretch.
According to Ford, the F250 and its stable mate F-350 Super Duty frame features a new fully boxed front section, improving strength and torsional stiffness. From there aft, the frame uses thicker steel than before, with extra gussets providing even more strength and durability in high-stress areas. I "gussets" why the thing's such a heavy duty hauler.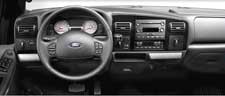 The truck sports a bold new front grille, its new two-tone paint job has a lowered "waterline" as well as new color combinations, and big 3D badges identify each series and power train.
My Lariat et al package included the aforementioned running boards (which they call "cab steps"), fog lamps, heated leather six-way power driver and passenger seats, privacy glass, leather-wrapped steering wheel, power rear sliding window, advanced security group and plenty more. The truck also sports keypad and keyless entry, high capacity trailer tow package, Max Front GAWR package with heavy duty springs, Snow Plow package, Trailer Towing package etc. A bunch of heavy duty switches in the cab are available to run such add-ons as a snow plow or a hoist, the latter in case you have a petard, I suppose.
Ford's TowCommand System, the company says, is the industry's first factory-installed and warranted electronic trailer brake controller and they say it offers smoother operation and safety features. They've programmed in a trailer brake strategy for when the truck's anti-lock braking system detects poor traction. The electronic trailer brake controller is integrated into the instrument panel, and gives audible and visual warnings if the trailer wiring becomes disconnected.
The system also comes with telescoping trailer tow mirrors so you can see what's behind.
The front suspension of my 4x4 model was twin coil monobeam, with shock absorbers and stabilizer bar. Its bum uses staggered shock absorbers and stabilizer bar. The power recirculating ball steering is actually pretty good, with decent feel, though of course you don't want to take this on a road course. Or do you? I bet it would be a blast if you could afford the gas and were careful not to roll it in a hairpin turn.
Stopping the F250 are four wheel disc brakes with ABS and they are not only confidence inspiring but awe inspiring.
The audio system is AM/FM/CD and it sounds pretty good. Mine included the optional in-dash six-disc CD changer and there are audio controls (and others) mounted on the steering wheel. Strangely, when pushing the button to jump ahead a track or scan upward to the next radio station I could only get it to jump or scan backwards and this was quite annoying.
For me, as not a truck guy, the highlight was controlling the awesome V10. It was definitely a rush. But if I had this $58,000 (Canadian) truck I have a feeling I'd be broke in a year. During my time with the F250 I only had a chance to put on something like 210 kilometres, but when it came time to turn it back in it took $60 Canadian dollars to fill the tank, which was still between half and a quarter full. Yikes!
This being a serious work truck, however, I'm confident most of its owners can find a way to write off the gas to help take away the sting, especially right now when gas prices are high.
On the other hand, this truck can haul a whole lot of jerry cans!