Ford Escape Vs. Toyota Highlander Hybrids
By Jim Bray
It's the battle of the hybrid SUV's!
In the green corner, the Ford Escape, a nice if somewhat bland vehicle that's pretty good for hauling, if pretty boring to drive. In the other green corner, the Toyota Highlander, a Camry-based SUV that feels more like a car than a truck, and which is not quite as boring to drive.
So which is the winner?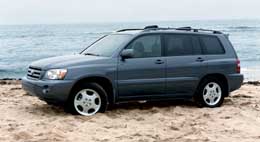 I tried to do an apples-to-apples comparison of the two vehicles, but didn't have the opportunity to spend as much quality time in the Toyota as in the Ford – due to a tight schedule for the Highlander and the fact that I was also driving a Porsche Carrera S that week (and, after all, which would you choose to give the most seat time to if you had the chance?).
But I'll do my best.
The Escape is pleasant enough to drive, and during my week with it I managed about 28 miles per gallon, which isn't spectacular but which is probably pretty good for an SUV. I hadn't driven an Escape before, though I've had a couple of whacks at its sister the Mazda Tribute, but inside it appears that the Escape hybrid is more Escape than hybrid. As is the Highlander.
This is how it should be. You don't need to be beaten over the head by the hybrid aspect. Just the opposite: a vehicle should stand on its own merits as a vehicle first, a politically correct statement (or whatever) second. I say this because I remember the Honda Insight, an interesting vehicle that's as practical as a so-called Smart car – a good commuter vehicle but with limited practicality other than that, with minimal power and little storage space.
But other hybrids I've driven, such as the Honda Civic and Toyota Prius, come across more as fuel-sipping versions of their other selves (even though the Prius has no "other self"), meaning they're as practical as day-to-day vehicles as their non-hybrid brothers, plus they save you money on gas (if not the initial investment).
So both the Escape and the Highlander come across as nice vehicles to live with, with plenty of room inside for passengers and stuff. Works for me.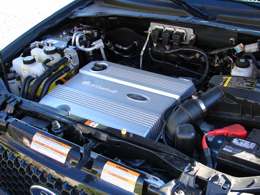 In fact, the only way you can really tell you're driving a hybrid in either vehicle's case is the small display on the instrument panel (a "charge and assist" meter in the Escape and a more traditionally hybrid graphic display in the Highlander) and the addition of continuously variable transmissions (CVT) that aren't available on the gas-only versions.
Oh, yeah. And some hybrid badging on the exterior.
When you first fire up the Ford Escape, the electric motor starts the gas engine, which purrs for a second or two and then shuts off until it's needed. If you're light on the gas pedal, the gas engine may not be needed right away at all; Ford says the Escape hybrid's 70 kilowatt traction motor can launch the vehicle right up to 35 km/h, adding the extra oomph of the gas engine as required. It's a seamless process, as it should be, and the Escape is a very smooth vehicle to drive.
The gas engine is a modified version of the Escape's normal 2.3 litre inline four cylinder power plant, but Ford says the electrical components give the performance of a V-6 gas engine. I don't know about that, since I haven't driven an Escape V-6, but the hybrid's acceleration when you tromp on the gas pedal is just fine. Of course when you do that your gas mileage goes into the tank, or more accurately out of the tank, but the performance is there if you want or need it.
When you're running exclusively on electricity, the vehicle's tachometer drops into a green zone below zero rpm, which makes sense but which is weird to see until you get used to it. The Escape uses electric power steering and braking to ensure you don't lose these functions when the gas engine shuts down.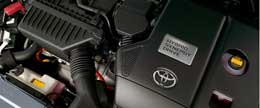 The electric stuff is powered by a 300 volt battery pack hidden out of the way under the storage floor in the back. As is usual with hybrids, the battery is recharged either by the gas engine as required, or through the regenerative braking process which sends energy created during coasting and braking back into the battery. The Highlander works this way as well.
The Escape hybrid is available in two and four wheel drive versions. My four wheeler felt pretty much like it should, though I didn't have a chance to take it off road. It's an automatic "intelligent" 4wd system with a computer-controlled clutch that sends up to 99% of the vehicle's torque to the rear wheels as needed (it functions normally as a front wheel drive vehicle).
Escape's suspension includes a new stabilizer bar system to help the MacPherson struts up front; its rear end is independent.
Depending on the options you choose you can get plenty of creature comforts. My tester included a power 6-way driver's seat with leather, though there was no bun warmer that I could see, air conditioning, fog lamps, a roof rack and a $995 (Canadian dollars) comfort group that included a leather steering wheel, though it only features cruise control buttons and no stereo controls mounted on it.
I really didn't like the speedometer; its layout and gradations were difficult to read, especially while driving. I guess this is why there's cruise control…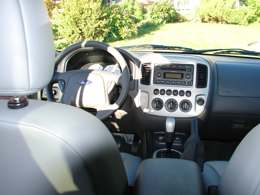 The rear seat will hold three adults in a pinch, and once you remove the headrests it splits 60/40 and folds down flat to increase storage space in the rear. There's plenty of room for hauling and if there isn't enough room inside, Ford says you can tow up to 1000 lbs. with the Escape Hybrid.
The audio system is rather thin-sounding, with not a lot of "oomph" to it. It's a pretty standard AM/FM tuner with 6 disc CD changer in the dash and its well designed ergonomically; it just doesn't rock.
And that's a pretty good description of the whole Escape hybrid experience. It's a pleasant-enough vehicle to drive and will undoubtedly serve its owners well, but it just doesn't rock. There's really nothing wrong with it; it just doesn't stir the soul.
The Highlander doesn't, either, but on the whole I found it more pleasant. It's kind of like comparing plain vanilla to vanilla with just a hint of chocolate, though.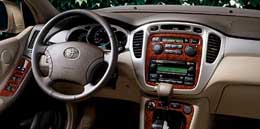 The Highlander hybrid ups the gas engine ante by including a V6 compared with the Ford's four banger. Otherwise, the hybrid systems work quite similarly, though the Highlander is so quiet upon startup that you may think you need to crank the key once more.
It's also nicer to drive and feels more refined than the Ford. It's also available with a third row of seats, though my tester was a five passenger model.
Toyota says the combination of V6 and electrical stuff makes equivalent to 268 horsepower, which is no slouch. The power is smooth, as is practically everything else about the Highlander driving experience.
You sit lower in the Highlander's driver's seat than in the Escape's, which helps give it that more car like feel, though the vehicle's height is such that you still get a good view ahead of you.
The Highlander hybrid also features what Toyota claims is its first-ever application of on-demand electronic 4-wheel-drive with intelligence (4WD-i). This means that under normal driving conditions, it's a front-wheel drive vehicle but when things get dicey so far as traction is concerned, it automatically switches into 4WD mode using another motor to drive the rear wheels, with sensors monitoring and maintaining torque distribution between front and rear wheels. When the road conditions return to sweetness and light, the system switches back to front-wheel drive.
Highlander's suspension features MacPherson struts, gas shock absorbers, coil springs and stabilizer bars front and rear. It also comes with traction control and Toyota's Vehicle Dynamics Integrated Management system, which supposedly monitors things as you drive and ensures the safety systems work properly with each other, kind of like an electronic den mother keeping the technological kids from fighting with each other in the back seat.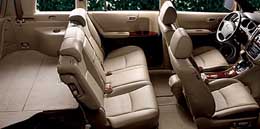 Highlander's steering is electrical power rack and pinion and both it and the Escape come with power assisted four wheel disc brakes with ABS and electronic brake force distribution.
I liked the Highlander's stereo quality better than the Escape's, though a CD changer is optional (you get a cassette deck instead! Remember cassettes?). Neither stereo will make your ears bleed, but the Toyota has a little better sound pressure level to it. The control knobs have absolutely no tactile feel to them, however.
I didn't have the Highlander long enough to get a feel for its gas mileage, but Toyota claims it gets 38 mpg city and 35 highway. If so, that's darn good. For comparison, Transport Canada says the Escape hybrid gets 43/40 mpg, which is nowhere near my results. Of course, as the commercials say, your mileage may vary. Mine certainly does. I never achieve the mileage proclaimed in the ads, mostly due to a heavy right foot.
One of the keys to good gas mileage, in a hybrid or other vehicle, is smoothness. If you drive it like a sports car you'll get sports car mileage, though a hybrid will probably give you "economy sports car" mileage as opposed to something with a high performance V-8. It was fascinating to watch the Escape's running tally of average mileage change with different driving conditions, but the smoother I drove it, and the more gently I treated starting from red lights (and without getting my doors blown off, too!), the better the mileage got.
Price comparison: my Escape would run about $37,520 Canadian, sans freight and handling. The Highlander starts at $44205.00, which also makes an apples-to-apples comparison difficult.
I have to admit that, if all else were equal, I'd vote for the Highlander if only because I felt more "at home" in the Toyota. I liked the seating position better, it has a nicer instrument panel, a slightly better stereo, and the overall "feel" of the vehicle was more up my alley. This is subjective stuff, of course , and your opinion may be completely different. That's fine; that's one of the great things about the free market. Remember, reviewers are only voicing their opinions and shouldn't be treated as bearers of a new gospel. Except for mine, of course!
I'm sure either one of these hybrid SUV's would do the trick for those who want an SUV's convenience with better fuel economy than you can get from a "garden variety" sport ute.