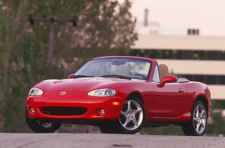 Drop-Top Dead Gorgeous
Convertibles True Fair Weather Friends
by Jim Bray
(editor's note: prices in this article are in Canadian dollars)
Ah, summertime, when a young person's heart turns to - top down motoring!
Perhaps this isn't the best year to be talking about going topless, even in a car, since the weather in many regions has left something to be desired. But regardless of how Mother Nature is challenging global warming myths, the classic ragtop that was virtually dead not too many years ago is alive and kicking.
Convertibles come in two main varieties: roadsters designed to be drop-top models, and hardtops that have had their hard tops forcibly removed. Add a few "hardtop convertibles" that split the difference (for a price!), and there's a drop-top for just about any lifestyle and budget.
And while the classic roadster seats only two, other models balance fun and practicality by offering rear seats of varying degrees of usefulness. There are even a couple of ragtop SUV's for those who enjoy sunshine and mud on their faces at the same time - and if you're into retro, Ford offers the new Thunderbird while DaimlerChrysler still has a few of the cancelled Prowler hot rods - if you can find one.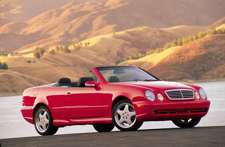 Indeed, the 2002 vintage ranges from the comparatively affordable (Volkswagen Cabrio, Mazda Miata, Chrysler Sebring, Ford Mustang, Chevrolet Camaro/Pontiac Firebird, etc.) to the expensive (Mercedes Benz SL500, Jaguar XK8, BMW Z8, etc.).
Despite the abundance of models, however, convertible sales are a mere "drop-top in the bucket" of overall sales. According to Canadian Driver, combined 1999 sales of all convertibles was just 29,804 out of total vehicle sales of 1,501,250. Whether it's because of the climate, a society that's increasingly past its mid-life crisis age, or just the ups and downs of the roofless marketplace, convertible sales are relatively flat and will probably remain that way.
The 2002 model year offers a drop-top for just about every lifestyle.
Arguably the most exciting new models for 2002 are the Lexus SC430 and the new SL500 from Mercedes Benz. These expensive luxury convertibles feature retractable metal hardtops that morph them from coupes into roadsters at the touch of a button. Then there are the more "conventional" new ragtops such as the 342-hp V8-powered Mercedes Benz CLK55 AMG Cabriolet and the souped up Jaguar XKR that boasts 370 horses from its supercharged V8 - proving that if you have the bucks, you can have a lot of fun in the sun.
These models join such popular soft-tops as the BMW Z3, Honda S2000, Porsche Boxster, Audi TT, Chevy Corvette, Saab 9.3, 9.3VE and 9.3 Viggen at the mid to high end of the market place.
More accessible are the standard bearers of years gone by: Ford Mustang, Chevy Camaro (available in a 35th anniversary edition) and Pontiac Firebird, the latter two of which are in their last year of production. This niche also includes the Chrysler Sebring and Toyota Solara.
And for those who want a Z3, XK8 or Boxster, but lack the cash flow, the zippy Mazda MX-5 Miata probably offers more smiles per gallon than anything else.
Here's a partial list of convertibles, by seating capacity and estimated base price:
Two Seaters:
Mazda Miata $27,695
BMW Z3 2.5i $47,200
Honda S2000 $48,500
Ford Thunderbird $52,550
Mercedes Benz SLK $55,100
BMW Z3 3.0i $56,200
Chrysler Prowler $64,170
BMW M Roadster $67,900
Porsche Boxster $69,714
Chevrolet Corvette $70,165
Dodge Viper $106,945
Mercedes Benz SL500 $124,900
Porsche 911 Cabrio $113,400
BMW Z8 $195,000
Four seaters:
Suzuki Vitara $18,695 (SUV)
Jeep TJ $19,975 (SUV)
Ford Mustang $27,565
Volkswagen Cabrio $28,530
Chrysler Sebring: $33,820
Chevrolet Camaro $35,345.00
Pontiac Firebird $36,205.00
Toyota Solara SE $39,505
Saab 9.3 $52,000
BMW 325ci Cabriolet $52,800
Volvo C70 $60,245
BMW 330ci Cabriolet $62,900
Mercedes Benz CLK $70,550
BMW M3 Cabriolet $83,500
Lexus SC430 $84,900
Jaguar XK8 $104,950.00
Jaguar XKR $116,950.00
It's a dollars and cents issue, for consumers as well as manufacturers. "It's a niche market," explains Perry Itzcovitch of Calgary's Hyatt Automotive group. "These are low volume, image cars that cost more to build and to buy. People buy them knowing they're making a statement, that they stand out in a crowd."
As for the carmakers, they'll continue to support convertibles knowing fully well that they probably won't account for much more than a small percentage of total sales. According to Don Johnson, General Director of Marketing for GM of Canada, "Looking at economic and life stage dynamics, the conditions are certainly conducive to an increase in demand, however, will Canadians be willing to trade-off more functional attributes for the benefits of open air? We believe the answer is no."
That doesn't mean there won't be new models coming down the turnpike, however. GM is promising at least three new models in the next two model years, including a 50th Anniversary Edition Corvette and two concept vehicles: the "retro" Chevy SSR and Cadillac XLR Luxury Roadster, both of which should appear as 2004 models. Not only that, but Volkswagen is adding a convertible New Beetle to its line later this year and for 2003 Audi is slicing the roof off its popular A4.
Creating a convertible requires more than the mere application of the Jaws of Life. A vehicle that loses its roof also loses some rigidity, which can be a Bad Thing when you hit those twisty bits. To compensate, the lower body has to be enhanced, which is usually accomplished by beefing up two key areas: the rocker panels and the cross car structure. Manufacturers also increase the gauge of metal used in the convertible's underpinnings.
Why would anyone want a convertible in a climate where you can't even exploit it for much of the year?
Gerry Bliss, a forty-something information privacy and security consultant, bought a used Chrysler Sebring convertible shortly after moving to Calgary from Victoria, B.C.
"I bought a (used) car because I wanted to be able to drive it and park it anywhere without worrying about it. And with its roominess and the fact you can put 4 adults in it and still have a workable trunk, the Sebring's about as practical as a convertible can be."
But why a drop-top? "I'd heard Calgary has a lot more sun (than the coast), so thought it would be nice to take advantage of the wide open spaces." Bliss hadn't owned a convertible before, but "I had friends (with) leaky and noisy old MG's and Triumphs and it was obvious the state-of-the-convertible-art had come along a lot. I'd always wanted a convertible, and this seemed the right time."
Bliss matches the general demographics of convertible buyers: married, male white collar professionals 35 years of age and older.
And despite the premium, most convertible owners are undoubtedly pleased with their choice. Calgary communications professional Catherine Styles, for example, loves her Golf Cabriolet. "Of all the things you can spend your money on, this is one of the few that really met my expectations. I leave work, put the top down and just feel really free."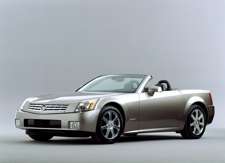 So practicality be damned! A ragtop makes you feel good; that's why manufacturers will continue to indulge this particular niche as long as profitability allows.