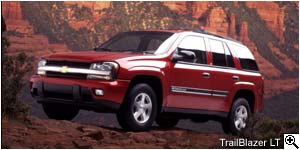 Chevrolet Blazing New SUV Trails
Big 2002 Model A Nice Machine
By Jim Bray
What do you get when you slice some creature comforts from an Olds Bravada and add a muscular new look?
The 2002 Chevrolet TrailBlazer - a "mid size SUV" that shows GM can really do things right when it wants.
The TrailBlazer (I tested the LT model, which starts at about $29,000) shares its basic self with the Olds Bravada and GMC Envoy. Each comes with an all-new chassis and are powered (and I mean POWERED!) by a 270 hp, 275 lb.-ft torque, 6-cylinder engine that has more than adequate oomph for hills, passing or just blasting down the road with wild abandon.
The only real drawback I found was the seats, and perhaps that's because I'd been spoiled by the cushy leather ones from the Bravada I drove earlier. We went on a two day road trip across the "Going to the Sun" highway in Montana's Glacier National Park and, while Day One was perfectly pleasant and comfortable, within about an hour of perching into the TrailBlazer for the return trip I felt like one of the "Dead End Kids."
Thanks to the unanticipated and unwanted bum brouhaha, the trip home seemed to take a lot longer than it actually did, so if you're thinking of taking long trips in a TrailBlazer, I'd recommend the LTZ model, which comes with upgraded leather seats.
The TrailBlazer seems to be designed as a more serious off road vehicle than the "everything's automatic" Bravada. For example, you manually switch from rear wheel to four wheel drive (there's also a low range mode for really butch off road work); this lets you leave the vehicle in two wheel drive mode most of the time, reaping some gas savings.
You'll want those savings when you can get them, too. TrailBlazer, like the other vehicles in this class, isn't built for fuel economy. You could inadvertently get worse economy than planned, too: TrailBlazer doesn't even come with a locking (or remote release) fuel cap, so it's an easy target for siphoners.
The "mid size" Chevy seats five comfortably, except for the abovementioned seats. Passengers in all seats are treated to plenty of headroom and legroom, and the 65/35 split rear seat folds down (without requiring you to remove the head rests) to create plenty of storage space.
Mid size it may be, but to my mind this class of SUV is about as big as necessary. Sure, there are larger models out there, like the Navigator, but they should be known as "humongous," with the TrailBlazer/Explorer genre being thought of as "full size."
Getting into and out of the TrailBlazer is easy, especially with the running boards that were installed on my tester. They also add to the masculine look of this rather handsome vehicle.
Driving the TrailBlazer is a breeze. The engine gets up and goes beautifully, the power rack-and-pinion steering has good feel at all speeds, and the four wheel all-disc anti-lock brakes work well. On the highway, the TrailBlazer is steady and secure, though since the basic SUV shape is kind of "bricklike" it's also quite prone to being buffeted by high winds. Fortunately, it's big and strong enough to make short work of any blustery gusts.
The four speed automatic transmission works okay when you're driving it manually, but in cruise control through the foothills of the Rocky Mountains it seemed to have trouble keeping the TrailBlazer at the set speed without excessive downshifting.
As expected, there aren't as many creature comforts as in the Bravada, but most of the important ones are there. There's a good (though, as with the Bravada, excessively bassy) AM/FM/CD stereo with a nifty speed compensating automatic volume control. You also get power windows and door locks, keyless entry, dual-zone air conditioning, and my unit even had OnStar. I missed the steering wheel-mounted audio controls and automatic climate control of the Bravada, but they're available on the LTZ model.
I didn't miss the rather busy "Driver Information Center" of the Bravada, which was a tad gimmicky for my taste, but if you like such things it's also available on the LTZ.
The TrailBlazer also comes with the usual safety features.
I have to admit that I didn't think I'd like the TrailBlazer - but I did. GM has done an excellent job on this big and powerful sport ute.