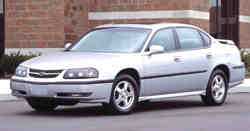 Chevy Impala and Buick LeSabre Coddle and Cuddle
Comfy Family Movers
by Jim Bray
People who want a roomy and comfortable car to get them from Point "A" to Point "B" with little fuss and conscious thought may find themselves quite comfortable with entries in General Motors' line.
"The General" has a good assortment of such vehicles, and I recently had the opportunity to try out two of them: the "mid-size" Chevrolet Impala and "full size" Buick LeSabre. Both qualify as roomy and very comfortable, and both will take one from "A" to "B" and back again without undue fuss and/or attention – though neither will get a car nut's adrenaline going.
Not that these cars were designed to be the dream vehicles of those with motor oil in their veins. GM has built up a clientele for these cars over the years and is obviously trying not to rock the boat.
Both cars are front engine/front wheel drive models, with the Impala being the "lower end" of the two. Not that it's particularly low end. This largish car, while rather dumpy-looking on the outside and with a rear end that (in light colored versions of the car, at least) almost looks almost like an open wound, feels like a comfortable old suit and demands little in return other than gas and regular maintenance. And there are plenty of them on the road, so there must be a good number of people who find them an attractive buy.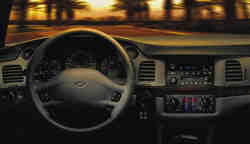 The cockpit of my test unit Impala LS sedan was plush without beating you over the head with it. It came with leather seats, including power buckets with "bun warmers" up front, and just about all the convenience and comfort features you could want. For example, there's dual zone air conditioning (which, believe me, helps prevent fights when there are two or more people in the car), power windows with lockout, cruise control, an unfortunately bass-heavy AM/FM/CD/Cassette stereo with the nifty "automatic volume control" feature that saves you from excessive knob-twiddling when your hands should stay on the wheel.
Well, your hands can actually stay on the wheel anyway, because there are audio and cruise controls on the comfortable steering wheel as well. You get more instrumentation than you really need (there's a tachometer, for instance, though the car's an automatic) and it's well laid out. A little Driver Information Center perches unobtrusively in the panel below the tach, and there's another on the ceiling that comes with a universal garage door opener and can display stuff like the outside temperate and your compass heading.
One dumb thing is the size of the sun visors: they only go about three quarters of the way toward the outside of the windshield, which means the sun can shine right into your eyes at certain angles – angles that always seemed to show up to illustrate the pervasiveness of Murphy's Law. On the other hand, the overall greenhouse is pretty good, with plenty of glass and very good visibility.
The car feels quite big inside, though not bloated. Fit and finish is fine, and so's the control layout for the most part, though some of the controls were placed a little too far from this driver. The rear view mirror also contains the OnStar controls - unfortunately; they're handy, but I once set off the emergency alarm when adjusting the mirror – much to my embarrassment.
The windshield wipers are of the variable intermittent type, there's the really handy automatic headlight setting that I really like about GM vehicles; you also get lots of places to put stuff (including a real ash tray and "auxiliary power supply") and a nicely-sized sunroof that slides outside the roof like the sunroofs on some sporty two doors.
The leather seats warm up quickly when the two-setting heater's on (though the control is mounted on the seat cushion, where you have to feel for it) and though the leather's pretty slippery I doubt most owners of this type of car will drive in such a manner as to pine for side bolstering.
The back seat splits and folds and, when not split and folded, is comfortable for three – though we missed the flat floor of such cars as the Honda Civic.
The Impala isn't quite the antelope of its namesake, but it has plenty of get up and go for everyday stuff like merging into traffic and zipping across a couple of lanes to make a quick left turn. Power in my tester came from the optional 3.8 liter Series II SFI V6 getting to the tires via a four speed automatic that upshifts smoothly, though it seemed to take forever for it to react if I dared downshift it manually on hills. Power is rated at 200 horses @5200 rpm with 225 lb.-ft or torque @4000.
Near each corner of the Impala, not surprisingly, is a wheel, in this case attractive sixteen inch 5-blade aluminum ones dressed up in P225/60R series rubber. Each wheel is fitted with a disc brake and the whole shebang has both antilock and traction control. This is good stuff, and undoubtedly helps keep the Impala from importing a wallowing feel.
It does nod a tad too agreeably over frost heaves and the like, however, and I felt it could be nimbler, though to be fair I didn't have a chance to try it on some of my favorite twisty bits. Overall, it feels like a largish four door family sedan, which is exactly what it is.
I wish it were more graceful-looking, more like Oldsmobile's handsome Intrigue. The sharp-looking wheels, tires and rear spoiler look out of place on the decidedly vanilla body, though once you're inside the cabin you don't notice this of course.
The Impala also has the usual safety features including airbags (a driver's side airbag is a new option for 2003) and child seat tether anchors.
In all, a well dressed, pleasant and inoffensive car.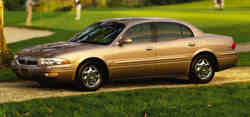 If you want to "Super Size" that, try the Buick LeSabre Limited. It takes the Impala and turns it up one setting in just about every way. It's a large, luxurious four door sedan that's bigger and more plush than the Impala, and nearly as much fun to drive.
My tester came with a split bench front seat clad in leather with two-temperature bun warmers. The center of the bench seatback folds down to double as a large console, which is the best way to keep it when you aren't putting three people up front. That console is deep and features a flip out cupholder and a cavernous area with a coin holder and slots for compact discs. It's nigh impossible to get CD's into it safely when you're driving, however, so make sure you park before messing with your discs.
LeSabre ups the luxury ante over the Impala, too, with such touches as two person driver's seat memory and moisture-sensing variable intermittent windshield wipers. The seat memory is a really nice feature; it remembers your (and one other person's) favored seat and mirror position, as well as sliding the seat backward to make getting into and out of the LeSabre easier. Unfortunately, it also affects the stereo, which is annoying: rather than merely picking up where you left off the last time you drove, it switches back to whatever setting the stereo was on when you memorized the seat positions. Not a big deal, but I'd have preferred it if the memory had developed Alzheimer's when it came to the stereo.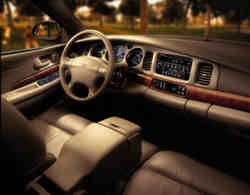 The audio quality is good, though as with the Impala and some other GM vehicles I've driven in recent months it's a tad bass-heavy. Still, this is easy to adjust and the controls are pretty intuitive.
I had problems figuring out the moisture-sensing wipers; in fact, I never did figure them out to my satisfaction. While the automatic headlights work really well, the wipers seemed to wipe only when the moisture on the windshield had already dried (making big, dirty smears on the windshield) and regardless of the intermittent setting I chose it always seemed to be "too fast" or "too slow."
Too bad; it's a great idea.
Not so great are the gimmicky red signal light arrows on the outside mirrors, which seem like a feature looking for a reason to be (and which will undoubtedly be a real pain if you ever need to repair them). A better idea is the heads up display that projects a digital speedometer, turn signal indicator and other data onto the windshield in front of the driver's eyes - though the image appears to hang in space in front of the car.
This is a nifty idea taken from jet fighters and means you can monitor the functions without taking your eyes off the road. In practice, however, I found the novelty wore off after about five minutes, after which I found it intrusive and turned it off.
You also get GM's OnStar service, with rear view mirror-mounted controls.
LeSabre comes with good safety features including four wheel antilock disc brakes and a STABILITRAK vehicle dynamic control system that integrates the chassis, brake and traction control with the power train control module. I got to try out both during an awful snowstorm and they work well, helping to make the car much more responsive on slick roads, though its weight works against it when the going gets dicey - thanks to that darn First Law of Motion that Newton hung on us.
The LeSabre feels much larger than the Impala, though a look at the specs shows it isn't much larger at all (in fact, in some dimensions – front head and legroom, for example - it's actually smaller) – yet you really feel the inertia when cornering and braking.
Perhaps this much larger feel comes from its soft suspension; there's even less road feel than in the Impala. Oh, it isn't that driving the LeSabre is a chore; far from it; it's comfortable and pleasant but, as with the Impala, it isn't going to quicken the pulse of the enthusiast. Instead, it's a cozy and cushy place to spend time behind the wheel (or as a passenger, too, thanks to its copious creature comforts including dual zone HVAC).
One feature the LeSabre didn't have is a sunroof (though it's available), which I would have missed had the weather cooperated.
It also comes with all the stuff you can get on the Impala, including steering wheel-mounted audio and cruise controls, garage door opener and stuff like that. It's definitely a well-equipped car.
The four speed automatic transmission also works as advertised, as does the engine, which is the same 3.8 liter V6 as in the Impala LS. Unfortunately, since the LeSabre is heavier than the Impala, it isn't as quick, though there's adequate "poop" to accelerate onto freeways and the like when you need to.
GM has given the LeSabre good guts. Besides the specs mentioned, you also get power asssisted rack and pinion steering, a nice set of 16 inch aluminum wheels wearing a good set of P225/60R16 all season Firestones, and independent suspension front and rear.
The Impala is priced at about $23,800 US/$30,100 Cdn for the base model and approximately $26,700 US/$39,000 Cdn as tested. The LeSabre starts at about $31,500 US/$39,200 Cdn and is about $33,400 US/$42,300 Cdn as tested.
Jim Bray's technology columns are distributed by The TechnoFILE Syndicate. Copyright Jim Bray.