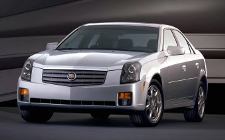 New CTS an Eye Opener
By Jim Bray
General Motors' flagship division appears serious in its vision of a renewed marque capable of competing head to head with the best of the best.
At least that's the impression I got from a few days in the new Cadillac CTS, a four door sports sedan designed to woo customers away from the likes of the Audi A4, Lexus IS300, BMW 3-series, Acura TL, Infiniti G35 etc.
It's also one of the most unique looking sports sedans on the market, its shape full of angles and planes that are probably guaranteed to create a "love it or hate it" reaction from the public.
I have to admit that my first impression upon seeing the CTS at a local auto show a few months ago was "hate it." It almost looked as if you could cut yourself merely by running your hand along one of the body's creases. That impression stayed with me when I picked up the CTS media tester (a CTS Sport), though I also have to admit that the more I see it the more it grows on me - with the possible exception of the rear end. It's definitely different, very different. But is that a bad thing?
How its exterior design will affect its sales is unknown as of this writing, since the car is so new, but Cadillac is betting it'll be well received and is using this basic "art meets science" concept as the basis for more vehicles to come.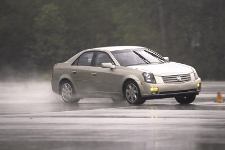 My tester was in a metallic grey color which, combined with the creases and edges, gave the impression that the whole car had been chiseled out of a block of stainless steel. A nice, solid look for sure,
The CTS (starting at $29,990US) is a front engine/rear wheel drive sports sedan that, as one might expect from a Cadillac, coddles its customers comfortably while they cruise. As one might not necessarily expect from Cadillac, however, it's also a very good performer on the road. Cadillac likes to tell people that this is due partly to extensive testing and tweaking on Germany's Nürburgring race track, in the heart of the country that brings us such performers as BMW, Audi, Porsche, and Mercedes Benz.
I have no reason to disbelieve these tales and, though my time with the new CTS was so short that I didn't have an opportunity to take it across some of the more interesting roads in my area, I found it to be a pleasant and fun vehicle to drive. It handles very well, is plenty swift enough off the line, and its 3.2 liter double overhead cam V6 engine emits a really pleasing growl when you prod it.
Very un-Cadillac like in my (admittedly limited) experience with this marque. If this design and performance philosophy carries over to other Caddys as it's supposed to, the tales of floaty land barges may never be heard again - and Cadillac may indeed be poised to enter the new century in style.
The fuel injected V6 engine puts out 220 horsepower @ 6000 rpm and 218 lb.-ft. of torque @ 3400 rpm. This isn't as much oomph as some of the competition (the Acura TL Type S, for example, boasts 260 horses and 232 lb.-ft), but I had no trouble getting the CTS up to speed as quickly as I wanted to. The standard transmission is a five speed manual (hooray!), which is also very un-Cadillac-like. The test unit I drove came with the optional five speed automatic (drat!), however, but the slushbox still performs pretty well. It'll redline with no problem, though the shifts aren't as smooth as some other such manual transmission-challenged vehicles, and a Sports mode adjusts the shift points for more feisty driving.
Helping to make the CTS nimble is a front suspension that features independent, short/long arm, coil-over shocks, with anti-roll bar. The rear consists of independent, modified multi-link, coil springs, automatic load leveling shock absorbers, with an anti-roll bar. Stopping power comes from four wheel power assisted discs with high performance brake linings, ABS, traction control and StabiliTrak stability control. Stops were sure and confidence-inspiring.
Steering is power-assisted variable assist rack-and-pinion and the feel is good; you feel in touch with the road, rather than isolated from it.
Cadillac didn't scrimp on the wheels and rubber, either. The stock model CTS comes with 16" x 7" seven-spoke aluminum painted wheels fitted with "H rated" P225/55HR16, all season rubber. The Sport model I drove had 17 inch wheels graced with a set of P225/50R "V rated" Goodyear Eagles, which is even better.
All of this stuff combined to offer a surprising amount of fun behind the wheel.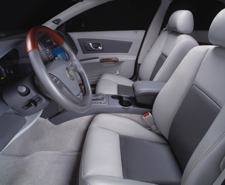 Inside, the CTS is ultra-modern, right up to its faux carbon fiber trim and driver's information center. I had some problems with the computerized stuff, in that I never did figure it all out. It's busy and the same buttons and knobs have a variety of functions. I think a quick session with the owner's manual would have eased this angst, but the tester didn't have the manual in it and I was left to my own devices, poking and twisting and pressing seemingly at random.
While parked, of course…
Still, there are some nice touches with this LCD screen. For example, when you're listening to the radio the screen (which is mounted immediately above the station preset buttons) displays a readout of the radio station frequencies you've programmed. As the buttons' functions change, so does the corresponding display.
The stereo itself is a powerful, 8 speaker Bose system with in dash 6 disc CD changer and it sounds very good. It even has settings for tailoring the sound in an almost dizzying amount of parameters, including one that optimizes the sound for the occupant of the driver's seat.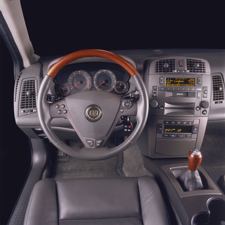 I liked the steering wheel's feel, if not its look. It's large and thick and designed to let you drive comfortably with your hands at nine and three o'clock. And rather than throwing a zillion wheel-mounted buttons at you, there are only a few (some of which are supposedly user configurable, if you have a manual). The wheel's stereo volume control is rather unconventional: it's a knob rather than the more customary "up and down buttons" and, while at first I thought that was weird, I quickly came to love the way you could crank (or uncrank) the volume with your thumb - without taking your hand off the wheel - similarly to how you'd operate a conventional volume control knob, except that this one's optimized for your thumb.
It's funny looking, but it's great!
A button next to the volume control appears to have something to do with a phone, but I couldn't make head nor tail of it.
Unfortunately, the tilt steering wheel needs a few more position choices; I found I could only adjust the wheel to "just a tad too high" or "just a tad too low."
The leather seats in the Sport model come with 8 way power adjustment and "bun warmers" and it's easy to find the perfect spot for the driver. My wife couldn't find an optimal spot in the passenger seat, though I disagreed with her (mainly on principle). I thought the seats could stand a bit more side bolstering, though; maybe it's just because of leather's slipperiness (or my Pillsbury Dougboy butt), but I found my rear end sliding around during harder cornering.
One other part of the interior design caused me a fit, too, when I first got into the CTS. The OnStar controls are mounted on the lower edge of the rear view mirror, and the first time I adjusted the mirror my hand hit the emergency button - causing me some embarrassment as the OnStar system began hollering to the world about what a clumsy oaf was in the driver's seat!
The rear seats are fine for two, a little cramped for three, and the seat folds down to offer access to a fairly large trunk.
Safety and creature comforts include driver/front passenger airbags, side air bags and roof mounted air bags. The CTS also features keyless entry, dual zone air conditioning with filtration (though some of the vents aren't "dual zone"), cruise control, power trunk release, auto dimming rear view mirror, manual/automatic headlights, power door locks and trunk lid, front express up/down and rear express down power windows and retained accessory power (so you can open/close the windows and listen to the stereo when the ignition's shut off). And the driver's side sun visor included an optional garage door opener with talk note thingy.
There are also two memory settings that control the driver's seat, rear view mirrors and some other parameters.
The outside mirrors are shaped kind of like a 16x9 TV screen, and they're large and easy to adjust. And, unlike some mirrors, they don't get in the way of your view outside. In fact, the CTS greenhouse is surprisingly good for a car that, from the outside, appears to be far more metal than glass. Blind spots are minimal.
My CTS also came equipped with the optional High Intensity Discharge headlights with washers.
Cadillac says the CTS is designed to appeal to affluent individuals who are youthful, optimistic and image conscious. I can see that; this is not a car that blends in, and during my few days with it the CTS got more than its share of glances from passersby and other drivers.
Unlike its predessor, the Opel-based Catera (which wasn't a big hit, despite it being a pretty decent vehicle), the CTS is a North American car, assembled in Michigan.
GM deserves high marks for the Cadillac CTS. While its styling is definitely different, it's a car that makes a statement - and can back up that statement with its performance. It's fast enough, handles well and has a good "fun to drive" quotient. It's also very quiet and stable on highway; as my wife and I were zipping along at speed we met four semis clustered tightly in a row and the turbulence they threw at the CTS didn't affect it a whit.
If that had been our own car (admittedly a much smaller and lighter one), it would have felt as if we were taking part in filming the movie "Twister."
Perhaps GM was premature - and off target - with its Oldsmobile marketing scheme of a few years ago. Because while this is definitely a vehicle worthy of being in GM's flagship division, this is definitely not your father's Cadillac.