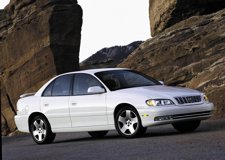 Cadillac's Personal Sedan a Nice Ride
Smooth and Tight Luxury
by Jim Bray
Cadillac's "entry level" Catera is working hard to carve out a niche in a competitive marketplace.
Catera is a front engine/rear wheel drive, four door personal luxury sedan that drives well, is very comfortable, and has nearly every toy you could want.
The car was born in Europe and assembled in Ruesselsheim, Germany, from components made in Germany, France, Britain and North America. Though you might think such "global thinking" would lead to a bit of a dog's breakfast, Catera comes off as a well designed and executed whole.
GM is aiming this Caddy at college grad boomers earning in the $90K range, a group that might also be thinking about the Mercedes Benz "C" class, Lincoln LS, BMW 328i, Lexus ES300, or Volvo S70 GLT.
Alas, I haven't driven most of the competitors, but I was pleasantly surprised at my week with the Catera. I expected more of a "luxury liner" feel than the tight and pleasant car I experienced.
Catera is quite a nice car. It has power (though I didn't think it was as quick as a C-Class Kompressor I drove recently), handles well, and is extremely comfortable in front seat and back.
My test Catera had the sport package, which is always a good way to get my attention. This includes stuff like leather seats that adjust a zillion ways (though it's a chore figuring them out), 17 inch wheels paired with Goodyear Eagle tires, electronic climate control (with separate passenger and driver controls), and seat heaters.
That's on top of the "base" equipment that includes four wheel anti-lock disc brakes, traction control, electrically heated outside mirrors, power everything, remote controlled entry, security, and on and on and on.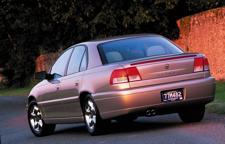 Catera's three liter, double overhead cam fuel injected V6 engine cranks out 200 horses at 6000 rpm and 192 lb/ft of torque at 3400 rpm. The four speed transmission has three modes: normal, sport, and snow. The latter starts the car in third gear when the roads are particularly vile, and the sport mode adjusts the shifts for more heavy-footed driving.
Sport mode suited my driving style, though I thought the shifts could have been a tad smoother in both major modes. I have a built-in prejudice toward manual transmissions, though, and missed the lack of a five or six speed. Most of Catera's buyers probably won't agree with me, however.
We had our first snowfall while I had the Catera and this provided the perfect opportunity to test the traction control and ABS. I was impressed with their performance on the slippery streets of my city.
Aiming the car is helped by speed sensitive, recirculating ball steering and, while I expected some wallowing, I experienced virtually none. The car seemed more than happy to go where pointed and stepped around, over, and through potholes and speed bumps (not necessarily in that order) in a pleasing manner.
The AM/FM/single CD stereo performs well at low to moderately loud volumes, and the speakers all but disappear. If you really crank it, however, its limitations show.
Cadillac says Catera will get from zero to 60 in 8.5 seconds. My wife wouldn't let me reproduce this, but it felt about right. Likewise, I forgot to zero the trip odometer and can only say that Catera's estimated gas mileage of 17/24 mpg city/highway also seems about right.
Besides ABS and traction control, safety equipment includes dual front and dual front side air bags. Fortunately, I didn't try these. If I had, the OnStar feature that's also included on the Catera would have leapt into action.
OnStar is neat, though I can see a potential for "Big Brother" type of abuse if someone happened to be leaning that way. It's a "roadside assistance" package that puts you in touch with a real, live person at the touch of a button, in case of physical or vehicle emergency. The OnStar rep with whom I spoke pinpointed the Catera to an intersection within about a hundred feet of where I was at the time, so they shouldn't have trouble sending help if you need it.
Catera may not get its due in the import-dominated market niche in which it competes, and that's a shame. I found it an enjoyable set of wheels that's worth a look from people shopping for this class of car.