BMW 750Li – Luxury, Indeed!
By Jim Bray
BMW took its share of abuse from some reviewers when it unveiled its current generation 7 series a few years back.
The car, which in its previous "in-car-nation" had been quite a handsome set of wheels, suddenly became dumpy and awkward-looking, with a face and a butt only its designer could love. And inside, its new iDrive system integrated far too many functions into an ultra high tech but ultimately frustrating interface.
Or so it was said. I never drove that model, but to read the reviews from back then, iDrive was an answer to a question no one had asked: how do you take one of the world's great sedans and make it difficult to use?
Since then BMW has worked to make the car more attractive and, at least as far as the exterior is concerned, has succeeded very well. And the iDrive system is apparently much better than it was originally – though if my experience during a week of driving the big Bimmer is indicative, it may be best if the company would go back to traditional buttons and knobs.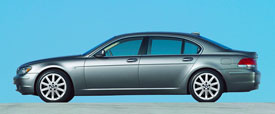 ...continued

But what a car! The 2006 750Li I tested for a week included exterior tweaks such as a revised grille and headlights that make the front end look more graceful than before, and updated taillights that help make it look as if the 7 has been working out in the gym. The result is a slimmer and more aggressive look that also conveys the impression that this car means business.

And of course it does.

A Big, Roomy Sedan

The 750Li (which is the stretched version of the 7) is an exquisite car to drive. It also comes with what are easily the nicest, most comfortable and flexible front seats I've experienced in a vehicle.

How nice are they? I was tempted to steal the driver's seat and put it in my home theatre, where it would replace a pretty comfortable La-Z-Boy (the chair, not the writer). I didn't, because I suspected the good people at BMW would have noticed it was missing when I returned the car.

With a wheelbase of 123.2-inches, the 750Li is about six inches longer than the "garden variety" 750i, and this translates into so much rear seat leg room that the people who rode back there felt as if they were in a limo. The downside (there's always one, isn't there?) is that they're so far back from the driver and front seat passenger that you're almost tempted to use semaphore to communicate between front and rear.

Those who are lucky enough to passenge back there are also treated to wonderfully luxurious and comfortable seats - though the person in the middle won't have as pleasant a time. The car is basically a wonderful four seater that will take a fifth if necessary - like so many other cars. I only put a fifth person in the car once, and he complained the whole time. I think it was because he had wanted to drive..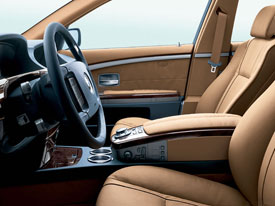 I Drive..
This is understandable. Firing up the 750Li's creamy smooth V8 (which has a wonderfully throaty growl - though the 7's interior is so insulated you have to open the sunroof or lower a window to really enjoy it) is the beginning of a delightful experience. This heavy sedan goes like hell, but so smoothly and competently that it doesn't feel as if you're going like hell. One of my passengers remarked the car was so smooth it didn't feel like we were doing the speed limit - and when I admitted that we were actually doing quite a bit above the limit (only to test the car's performance, of course), his eyes looked like saucers.
The new V8 displaces 4.8 liters and produces 360 horsepower at 6300 rpm, and 360 lb-ft of torque at 3400 rpm, apparently without effort. BMW's engine technology includes Valvetronic and Double-VANOS, the former of which supposedly eliminates the need for a traditional throttle, "allowing the engine to 'breathe' more easily via continuously variable valve lift control" according to BMW. The company also says its Double-VANOS technology allows the engine to "steplessly choose the valve timings for both intake and exhaust camshafts." This supposedly delivers more "low-to-medium-speed torque for strong acceleration, added flexibility for better highway performance, and a quieter, smoother engine at idle."
That glorious V8 is coupled to an ultra smooth 6-speed STEPTRONIC automatic transmission with three driving modes: "Drive", which is the "garden variety" setting (if there is such a thing in a BMW), "Sport" (which adds a little more fun to the driving experience by using a more dynamic shift pattern), and STEPTRONIC, the manual shift setting.
My favorite was "Sport" because, while I'm grudgingly learning to embrace pretend manual transmissions, especially ones in higher end vehicles such as the Lexus IS 250, Infiniti M35x and Porsche Carrera , the 7's really rubbed me the wrong way.
Don't get me wrong: it works fine. But the shift buttons are mounted so that my stubby little fingers had to stretch too much between the upshift and downshift buttons, which made Sport mode the more attractive choice.
And it's more than adequate. The 750Li shifts almost intuitively, almost as if there's a little person inside the transmission monitoring how you're driving and shifting according to your style.
The 7's suspension includes an aluminum double-pivot strut-type suspension up front, with an aluminum 4-link integral rear suspension. You also get twin-tube gas-pressure shocks.
Steering is speed-sensitive, variable-assist-and-ratio power rack-and-pinion, with excellent feel, and brakes are ventilated discs with ABS and electronic brake proportioning all around. Add BMW's Dynamic Stability Control (DSC), Dynamic Brake Control (DBC), and Dynamic Traction Control (DTC), and you have a dynamic driving and riding experience. The suspension feels great; rough roads are smoothed enough to take the bladder-shaking out of them without making the car feel floaty in the least.
The standard alloy wheels wear 245/50R-18 all season tires, though my tester had a set of winters mounted.
One would expect a BMW to be a great car to drive and though the 7 is no sports sedan, it still manages to be a wonderful driving experience. Sure, it feels like a big car, but other than the inevitable need to obey Newton's first law of motion the 750Li actually seems quite spry.
Part of the reason for the car's great handling can undoubtedly be attributed to BMW's Active Roll Stabilization, a suspension control system that's meant to reduce body roll in cornering. Though I didn't have a chance to take it on my favorite twisty back road, the 750Li cornered flatter'n it had any right to on the roads I tried.
The Inside Story..
Inside the 750Li you're treated to a roomy, quiet and hedonistic experience. Seats are large, leather, luxurious and, as mentioned earlier, supremely comfortable. Materials and fit/finish are first rate, and other than some complaints about ergonomics, this is a lovely place to spend quality time on the road.
Thanks to the bazillion adjustments to the front seats, finding the ultimate driving position is child's play. My tester even offered a massage setting, which feels pretty weird at first. Flip on that switch and it feels either as if someone in the back seat is kneading your buttocks. This could make long trips more bearable, I suppose, but these seats are so sublime already I wonder if you'd ever need to fire up the magic fingers.
And talk about seat heaters! The multi-setting heaters (and coolers) work so well that within only a couple of minutes it felt as if my cheeks were being broiled like a big roast ham (which, alas, may not be an inappropriate analogy).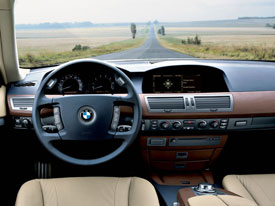 The rear seat passengers (well, two of them) can access moveable foot rests as well as side and rear window sun shades.
iDrive.
The big Bimmer has so many creature comforts and technological marvels aboard that it's hard to imagine how they could be operated without the iDrive system. And that's the shame, because overall that iDrive system is not particularly user friendly. And this is the new, improved version!
Fortunately, there's quite a bit of stuff you can twiddle without iDrive, such as basic audio and HVAC controls. But you probably won't be able to go through life without using iDrive, so it's best to master it. And that'll happen over time, but I never got comfortable with it during my week with the 750Li, and I'm considered a fairly tech-savvy guy.
Rear seat passengers also get an iDrive controller on the fold-down center armrest. It works pretty much the same as the front one, though it also offers access to the trunk-mounted DVD changer - a feature that doesn't even show up on the front iDrive.
How, there's an obvious and compelling argument for preventing the driver from watching DVD's. But what if you want to listen to DVD-based music? BMW says the system can't play DVD-based audio formats, but it does - though only in Dolby Digital (which is a lot better than nothing, especially considering the 750Li's superb audio system!).
So if you're by yourself and want to play your favorite DVD-A disc (or listen to the audio of a DVD concert video) as you drive, you have to:
open the trunk and store the disc in the DVD changer there
get in the driver's seat and start the car
exit the car get into the back seat and fire up the DVD player (using the iDrive and the rear seat's LCD screen)
exit the car again get back in the driver's seat and drive away.
At least you get some exercise!

Not only that, but you're beaten over the head with disc players. Up front, there's a single disc CD player in the center of the dash and a six disc changer farther toward the passenger side (a good stretch away for shorter drivers). Add that DVD changer in the trunk and you can load a lucky 13 discs at any one time, though you have to do it in three stages.

And what's with the old fashioned cartridge-style changers? Those things went out of fashion years ago, and for good reason.

On the other hand, the sound system itself gets full marks. It's clean and crisp and powerful and a joy to listen to (assuming you don't say "screw it" before getting all your discs loaded). It features an AM/FM stereo radio/CD audio system with 10 speakers, Radio Data System (RDS), and FM diversity antenna.

Other interesting things I noticed about the 7 included the power opening/closing trunk, comfortably padded armrests on the doors, a great set of adaptive headlights, gorgeous fit and finish inside and out and an overall presence so wonderful and stately that some of my passengers started waving at passersby as if they were traveling royalty - which the big 750Li indeed made them feel like.

It's easy to see why people buy these cars.

Here's a partial list of other comfort and convenience features:
Bluetooth wireless technology (a slick system that connects Bluetooth-enabled cell phones to the vehicle to allow hands-free calling)
Electronic Climate Zone Ventilation (the driver can select a lower air temperature for around the head and chest than the feet)
Comfort Access System (Unlocks and starts the vehicle with the key fob remaining in the driver's pocket or purse. To lock the doors upon egress, the driver only has to press the door handle)
Park Distance Control (ultrasonic sensors in the bumpers help you gauge the distance to other cars and objects when parking)
High-pressure headlight cleaning system
Electronic analog speedometer and tachometer
Leather power tilt/telescopic multi-function steering wheel with audio and phone controls, one programmable control; auto tilt-away for entry and exit
LCD displays and warning indicators in dial faces
Programmable cruise control
Navigation system
Power windows with key-off operation, "one-touch" open/close and anti-trapping feature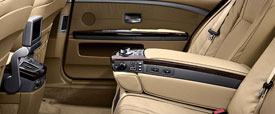 Not surprisingly, safety equipment abounds. Not only is there the usual collection of belts, bags, and bolsters, but you also get Active Knee Protection and a Head Protection System (an inflatable tubular structure).

The 750Li is obviously at or near the top of the vehicular heap unless you take another quantum leap to the Rolls or Maybach class. And it deserves its place there.

It's a wonderfully luxurious, sophisticated and rewarding car for drivers and passengers alike, with comfort and performance to die for. And even though my tester didn't have such optional equipment as the rear seat-mounted refrigerator, the 750Li has so much stuff as standard equipment it'll make your head spin.

But I'd gladly trade stuff like gently illuminated inner door panels for a real, usable CD/DVD changer, and better interfaces.

I had a couple of problems with the electronics, too, though they could have been caused by the little black cloud that follows me through life.

We were on the open highway, in the middle of nowhere, when the 750Li announced it had a flat tire. I pulled off the road and they seemed fine to the naked eye, so we continued slowly to the nearest town. A proper check of the pressures showed they were fine, so we continued our trip and I recalibrated the system. All was well from that point on, though I had become paranoid enough to check the tires every day after.

I've heard that such problems are common with these tire monitoring systems, so maybe it was neither my aura nor the Bimmer.

Then, as I was taking the car back, it announced that the dynamic brake control had failed and advised me to drive "moderately" - which I took personally. Shutting off and restarting the car a few times didn't help.

And of course it worked fine once I returned the 750Li, and there was nothing to show it had ever given that warning. The people at BMW undoubtedly think I'm crazy.

On the other hand, BMW does offer full maintenance for four years or 50,000 miles in the US (3 years/60K kilometers in Canada). That would presumably take care of any such gremlins.

Which, of course, is how it should be.

More info is available at BMW's website.